Pakistani celebrities root for Syeda Aliza Sultan after abuse evidence emerge against Feroze Khan
Pakistani celebrities like Maryam Nafees Khan, Osman Khalid Butt, Junaid Khan, Anoushey Ashraf, Sarwat Gillani and Aiman Khan have recently extended their support to Khaani star Feroze Khan's ex-wife Syeda Aliza Sultan who was allegedly subjected to domestic abuse during four years of marriage.
According to Geo News, Aliza submitted her medico-legal reports and images before the court during domestic legal proceedings on Monday.
In the report, she claimed that she was "physically assaulted" by her former husband Feroze.
The images of blunt bruise marks on both Aliza's arms and one side of her face went viral on social media following which several actors and actresses called out Feroze for his "brutal" actions on their Instagram handle.
Mariyam Nafees was among the first one who reacted to this report as she wrote, "I'm sorry people attacked you when you spoke your truth. I'm sorry people knowingly stayed quiet. I'm sorry you had to go through this. Stay strong. We're with you. Allah is with you."
"The MLO report Aliza presented as evidence states: 'Blunt injuries on both arms, back, chest and face.' I know we're an incredibly desensitised society but read that again. Let it sink in," commented Osman.
Mansha wants everyone to speak in favour of justice as she argued, "There's no excuse, no fandom, no friendship and no idolisation so important that allows us to ignore violence and make excuses. It's time to put a stop to this!"
Aiman shared her views about domestic violence, saying "it's not okay" and one needs to "speak up".
The host and social activist Anoushey voiced her opinion and apologised to Aliza, stating, "There is no room for violence in my world and I'd be sorry to turn a blind eye to this one."
"Ban wife beaters and cheaters from representing our industry," retorted Sarwat.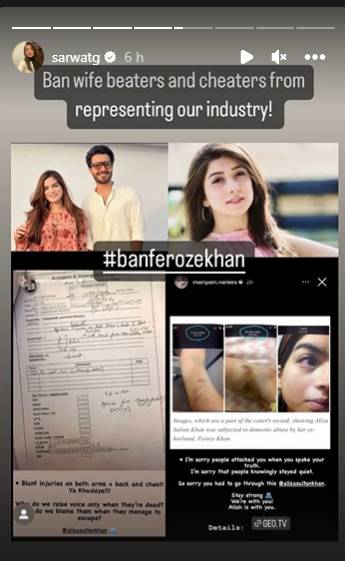 Junaid, on the other hand, commended all those women who "speak up against domestic abuse". While he also mentioned that to eradicate misogynistic cultures, "we need to become voice of those women who cannot speak up".
Singer Asim Azhar also spoke out that there's "no other side of the story".
Meanwhile, Aliza revealed on her social media last month that "during marriage of four years" she had to "endure infidelity, blackmailing and degradation" in addition to constant physical and psychological violence "at her "husband's hands".
Geo News journalist picked up from residence in Karachi's Model Colony
2 police vans and double-cabin vehicles came to pick Anjum, area residents say.
Police and plainclothes personnel entered home at gunpoint, Anjum's brother says.
Personnel also took away DVR of CCTV camera in neighbourhood.
---
Geo News producer Zubair Anjum was picked up by police officers from his residence in Karachi's Model Colony area, his family confirmed on Tuesday.
According to residents of Anjum's neighbourhood, two police vans and double-cabin vehicles arrived at his house near the Model Colony intersection and took him away.
The producer's brother, Wajahat Anjum, said police and plainclothes personnel entered their home wielding firearms, while family members were also manhandled during the episode. The motive behind the arrest, however, remains unknown.
"They asked for Zubair bhai and took him away at gunpoint. They also took along his mobile phone," he said, explaining the incident.
He also mentioned that the personnel also took away the digital video recorder (DVR) of the CCTV installed in Anjum's neighbourhood.
Detailing the incident with reporters, Anjum's brother said: "The police did not give any reason for the arrest. They did not even let him wear his slippers. We repeatedly kept asking what the matter was."
He added that some personnel were in uniform and others were masked, except for one. "They all had TT pistols in their hands," Wajahat said.
The case of Anjum's disappearance has been registered at the Model Colony Police Station.
Meanwhile, the Korangi senior superintendent of police said his force had no information about Zubair Anjum's arrest. He added that no police station or unit has reported taking the media person into custody.
"Police from stations in the Korangi district have not arrested Anjum. We are investigating the incident," he said, adding that details are being taken from Anjum's brother.
Governor reacts to journalist's arrest
Reacting to Anjum's arrest, Sindh Governor Kamran Tessori said he has been looking into the case since last night.
He added that the police has not arrested the journalist and asked law enforcement agencies to investigate the matter. "Such arrests should be stopped now," he added.
Hafiz Naeem Ur Rehman, Jamaat-e-Islami's mayoral candidate in Karachi, also demanded the Geo News producer's immediate release.
Commission for the Protection of Journalists and other Media Practitioners (CPJMP) has summoned an emergency meeting at the request of the Karachi Union of Journalists (KUJ).
Meanwhile, the Karachi Press Club has also demanded that Prime Minister Shehbaz Sharif, Interior Minister Rana Sanaullah, Foreign Minister Bilawal Bhutto-Zardari, Sindh Chief Minister Murad Ali Shah, and Inspector-General of Sindh Police (IGP) Ghulam Nabi Memon take notice of Anjum's ordeal.
PM Office to 'strictly use only refillable water containers' from today onwards
On World Environment Day, Prime Minister Shehbaz Sharif directed his office and federal government entities to "strictly use only refillable water containers" as a reflection of his government's "commitment to fighting pollution".
The premier issued the directives while announcing the federal cabinet's approval of the "Single Use Plastics Prohibition Regulations 2023". He added that it would kick-start the country's "journey to reduce plastic waste".
"The new regulation will phase out single-use plastic items throughout Islamabad. We will also be introducing an action plan for its implementation," PM Shehbaz added.
The premier also urged all provincial governments and the public at large to join the Centre "in reducing and help to beat plastic pollution in Pakistan".
World Environment Day is an initiative led by the United Nations Environment Programme (UNEP) and held annually on June 5 since 1973.
"World Environment Day is the largest global platform for environmental public outreach and is celebrated by millions of people across the world," says the UN. This year's host for the day is Côte D'Ivoire.
'Plastic pollution': Pakistan calls for global action
Earlier today, in a message on the occasion of World Environment Day, PM Shehbaz emphasised the urgent need to combat plastic pollution under the global theme "Beating Plastic Pollution".
He stressed Pakistan's unwavering commitment to combat plastic pollution and embark on a journey of plastics reduction.
He said that his government has taken several steps to take the country on the path to sustainable use of resources.
PM Shehbaz acknowledged that Pakistan has actively participated in crucial international and national level discussions to develop a comprehensive, legally binding instrument aimed at ending plastic pollution, with a target date set for 2024.
The government of Pakistan recognises the significance of ensuring inclusivity and equity within the agreement, emphasizing the need for the treaty to prioritize so that no one is left behind.
The prime minister also called upon all stakeholders, including citizens, businesses, civil society organisations, and the media, to renew their commitment to the fight against plastic pollution and preserving the planet's biodiversity for future generations.
He emphasised the importance of empowering local communities, supporting recycling initiatives, and promoting a circular economy that minimises plastic waste.
President directs COMSATS to let student complete degree
ISLAMABAD: President Dr Arif Alvi has directed COMSATS University to allow its student, whose admission had been cancelled, to complete his education.
The admission of Hammad bin Zain at COMSATS had been cancelled after three and a half years of studies at the varsity, at a point where he had already completed seven out of eight semesters.
A statement issued by President's secretariat's press wing said that Zain's admission made in the year 2017, had been cancelled on the ground that he was not eligible it as he hadn't obtained the required marks.
"It was surprising that the administration of the university could make such a huge error by granting him admission and then informing him, after a lapse of 3.5 years, that he was not eligible for admission," the statement quouted President Alvi as saying.
He said that the student paid his requisite fees for eight semesters and diligently completed the semester course.
"Justice demanded that COMSATS should rectify the situation by allowing the student to complete his degree program," he added.
The order was passed in light of a representation filed by Zain against the orders of the federal ombudsman. Zain had filed a complaint against COMSATS before the ombudsman, stating that it was the responsibility of the university to check the eligibility criteria and that he should have been denied admission in 2017, if he did not meet the requirements.
The ombudsman, in its decision, did not provide any relief to the complainant and only ordered COMSATS to conduct an inquiry into the whole situation and hold the guilty officials responsible for their negligence.
The president, while accepting Zain's representation, quashed the federal ombudsman's decision by observing that the student was studying in the BS (Business Administration) program and had already completed 3.5 years of his degree program.
"Since there was no allegation of misrepresentation against him, the student should not be made to suffer for the negligence committed by the university's administration," President Alvi stated.
He noted that the student's time, money and efforts would be wasted due to the cancellation of his admission, while directing the university administration to restore Zain's admission and report compliance to the federal ombudsman.