In pictures: Sri Lankan team receives grand welcome upon return
The Asia Cup 2022 title holders received a heroic welcome upon their arrival in their hometown. 
Sri Lanka won the Asian tournament against Pakistan by 23 runs on September 11 (Sunday) at the Dubai International Stadium.
Sri Lanka Cricket shared the pictures of the grand reception on Twitter.
The winning team also took part in the victory parade on the streets of Colombo with the skipper Dasun Shanaka holding the trophy along with the players on a bus.
The fans and followers celebrated the win and took pictures.
Take a look: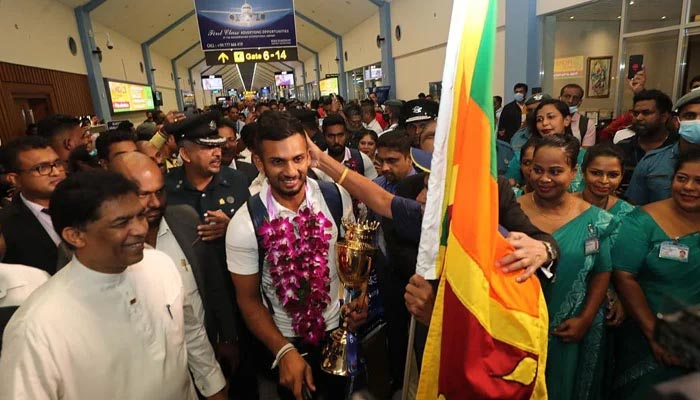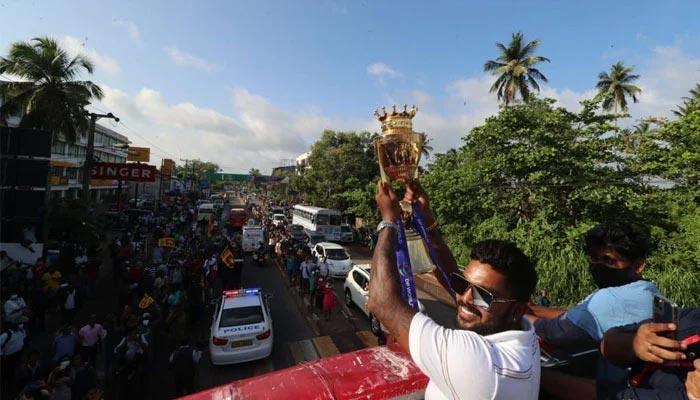 WATCH: Babar Azam becomes youngest cricketer to receive Sitara-e-Imtiaz
Pakistan captain Babar Azam on Thursday became the youngest cricketer to be conferred with the country's third-highest civilian award Sitara-e-Imtiaz.  
Pakistan's all-format captain Babar was conferred with the award by Governor Baligh Ur Rehman at an investiture ceremony held at the Punjab Governor House as part of Pakistan Day celebrations.
With the conferment of the award, Babar has become the youngest cricketer to be awarded Sitara-e-Imtiaz at the age of 28 for his outstanding achievements in the field of sports.
The skipper called it an "immense honour" to receives the award in the presence of his parrents.
"This award is for my parents, fans and the people of Pakistan," he tweeted.
Previously, Babar's predecessor Sarfaraz Ahmed held the record as the youngest cricketer to be awarded the Sitara-e-Imtiaz.
Sarfaraz, who led Pakistan to the Champions Trophy title in 2017, was conferred with the award by then Sindh governor Mohammad Zubair at the Governor House in Karachi in 2018.
Last year on August 14, the government announced that it will be conferring Babar with the country's third-highest civilian honour.
Babar made his debut in international cricket in May 2015 against Zimbabwe. His performances eventually led debuts to T20Is and Tests in 2016.
In 47 Tests, Babar has scored 3,696 runs with an average of 48.63, while in 95 ODI's Babar has scored 4,813 runs at an average of 59.41. In 99 T20Is, Babar has amassed 3,355 runs at an average of 41.41.
Babar, in his ongoing cricket career, has won multiple awards including ICC Men's ODI Player of the Year, Sir Garfield Sobers Trophy. Under his captaincy, Pakistan defeated India for the first time in a world cup match and also reached the finals of the last T20 world cup.
Apart from Babar and Sarfaraz other cricketers that have received the award include Misbah-ul-Haq, Younis Khan, and Shahid Afridi for their outstanding contributions.
While Mohammad Yousuf received the award in 2011, Saeed Ajmal in 2015, Inzamam ul Haq in 2005 and Javed Miandad in 1992.
'Dirty politics': Shaheen comes out in defence of Shahid Afridi
Star pacer Shaheen Afridi has come out in defence of his father-in-law Shahid Afridi who has been dragged into "dirty politics" by a fake statement about former prime minister Imran Khan.
"I request you all to only think about Pakistan. We should not indulge ourselves into any act which divides us further," the Pakistani cricketer said in a statement, sharing a video statement of Shahid Afridi.
"Hum Sab ko apni apni fields me positive reh ker Pakistan ka haq Ada kerna hoga. Pakistan Noor hai or Allah pak is Noor Ki Hamesha hifazat farmayain ge, Ameen."
Earlier, in a hard-hitting video statement, the former Pakistani captain Shahid Afridi slammed those dragging him in their "dirty politics".
"I am observing since yesterday that a statement is being shared on social media under my name about former prime minister Imran Khan is very sad news. Whoever is doing this, is indulging in very dirty politics. Neither I want to be part of this activity nor I am involved in this."
The former chief selector, in a visibly angry mood, said that he had the courage to say whatever he wants to say.
"I never made any such statement anywhere on my social media. So please don't involve me in this dirty politics. Aap ko apki siasat mubarak ho. My only politics is to serve this nation."
Pak vs NZ: PCB revises schedule of New Zealand's tour to Pakistan
LAHORE: The Pakistan Cricket Board (PCB) on Monday revised the schedule of the limited-overs tour of New Zealand to Pakistan due to "elections in Punjab". 
The Blackcaps are scheduled to play five ODIs and five T20Is with the PCB and New Zealand Cricket "unanimously" agreeing to make "tweaks" to the tour, the board said in a statement today.
According to sources, the itinerary was changed due to the upcoming general elections in Punjab scheduled on April 30.
As per the new schedule, New Zealand will arrive in Lahore and play three T20Is from April 14-17, before traveling to Rawalpindi where the final two T20Is and first ODI will be played from April 20-26.
The tour will end in Karachi with the remaining four ODIs to be played from April 30-May 7.
The PCB said that this is an additional tour by the New Zealand cricket team and the matches will count towards ICC Team Rankings.
The ODIs will also help Pakistan to prepare their side for the Asia Cup and ICC Men's Cricket World Cup 2023, while the T20I will assist the PCB to continue with their rebuilding of the side for the ICC Men's T20 World Cup 2024, which will be held in the USA and West Indies in June/July 2024.
Revised schedule:
April 14 – 1st T20I, Lahore
April 15– 2nd T20I, Lahore
April 17– 3rd T20I, Lahore
April 20– 4th T20I, Rawalpindi
April 24– 5th T20I, Rawalpindi
April 26– 1st ODI, Rawalpindi
April 30– 2nd ODI, Karachi
May 3 – 3rd ODI, Karachi
May 5 – 4th ODI, Karachi
May 7 – 5th ODI, Karachi