ChatGPT launches boom in AI-written e-books on Amazon
SAN FRANCISCO: Until recently, Brett Schickler never imagined he could be a published author, though he had dreamed about it. But after learning about the ChatGPT artificial intelligence program, Schickler figured an opportunity had landed in his lap.
"The idea of writing a book finally seemed possible," said Schickler, a salesman in Rochester, New York. "I thought 'I can do this.'"
Using the AI software, which can generate blocks of text from simple prompts, Schickler created a 30-page illustrated children's e-book in a matter of hours, offering it for sale in January through Amazon.com's self-publishing unit.
In the edition, Sammy the Squirrel, crudely rendered also using AI, learns from his forest friends about saving money after happening upon a gold coin. He crafts an acorn-shaped piggy bank, invests in an acorn trading business and hopes to one day buy an acorn grinding stone.
Sammy becomes the wealthiest squirrel in the forest, the envy of his friends and "the forest started prospering," according to the book.
"The Wise Little Squirrel: A Tale of Saving and Investing," available in the Amazon Kindle store for $2.99 — or $9.99 for a printed version — has netted Schickler less than $100, he said. While that may not sound like much, it is enough to inspire him to compose other books using the software.
"I could see people making a whole career out of this," said Schickler, who used prompts on ChatGPT like "write a story about a dad teaching his son about financial literacy."
Schickler is on the leading edge of a movement testing the promise and limitations of ChatGPT, which debuted in November and has sent shock waves through Silicon Valley and beyond for its uncanny ability to create cogent blocks of text instantly.
There were over 200 e-books in Amazon's Kindle store as of mid-February listing ChatGPT as an author or co-author, including "How to Write and Create Content Using ChatGPT," "The Power of Homework" and poetry collection "Echoes of the Universe." And the number is rising daily. There is even a new sub-genre on Amazon: Books about using ChatGPT, written entirely by ChatGPT.
But due to the nature of ChatGPT and many authors' failure to disclose they have used it, it is nearly impossible to get a full accounting of how many e-books may be written by AI.
The software's emergence has already ruffled some of the biggest technology firms, prompting Alphabet and Microsoft to hastily debut new functions in Google and Bing, respectively, that incorporate AI.
The rapid consumer adoption of ChatGPT has spurred frenzied activity in tech circles as investors pour money into AI-focused startups and given technology firms new purpose amid the gloom of massive layoffs. Microsoft, for one, received fawning coverage this month over its otherwise moribund Bing search engine after demonstrating an integration with ChatGPT.
But already there are concerns over authenticity, because ChatGPT learns how to write by scanning millions of pages of existing text. An experiment with AI by CNET resulted in multiple corrections and apparent plagiarism before the tech news site suspended its use.
Threat to 'real' authors?
Now ChatGPT appears ready to upend the staid book industry as would-be novelists and self-help gurus looking to make a quick buck are turning to the software to help create bot-made e-books and publish them through Amazon's Kindle Direct Publishing arm. Illustrated children's books are a favorite for such first-time authors.
On YouTube, TikTok and Reddit hundreds of tutorials have spring up, demonstrating how to make a book in just a few hours. Subjects include get-rich-quick schemes, dieting advice, software coding tips and recipes.
"This is something we really need to be worried about, these books will flood the market and a lot of authors are going to be out of work," said Mary Rasenberger, executive director of writers' group the Authors Guild. Ghostwriting — by humans — has a long tradition, she said, but the ability to automate through AI could turn book writing from a craft into a commodity.
"There needs to be transparency from the authors and the platforms about how these books are created or you're going to end up with a lot of low-quality books," she said.
One author, who goes by Frank White, showed in a YouTube video how in less than a day he created a 119-page novella called "Galactic Pimp: Vol. 1" about alien factions in a far-off galaxy warring over a human-staffed brothel. The book can be had for just $1 on Amazon's Kindle e-book store. In the video, White says anyone with the wherewithal and time could create 300 such books a year, all using AI.
Many authors, like White, feel no duty to disclose in the Kindle store that their great American novel was written wholesale by a computer, in part because Amazon's policies do not require it.
When asked for comment by Reuters, Amazon did not address whether it had plans to change or review its Kindle store policies around authors' use of AI or other automated writing tools. "All books in the store must adhere to our content guidelines, including by complying with intellectual property rights and all other applicable laws," Amazon spokeswoman Lindsay Hamilton said via email.
A spokeswoman for ChatGPT developer OpenAI declined to comment.
From conception to publication in just hours
Amazon is by far the largest seller of both physical and e-books, commanding well over half of sales in the United States and, by some estimates, over 80% of the e-book market. Its Kindle Direct Publishing service has spawned a cottage industry of self-published novelists, carving out particular niches for enthusiasts of erotic content and self-help books.
Amazon created Kindle Direct Publishing in 2007 to allow anyone to sell and market a book from their couch without the hassle or expense of seeking out literary agents or publishing houses. Generally, Amazon allows authors to publish instantly through the unit without any oversight, splitting whatever proceeds they generate.
That has attracted new AI-assisted authors like Kamil Banc, whose primary job is selling fragrances online, who bet his wife he could make a book from conception to publication in less than one day. Using ChatGPT, an AI image creator and prompts like "write a bedtime story about a pink dolphin that teaches children how to be honest," Banc published an illustrated 27-page book in December. Available on Amazon, "Bedtime Stories: Short and Sweet, For a Good Night's Sleep" took Banc about four hours to create, he said.
Consumer interest so far has been admittedly sleepy: Banc said sales have totalled about a dozen copies. But readers rated it worthy of five stars, including one who praised its "wonderful and memorable characters."
Banc has since published two more AI-generated books, including an adult colouring book, with more in the works. "It actually is really simple," he said. "I was surprised at how fast it went from concept to publishing."
Not everyone is blown away by the software. Mark Dawson, who has reportedly sold millions of copies of books he wrote himself through Kindle Direct Publishing, was quick to call ChatGPT-assisted novels "dull" in an email to Reuters.
"Merit plays a part in how books are recommended to other readers. If a book gets bad reviews because the writing is dull then it's quickly going to sink to the bottom."
YouTube Shorts joins AI race with new 'Dream Screen' feature. But how does it work?
YouTube on Thursday announced a new feature on its short-form video platform Shorts, called Dream Screen, which enables users to create unique videos using AI tools.
YouTube CEO Neal Mohan, during the company's live event "Made on YouTube," revealed that users can use the AI feature to create an AI-generated video or image in YouTube Shorts by simply typing in the desired background.
Mohan demonstrated how this works by typing in "a panda drinking coffee" to show how the video image appears on the screen.
The company offered further examples as well, such as underwater castles or things you could have dreamed about, like dragons or sci-fi moonrises.
Mohan expressed his belief that the technology will enable more people to publish on YouTube without feeling as though they need a whole production studio or a thorough understanding of YouTube analytics, TechCrunch reported.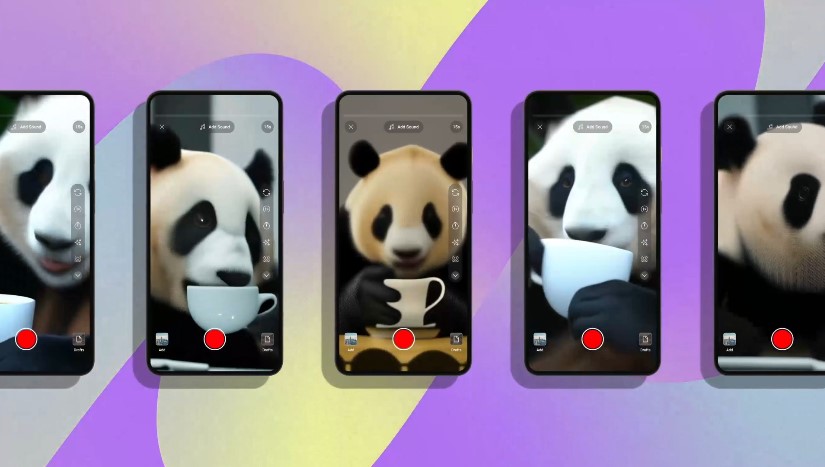 Over 70 billion daily views are currently being averaged on the Shorts platform, up from 50 billion in January and the biggest video-creating app anticipates that these figures will rise even higher with AI.
"At YouTube, we want to make it easier for everyone to feel like they can create and we believe generative AI will make that possible," said Mohan.
The feature is currently being presented to a small group of artists, and it will presumably then go live early next year.
According to YouTube, in the future, the tool will allow users to enter ideas for how to alter or remix their content in order to create entirely new and unique videos.
What you should know about asteroid sample landing Earth soon?
Researchers have been waiting on Earth to receive the biggest asteroid sample which will be sent from space by Nasa's OSIRIS-Rex probe, as astronomers are gaining more understanding about the evolution of the solar system and the alien rocks that are to impact our planet in future.
Origins, Spectral Interpretation, Resource Identification, Security-Regolith Explorer (OSIRIS-Rex) will be releasing a sample of the Bennu asteroid which is likely to touch down in Utah weighing an estimated 8.8 ounces.
The event will be live-streamed starting at 10am ET Sunday.
The capsule is likely to enter Earth's atmosphere at 10:42am ET, with a speed of about 27,650 miles per hour (44,498 kilometres per hour), landing 13 minutes later.
The probe — launched in 2016 — will continue its space journey in the solar system to collect further information about asteroid named Apophis.
The samples from space may assist scientists to gain more insight into the origins and evolution of the solar system as asteroids are the "leftovers" from those early days 4.5 billion years ago.
The analysis will also help gain more insight into Bennu, which is expected to hit Earth in the future.
After surveying the Bennu — a rubble-pile asteroid shaped like a spinning top, is about one-third of a mile (500 meters) wide and composed of rocks held together by gravity.
During the sample collection, OSIRIS-REx went 1.6 feet (0.5 meters) deep into the surface — loosely packed — of the asteroid.
After saying goodbye to Bennu in May 2021, Nasa's probe has been on its way to Earth, circling the sun twice so it can fly by Earth at the right time to release the sample.
The capsule will land within an area of 36 miles by 8.5 miles on the Defense Department's Utah Test and Training Range.
Sandra Freund, OSIRIS-REx program manager at Lockheed Martin Space, said: "Parachutes will deploy to slow the capsule to a gentle touchdown at 11 miles per hour, and recovery teams will be standing by to retrieve the capsule once it is safe to do so."
Details about the sample, after undergoing the necessary process will be revealed through a Nasa broadcast from Johnson on October 11.
According to scientists, carbonaceous asteroids such as Bennu crashed into Earth early during their formation, delivering elements like water.
"We're looking for clues as to why Earth is a habitable world — this rare jewel in outer space that has oceans and has a protective atmosphere," said Dante Lauretta, OSIRIS-REx principal investigator at the University of Arizona in Tucson.
"We think all of those materials were brought by these carbon-rich asteroids very early in our planetary system formation."
"We believe that we're bringing back that kind of material, literally maybe representatives of the seeds of life that these asteroids delivered at the beginning of our planet that led to this amazing biosphere, biological evolution and to us being here today," Lauretta added.
Google supercharges Bard as OpenAI's ChatGPT leads chatbot race
Alphabet Inc's Google announced on Tuesday that Bard, its generative artificial intelligence, is being equipped with the capability to fact-check responses and analyse users' personal Google data, CNN reported.
This move is part of Google's efforts to keep up with the popularity of ChatGPT.
The debut of ChatGPT, a chatbot developed by Microsoft-backed OpenAI, last year triggered a competitive race within the tech industry to provide consumers with access to generative AI technology.
At the time, ChatGPT became the fastest-growing consumer application in history and currently ranks among the top 30 websites globally.
However, Bard hasn't experienced the same level of success.
In August, it received 183 million visits, which is only 13% of what ChatGPT received, according to Similarweb, a website analytics firm.
To make headway in the rapidly evolving AI landscape, Google is introducing Bard Extensions, allowing users to import their data from other Google products.
For example, users can request Bard to search their files in Google Drive or provide a summary of their Gmail inbox.
For now, Bard users will only be able to pull information in from Google apps, but Google is working with external companies to connect their applications to Bard in the future, Google senior product director Jack Krawczyk said.
Another new feature in Bard seeks to alleviate a nagging problem for generative AI: inaccurate responses known as "hallucinations".
Bard users will be able to see which parts of Bard's answers differ from and agree with Google search results.
"We are presenting (Bard) in a way that it admits when it's not confident," Krawczyk said, explaining that the intention is to build users' trust in generative AI by holding Bard accountable.
A third new feature allows users to invite others into Bard conversations.