Bull-run enters third day at PSX
KSE-100 index edges up 262.30 points to close at 46,407.26.
Index oscillates between red and green zones as investors await corporate results.
Shares of 359 companies were traded during the session.
---
KARACHI: The bulls held on to their positions for the third consecutive session at the Pakistan Stock Exchange (PSX) on Tuesday and helped keep the benchmark KSE-100 index in the positive zone.
Political stability that emerged after newly elected Prime Minister Shehbaz Sharif took charge coupled appreciation of Pakistani rupee against the US dollar aided the rise of the bourse.
The KSE-100 index oscillated between red and green zones as investors awaited corporate results for the quarter ended March 31, 2022 in certain sectors.
Today, the benchmark KSE-100 index edged up 262.30 points, or 0.57%, to close at 46,407.26 points.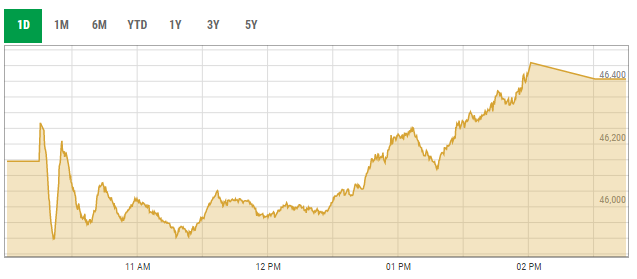 A report from Arif Habib Limited in its post-market commentary noted that another positive session witnessed today due to political stability and appreciation of Pakistan rupee against the US dollar.
Across the board rally was witnessed regardless of foreign selling spree; meanwhile main board activity remained healthy.
Moreover, market even witnessed hefty volumes in the third-tier stocks.
Sectors contributing to the performance included technology (+96.7 points), cement (+55.7 points), banks (+52.2 points), engineering (+24.9 points) and refinery (+20 points).
Shares of 359 companies were traded during the session. At the close of trading, 172 scrips closed in the green, 172 in the red, and 15 remained unchanged.
Overall trading volumes dropped to 493.59 million shares compared with Monday's tally of 557.67 million. The value of shares traded during the day was Rs13.85 billion.
WorldCall Telecom Limited was the volume leader with 62.03 million shares traded, losing Rs0.06 to close at Rs2.07. It was followed by Telecard Limited with 32.65 million shares traded, gaining Rs0.73 to close at Rs16.96 and Flying Cement with 30.85 million shares traded, losing Rs0.83 to close at Rs8.80.
ADB approves over $155m loan for Pakistan to support women's financial access
New program to help transform financing ecosystem: ADB
$100m loan supports legal and regulatory reforms.
Female labour force participation in Pakistan stands at 23%.
---
The Asian Development Bank (ADB) has approved $155.5 million in financing for Pakistan to support policy reforms aimed at enhancing women's access to finance and providing credit to women-led micro, small, and medium-sized enterprises.
The development comes days after the ADB approved $658.8 million in financing to support Pakistan's sustainable growth and help it recover from last year's cost-of-living crisis.
In a statement on Monday, the Manila-based lender said the latest financing comprises a $100 million policy-based loan that supports legal and regulatory reforms that will help women to better access finance; a $50 million financial intermediation loan that will enable participating financial institutions to lend to women entrepreneurs; and a $5.5 million grant that will finance related activities.
"Inclusive, resilient and sustainable development cannot be achieved if women do not have equal economic opportunities and benefits," said ADB Director General for Central and West Asia Yevgeniy Zhukov.
"ADB's new program will help transform Pakistan's current financing ecosystem to help women to access much-needed finance and empower them to boost their livelihoods while contributing significantly to the economy."
In the statement, the ADB said female labour force participation in Pakistan currently stands at about 23% and the country also has among the lowest rates of women's entrepreneurship in the world at 4% of female working age adults.
While Pakistan's financial inclusion has been improving, women are increasingly left behind with a large gender finance gap which currently stands at 34%, it added.
"There are many women entrepreneurs in Pakistan, but they remain unrecognised, being small and informal in nature and lacking the incentives to register their businesses formally or to grow," said ADB Senior Financial Sector Economist Andrew McCartney.
"Policies must recognise the importance of women entrepreneurship and create an enabling environment that increases women's participation in the formal economy and gives them more opportunities to grow their businesses."
The policy-based loan supports reforms that incorporate women's needs into national policies, such as the State Bank of Pakistan's Banking on Equality Policy that, among a range of measures, requires banks to establish departments dedicated to providing services to women.
It supports measures enabling women's access to credit and credit alternatives through digital channels, providing financial training and advisory services to women, and improving the working conditions of women within the finance sector.
The financial intermediation loan, meanwhile, is expected to benefit around two million women entrepreneurs, including about 510,000 who previously had no access to finance, through lending via participating financial institutions.
The grant from the Asian Development Fund (ADF) will finance activities such as the development of financial literacy programs and a digital platform that links women to financial services.
IMF board to meet on Jan 11 for Pakistan's first review approval
Pakistan's case not included in board meeting agenda for Dec 1-15.
Ongoing SBA programme is going to expire on April 14, 2024.
Pakistan, IMF reached agreement on first review last month.
---
The International Monetary Fund's Executive Board will take up Pakistan's first review on January 11 next year for approval that will unlock $700 million under the standby arrangement (SBA), Bloomberg quoted the lender's spokesperson as saying on Friday.
Last month, Pakistan reached a staff-level agreement with the IMF under the $3 billion SBA and is awaiting the board's approval to receive a second tranche.
Earlier this week, The News had reported that Pakistan's first review for approval was not included in the IMF's Executive Board meeting agenda for the 1-15 December schedule
The publication reported that the IMF did not firm up its exact schedule because the Fund's team was busy securing re-confirmation from all multilateral and bilateral creditors to meet the financing requirements of $24.9 billion for the current fiscal year.
This delay surfaced in discussions among the policymakers that the IMF might kick-start parleys on the second review probably after the general elections and takeover by the elected government.
The IMF programme was initially scheduled to kick-start parleys for a second review from Feb 3, 2024, but if the elections were scheduled to be held on February 8, 2024, then the possibility of holding talks might be done in the last week of Feb or early March 2024.
The ongoing SBA programme is going to expire on April 14, 2024.
A day earlier, IMF Executive Director Bahador Bijani noted an overall improvement in the economic situation, saying, the "Pakistani authorities have delivered".
He made these remarks at an event hosted by Pakistan's ambassador to the US in honour of friends of Pakistan from International Financial Institutions including IMF, International Finance Corporation (IFC), World Bank (WB), and Multilateral Investment Guarantee Agency (MIGA), at Pakistan House in Washington.
"I think the future for Pakistan is very bright. Pakistan is not just any country. It's one of the most important countries in the region and in the world. Pakistanis deserve much more," the IMF executive director was quoted as saying in an official statement.
Nathan Porter, IMF Mission Chief to Pakistan, also expressed satisfaction over the recently concluded staff-level agreement. He said that the actions and policies of the current government reflected its commitment to steer the country towards stabilisation.
Pakistan is reeling from Asia's fastest inflation, has about $1 billion in dollar-denominated debt due next year and is scheduled to hold elections scheduled in February.
Interim Finance Minister Shamshad Akhtar said after the staff-level deal in November that the country may seek an additional loan from the IMF, describing the economy as "still fragile."
PSX hits new milestone as KSE-100 surges past 66,000 mark
KARACHI: Bulls maintained their grip on the Pakistan Stock Exchange (PSX) as the benchmark index shot past the 66,000 mark on Friday by gaining over 1,000 points.
According to the PSX website, the KSE-100 index gained 1,302.45 points or 2.01% to reach 66,020.52 points at 11:39am during the intraday trading.

Raza Jafri, who is the head of equities at Karachi-based Intermarket Securities, said that the banks and energy sector lead the rally at the bourse as cheap valuations and a reasonably settled environment help flows remain strong as foreign and local buys continue to invest.
"The MPC (Monetary Policy Meeting) next week should set the tone for near-term trading. While unchanged interest rates are widely expected, investors will look for clues in the text of the monetary policy statement to gauge how much interest rates can come down by next year," he added.