What new interesting feature is WhatsApp working on?
Meta-owned WhatsApp is one of the messaging apps that keeps working on its features and brings out new updates to improve user experience, and this time, the developers are rolling out a new feature called "kept messages", WaBetaInfo reported Tuesday. 
WhatsApp is introducing this new feature the Google Play Beta Program, bringing the version up to 2.23.4.10. However, some users might get access to this feature if they install one of these updates: 2.23.4.6 and 2.23.4.8.
This feature is being released for some beta testers as of now. The messaging app plans to release to a wider audience in a future update. 
This feature allows users to keep messages from disappearing so that they can stay in the chat for everyone to see.
This feature was under development for a long time, now, it is being rolled out in the latest WhatsApp beta for Android 2.23.4.10 update from Play Store.
This feature is for the business version of WhatsApp. 
Users can find this option called "kept messages" in the chat information once it is available to them. This feature will allow users to keep a message from disappearing.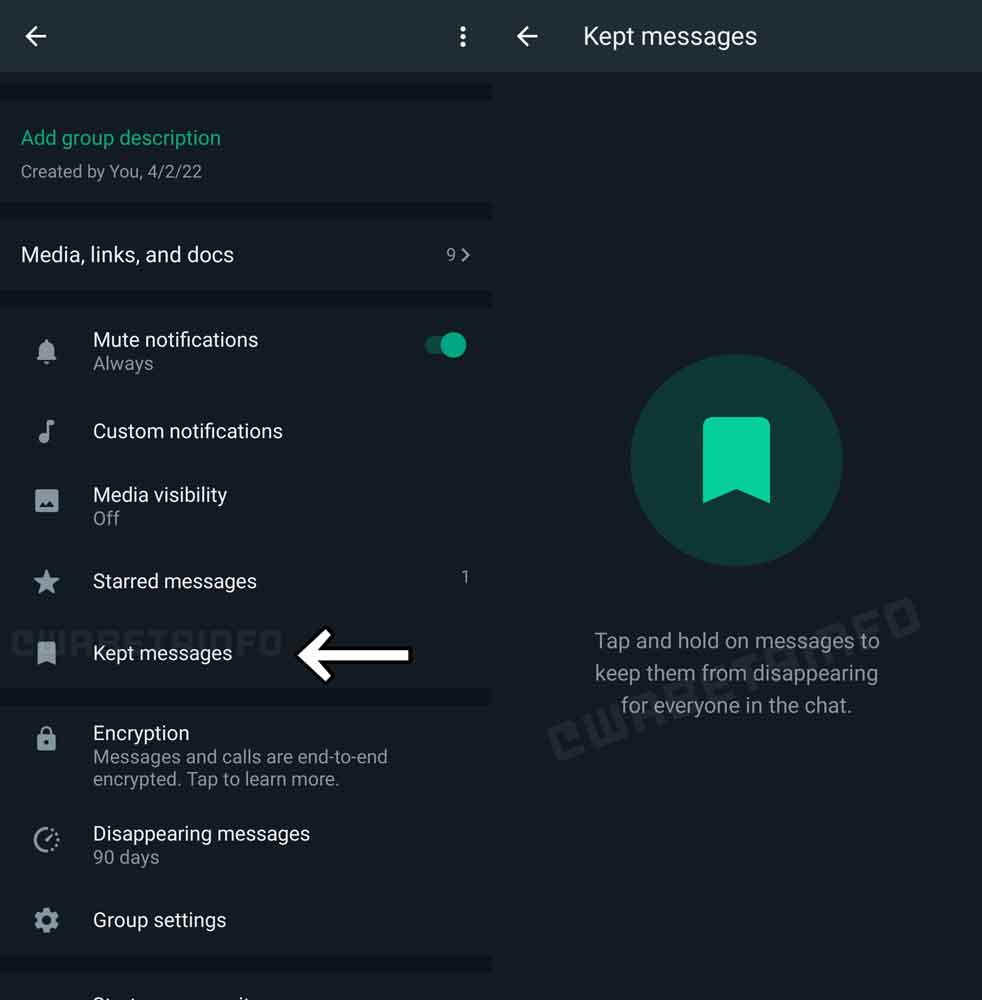 Some of the users have the disappearing message feature turned on, and with the "keep messages" feature, the message will no longer disappear from the chat. However, users will still be able to delete the messages at any time.
This section will have all the kept messages so that all users in the chat can easily find them whenever they want.
Users cannot keep a disappearing message at the moment as this new feature will be accessible in the future.
"In addition, when it will be possible to keep messages from disappearing, the ability to mark messages as starred and the starred messages section within chat info will be removed for disappearing chats because it makes no sense to star those messages in case they're going to disappear," said the app tracking website.
Humanity at risk: Musk, others ring alarm bells over hasty 'giant AI experiments'
Hundreds of celebrated artificial intelligence (AI) researchers including Tesla owner Elon Musk have undersigned an open letter recommending AI labs to revisit gigantic AI systems, ringing alarm bells over the "profound risks" these bots pose to society and humanity.
According to the letter, published by the nonprofit Future of Life Institute, AI labs are currently locked in an "out-of-control race" to develop and deploy machine learning systems "that no one — not even their creators — can understand, predict, or reliably control."
"AI systems with human-competitive intelligence can pose profound risks to society and humanity," said the open letter.
"Powerful AI systems should be developed only once we are confident that their effects will be positive and their risks will be manageable.
AI engineers around the world want to make sure that these powerful AI systems should be allowed to take logical time for the researchers to make sure they were safe.
Among the signatories of the letter are author Yuval Noah Harari, Apple co-founder Steve Wozniak, Skype co-founder Jaan Tallinn, politician Andrew Yang, and several well-known AI researchers and CEOs, including Stuart Russell, Yoshua Bengio, Gary Marcus, and Emad Mostaque.
The letter was mainly prompted by the release of GPT-4 from the San Francisco firm OpenAI.
The company says its latest model is much more powerful than the previous version, which was used to power ChatGPT, a bot capable of generating tracts of text from the briefest of prompts.
"Therefore, we call on all AI labs to immediately pause for at least 6 months the training of AI systems more powerful than GPT-4," says the letter. "This pause should be public and verifiable, and include all key actors. If such a pause cannot be enacted quickly, governments should step in and institute a moratorium."
Musk was an initial investor in OpenAI, spent years on its board, and his car firm Tesla develops AI systems to help power its self-driving technology, among other applications.
The letter, hosted by the Musk-funded Future of Life Institute, was signed by prominent critics as well as competitors of OpenAI like Stability AI chief Emad Mostaque.
The letter quoted from a blog written by OpenAI founder Sam Altman, who suggested that "at some point, it may be important to get independent review before starting to train future systems".
"We agree. That point is now," the authors of the open letter wrote.
"Therefore, we call on all AI labs to immediately pause for at least 6 months the training of AI systems more powerful than GPT-4."
They called for governments to step in and impose a moratorium if companies failed to agree.
The six months should be used to develop safety protocols, AI governance systems, and refocus research on ensuring AI systems are more accurate, safe, "trustworthy and loyal".
The letter did not detail the dangers revealed by GPT-4.
AI can potentially diagnose and treat cancers: study
Apart from artificial intelligence (AI) writing several essays, and passing bar exams, it is also capable of treating and detecting different types of cancers, according to a news report from Scripps News.
Researchers from the University of Toronto and Insilico Medicine used an AI database called AlphaFold and developed in just 30 days a medicine that could treat hepatocellular carcinoma (HCC), or liver cancer
The study was published in the journal Chemical Science. In it, the AI system discovered the previously unexplored paths to develop a cancer medicine to treat HCC and developed a novel hit molecule that could bind the target.
In the second round, they discovered an even more powerful hit molecule, however, the researchers maintained that the drug still needs to undergo clinical testing before it can be launched to treat cancer in hospitals.
Feng Ren, the study's co-author, said in a statement that the AI-powered AlphaFold broke new scientific ground in predicting the structure of human proteins.
"At Insilico Medicine, we saw that as an incredible opportunity to take these structures and apply them to our end-to-end AI platform in order to generate novel therapeutics to tackle diseases with high unmet needs. This paper is an important first step in that direction," he also added.
In another study journal JAMA Network Open, the experts from the BC Cancer and University of British Columbia showed how accurately AI predicted the survivor rates of patients with cancers.
It analysed the survival rates of more than 47,000 patients from six months to three and five years.
Dr John-Jose Nunez, lead author of the research study said in a statement: "The AI essentially reads the consultation document similar to how a human would read it."
"These documents have many details like the age of the patient, the type of cancer, underlying health conditions, past substance use, and family histories. The AI brings all of this together to paint a more complete picture of patient outcomes", he underscored.
Nevertheless, researchers are currently at the nascent stage of exploring the full potential of AI in health care and the treatment and diagnosis of diseases, however, the studies suggest that it can potentially be promising.
"Our hope is that a tool like this could be used to personalise and optimise the care a patient receives right away, giving them the best outcome possible," Nunez said.
Numerous mobile applications at risk of cyberattacks: study
Amid increasing digitisation in the technological world, the risks of cyberattacks are increasing with every passing day. Similar concerns were expressed by a study by Promon which found out that around 81% of mobile apps can be targeted through cyberattacks, the digital information world reported.
The findings have revealed the insecurity looming over the personal data of people which can be targeted by cyber attackers.
In this study, over 350 mobile applications were analysed which revealed that every app is vulnerable to any attack.
The mobiles were those that had insecure data storage and inadequate security encryption measures. These weaknesses can be breached by the attackers to gain illegal access to the personal data of the users.
Within these devices, 84% of them were not smart to detect any malicious attempt or any potential data or security breach.
In this study, "repackaging" — a major hack — was also highlighted which allows the attackers to gain access and run the extra process which the mobile is not otherwise designed to do. This way hackers can have complete control and information over their target. Only 15% of the devices have ensured security against these measures.
As the alarming findings have raised concerns over security, it is suggested that developers should carry out security checks and identify vulnerabilities. Users are also suggested to refrain from downloading data or applications from unknown sources especially those that require sensitive access to personal information.
Recently, there has been a cyberattack on the world's renowned automobile company.
The report came forward at a high time when there is a record number of mobile users worldwide with millions of people dependent on mobile phones for their information, banking, healthcare transport and so on. This phenomenon has activated criminals to grab the personal data of people and target them for their illegal aims.
It is highly suggested that mobile application developers ensure routine safety and security checks and be proactive in determining any gap in security.
If is not done in a timely manner then the cost of such would be very high for individuals and overall businesses — highly dependent upon digital applications. It will cost not only information and personal data but can also result in hefty financial losses.