Unemployed and out of options, Pakistani women turn to social media to earn
A growing number of women, excluded for formal sector, are turning to informal online commerce to earn money

Hailing from a remote village in Punjab's Mianwali district, Khadjia Malik had only one dream that kept her going through difficult times: to see her four children receive a good education.
The 43-year-old mother was married to a sailor when she was just 18. After marriage, Khadija found work at a clothing factory in Islamabad to earn enough to feed her children. But then in 2020, she lost her job.
Due to the coronavirus pandemic and lockdowns, the company she worked for had to cut back costs and as a result sacked many workers.
Out of work and with no other options, Khadija took to taking stitching orders at home. But that was not enough to meet her families daily expenses.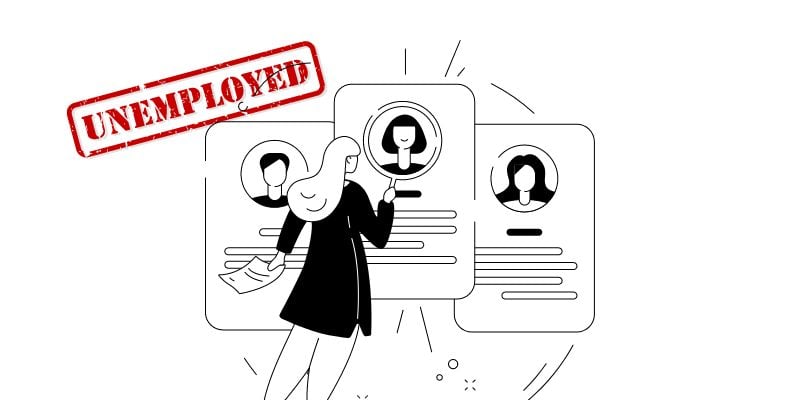 One day, after finishing an applique order for her neighbour, Khadija used the Rs2,000 she had saved to buy three towels, some cloth and a quilt from a local wholesale market.
She embroidered the towels and the quilt and made two separate cushions and pillows. The next day, she decided to have her hand-embroidered products dry cleaned. She was holding onto the bag as she waited outside the school to pick up her children, when a friend noticed. She asked Khadija if she can take the bag home to copy the designs. Khadija agreed.
Soon the word spread. People in the neighbourhood began calling her to ask if she was selling the bedsheets and cushions. She sold them for Rs700 each and made Rs2,100 that day.
Khadija is among those 7.3 million people who lost their jobs during a lockdown in Pakistan between April to June 2020, as per the Pakistan Bureau of Statistics. Of the 7.3 million, 74% were women working in the informal sector.
When a women loses her job, it affects the entire family, as 46% of low income households in Pakistan rely on the earnings of the women.
The Lahore-based Institute of Development and Economic Alternatives (IDEAS), found that only 71% of the women who responded to its survey were concerned about being infected by the deadly coronavirus. The rest feared losing their jobs more.
The World Bank in its report released in 2021 presents an even bleaker picture. As per the report, the post-pandemic recovery for males is faster than women, adding that this could lead to a further decline in women's participation in the country's economy.
While Khadija Malik was able to quickly bounce back and set up a small business after being unemployed, Ghania Arsalan didn't have it so easy.
She had given birth to her fourth child during the pandemic in 2020. At the same time, she lost her job as a teacher at a local school in Karachi. Ghania struggled financially for six months, unsure how she would feed her children, until a friend at a wedding helped her get back on her feet.
"The friend gave me her stock of makeup and jewelry to sell," Ghania tells Geo.tv, asking her to return the money after keeping a profit.
To promote her business, the mother of four turned to social media, posting ads on women-only groups on Facebook and WhatsApp. After roaring success, Ghania has now expanded her business and also sells clothes, sandals, purses and other household items.
"After the ban on imported luxurious goods, more and more people are turning towards online sellers for low-cost alternatives," she said, "I now have loyal customers all over Pakistan."
A growing number of women, excluded for the formal sector, are turning to informal online commerce to earn money.
In 2022, Nuzhat Kamran, 29, enrolled herself in baking classes. Then, she set up an Instagram account to promote her baked goods. "People loved the pictures of my cakes and kept asking me for orders," she said.
The Consultative Group to Assist the Poor (CGAP), a global partnership of more than 30 leading development organisations that works to advance the lives of poor people, especially women, through financial inclusion, has found that women are heavily involved in informal e-commerce.
"This type of e-commerce often enhances women's livelihoods while deepening their use of digital and financial services, such as mobile wallets and online banking," it notes in a recent report.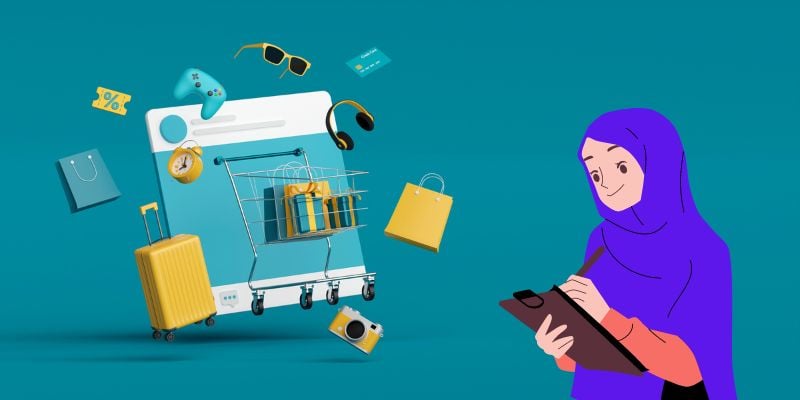 Ultimately, the study found that informal e-commerce could be the path to financial inclusion and economic independence for women in Pakistan and other countries.
But there are drawbacks to e-commerce as well, explains Zunaira Shah, a research consultant for CGAP in Pakistan.
"Most informal e-commerce businesses in Pakistan are gendered in that they deal with traditionally feminized skills and products," she told Geo.tv, "These women-dominated businesses are often undervalued and trivialised, which makes it harder for women to raise investments and be recognised as 'real' business owners."
There is also a risk that home-based, informal work could reinforce patriarchal norms by restricting a woman's mobility wrote Shah, in a research paper.
There are no exact numbers of how many women work in the informal sector, neither are there any on how much their contribute to the economy. Even though more and more women are turning to the informal sector to support themselves.
Khadija, Ghania and Nuzhat are just some examples of women who refuse to return to a daily 9am to 5pm job. For these women, by staying at home, they can save up on the cost of commute and baby-sitting. None of which is provided to working women in the formal sector. Not only that, these women can now work on their own terms.
Petrol, diesel prices likely to go down from April 1
Petrol rate likely to reduce by Rs4-5 per litre.
Rs15-20 per litre reduction expected in diesel price.
Sources hint at possibility of prices remaining unchanged.
---
Following a reduction in international crude oil prices, the rates of petroleum products in Pakistan are expected to decline from April 1, Geo News reported Wednesday.
According to estimates of oil marketing companies (OMCs), the price of diesel is likely to decline by Rs15-20 per litre while the price of petrol is expected to go down by Rs4-5 per litre.
However, well-placed sources in the industry said that there is a possibility that the Finance Division keeps the price unchanged.
In its last fortnight bulletin, the federal government raised the price of petrol to Rs272 per litre.
The Finance Division attributed the price hike to the depreciation of the Pakistani rupee against the US dollar and an increase in the prices registered by Platts Singapore.
The price of MS (petrol) was increased by Rs5 per litre and the price of hi-speed diesel was increased by Rs13 per litre.
The increase in the price of kerosene oil was kept at Rs2.56 by reducing the government's dues on it. Similarly, the price of light diesel oil was kept constant by adjusting the government dues as well.
The new prices came into effect on March 16 and will remain in place till March 31.
The Finance Division will announce the news rates on March 31 which will remain in place for the next 15 days.
Banks to observe extended working hours
At the request of the Federal Board of Revenue, the State Bank of Pakistan (SBP) on Wednesday directed all branches of banks to observe extended banking hours in order to facilitate the taxpayers in payment of government duties/taxes.
The central bank, in a statement issued in this regard, said that the direction is for all branches of banks including the National Bank of Pakistan (NBP) and field offices of SBP Banking Services Corporation (SBP-BSC).
"[…] all branches of banks including National Bank of Pakistan (NBP) and field offices of SBP Banking Services Corporation (SBP-BSC) shall observe extended banking hours until 04:00 P.M. and 06:00 P.M. on 30th and 31st March 2023 respectively for collection of government taxes through ADC's Over-the-Counter (OTC) facility," the statement read.
It mentioned that National Institutional Facilitation Technologies (NIFT) shall arrange a special clearing at 6pm on March 31 (Friday) for the same-day clearing of payment instruments deposited at NBP's authorised branches for customs collections.
"For this purpose, all banks shall arrange to keep their clearing-related branches open till such time that is necessary to facilitate the special clearing by NIFT on March 31, 2023 (Friday)," it read.
It should be noted that during Ramadan, banks observe reduced hours. Currently, the timings are:
Public dealing timings:
Monday to Thursday — 9am to 2pm (without break)
Friday — 8:30am to 1pm (without break)
Office timings:
Monday to Thursday — 9am to 3:30pm (with prayer break from 2pm to 2:30pm)
Friday — 8:30am to 1pm (without break)
PM Shehbaz takes notice of gas loadshedding during sehr, iftar
PM Shehbaz says he has already taken notice of the matter.
Premier summons a meeting to discuss issue of gas loadshedding.
"We will leave no stone unturned to address this issue," PM says.
---
ISLAMABAD: Prime Minister Shehbaz Sharif on Wednesday assured the members of the National Assembly that his government would address the issue of gas loadshedding during sehr and iftar as inflation-weary people have been registering complaints.
The prime minister, responding to a point of order raised by MNA Syed Agha Rafiullah, told the house that he had already taken notice of the matter.
PM Shehbaz shared that he had already summoned a meeting to be held later in the day, to discuss the issue of gas loadshedding.
"We will leave no stone unturned to address this issue," the prime minister assured the house.
Earlier, a parliamentarian from Karachi's Malir area drew the house's attention to the problem of gas loadshedding being faced by the people, particularly those of Karachi, during sehr and iftar.
He said though the prime minister had already taken notice of the situation, the Sui Southern Gas Company (SSGC) needed to be directed to resolve the issue and provide uninterrupted supply during sehr and iftar.
Last week, the SSGC said gas would be supplied to domestic consumers during the holy month of Ramadan, but for limited hours — a move that irked consumers who complained of not getting enough of this essential fuel during mealtimes.
The utility had said that the gas pressure would be low from 8am to 2:30pm as it was facing a shortfall of 250 million mmbtu.
According to the SSGC helpline, for iftar, gas will be supplied to consumers in Karachi from 2:30pm to 7pm, while for sehr it will be available from 2:30am to 5am.
The gas utility added that consumers would face complete suspension or low pressure during the rest of the hours.
However, the people have been complaining that gas remained suspended during sehr and iftar which forced them to purchase meals from hotels and restaurants which burdened their pockets.