TikTok launches BookTok to reignite love of reading in Pakistan
To celebrate International Literacy Day, #BookTok launched in Pakistan.
It encourages and inspires to enjoy literature in all of its forms.
With #BookTok, users in Pakistan will be able to connect and engage with vibrant literature community on TikTok.
---
ISLAMABAD: To celebrate International Literacy Day, TikTok has launched its #BookTok campaign in Pakistan to reignite the love of reading and encourage its Pakistani users to engage with the growing community of book lovers across the world.
#BookTok is the go-to hashtag on TikTok for all content pertaining to books, reading, writing and everything in between, said a news release.
With book reviews, writing tips, plot reenactments of popular novels, and more, this corner of TikTok encourages and inspires others to enjoy literature in all of its forms.
The #BookTok community has been on TikTok since early 2020 but saw an initial boost in content during March of 2020 with the beginning of stay-at-home orders.
Users turned to TikTok for entertainment and discovering #BookTok recommendations, helping reignite a passion for reading that has grown through the app, inspiring over 12 million videos and reaching over 75 billion views globally to date.
With this campaign now going live in Pakistan, reading enthusiasts can join the growing global #BookTok community and engage with them to share their love for books and literature.
#BookTok will also serve as a hub to celebrate Pakistan's rich literature and to share poetry, landmark novels, and classic tales from prominent writers and poets in Urdu and other regional languages with TikTok communities across the world.
Books have been entertaining the masses for longer than TikTok, but with the launch of the #BookTok campaign, users in Pakistan will be able to combine the classic pleasure of reading with the engaging content found on TikTok.
TikTok creators frequently share their love for unique or popular topics, inspiring others to pick up a new hobby or dive deeper into one that was already a part of their lives.
Through these shared connections, users elevate and highlight products they love and encourage community growth both on and off TikTok.
Shaheen Afridi's Nikah with Shahid Afridi's daughter solemnised in Karachi
Pakistan pacer Shaheen Afridi's Nikah Friday was solemnised with former skipper Shahid Afridi's daughter Ansha at a local Karachi mosque.
Maulana Abdul Sattar performed the Nikah at the Zakaria Mosque, while the bride's rukhsati will take place later.
Soon after the Nikah, a reception was also held where cricketers Babar Azam, Sarfaraz Ahmed, Naseem Shah and Shadab Khan, as well as squash legend Jahangir Khan, were among the attendees.
Asim Bajwa, the former director-general of the Inter-Services Public Relations, was also present at the occasion along with Wasim Khan, the General Manager of the International Cricket Council.
According to family sources, the couple's mehndi function was held last night. Meanwhile, Shaheen's family reached Karachi to participate in marriage events two days earlier.
The pair was engaged two years ago.
Speaking in an interview on Geo News' show "Aik Din Geo Kai Sath", the left-armer revealed that it was his wish to marry Afridi's daughter.
"It was my wish and Alhamdulillah [thanks to Allah Almighty] it is fulfilled now," Shaheen said while blushing during the interview.
When asked whether Ansha felt jealous about his female fans, the 22-year-old cricketer said: "I am not sure, maybe she feels something like that."
The host asked the young pacer about upsetting his numerous female fans after getting engaged so soon, replying to which he said: "I found my heart and that's enough for me."
With his team Lahore Qalandars as the defending champion, skipper Shaheen will be next seen in action during the upcoming eighth edition of the Pakistan Super League, which is scheduled to begin on February 13.
The fast bowler has been in and out of the cricket field for a while in the wake of his knee injury during the T20 World Cup 2022 final against England which was held on November 13.
Preparations for Shaheen Afridi's wedding in full swing
KARACHI: National team fast bowler Shaheen Afridi has reached Karachi along with his family for his marriage to legendary cricketer Shahid Afridi's daughter, Ansha.
Shaheen is set to marry the daughter of Pakistan's star player on Friday, February 3.
According to family sources, Shaheen Afridi and Ansha will sign their nikah nama — a marriage contract officiated by a cleric in Muslim weddings — now while the rukhsati (seeing off) will take place later.
Fans will be excited to know that Shaheen and Ansha's marriage preparations are underway and the groom-to-be and his family have reached the port city. The pacer got engaged to Ansha two years ago.
The sources told Geo News that the Mehndi ceremony will be held tonight in the city of lights.
It is also worth mentioning that the wedding invitation for the ceremony is going viral on social media. However, no one from the two families has verified whether the card is real or fake.
In an earlier interview on the show "Aik Din Geo Kai Sath" on Geo News, the 21-year-old revealed that it was his wish to marry Afridi's daughter. When the host, Sohail Waraich, asked Shaheen about his engagement and relationship with Shahid Afridi's daughter.
The cricketer blushed and said, "It was my wish, and Alhumdulillah it is fulfilled now," he shared.
During the interview, when Shaheen was asked whether Ansha feels jealous about his female fan following, Afridi said he is unsure about it.
"I am not sure, maybe she feels something like that," the cricketer quipped.
Further, the host asked Shaheen about upsetting plenty of female fans by getting engaged at an early age.
At this, Shaheen said: "I found my heart and that's enough for me."
Wedding bells are also ringing for several other cricketers on Pakistan's national side.
Then on January 20, Shan Masood got married in an intimate Nikah ceremony in Peshawar. Shan tied the knot with the love of his life Nische in Peshawar. Their reception will take place in Karachi on January 27.
Three days later, all-rounder Shadab Khan tied the knot with former cricketer Saqlain Mushtaq's daughter in a private nikah ceremony.
Taking to Twitter last month, Khan announced his wedding to the daughter of the current head coach of the national team. Meanwhile, the cricketer also requested people to give space to him and his wife.
Sham Idrees announces break in his marriage with Froggy
YouTube's famous couple Sham Idrees and Froggy aka Sehar are taking sometime away from each other in their relationship.
Sham, taking it to his Instagram, left his fans in a shock after announcing his separation with Froggy. He wrote: "I would like to announce that me and froggy are taking sometime away from each other in our relationship. Please don't involve me in issues concerning froggy, rabil or any of the other family members. I appreciate some privacy during this difficult time."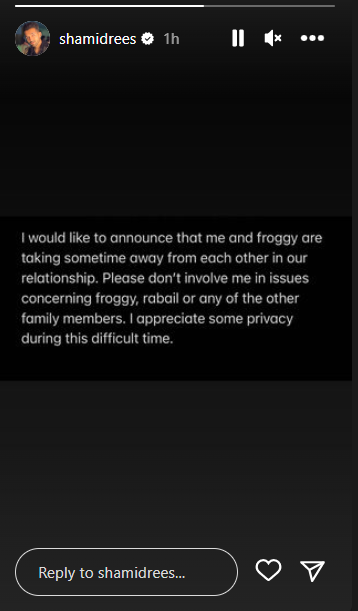 Sham is a Canadian based YouTuber, who has a following of 1.4 million people on Instagram, is widely-known for his entertaining content. His videos often feature his wife Sehar along with him.
The couple tied the knot a few years ago and is parents to baby Sierra who is two-years old. The duo welcomed another daughter on September 28, 2022. They named her Shanaya Idrees.
After the birth of his first daughter, Sham Idrees also introduced his fans to his daughter Dua from his previous marriage.