The Legend of Hamza Ali Abbasi: The superstar returns with 'Maula Jatt'
Hamza Ali Abbasi, a superstar years into self-inflicted exile from showbiz, is now ready to return with nothing short of a magnum opus, The Legend of Maula Jatt.
The 38-year-old actor, who would rather dedicate his time to learning and bettering himself than churning out inevitable hits, took a bow from the big screen in 2018 and now, after a long hiatus, is eyeing a triumphant return with Bilal Lashari's retelling of a classic tale.
While The Legend of Maula Jatt has itself gained the reputation as somewhat of a legend in the making for about a decade now, Hamza has also made a name for himself as an enigma during his time away from the screen.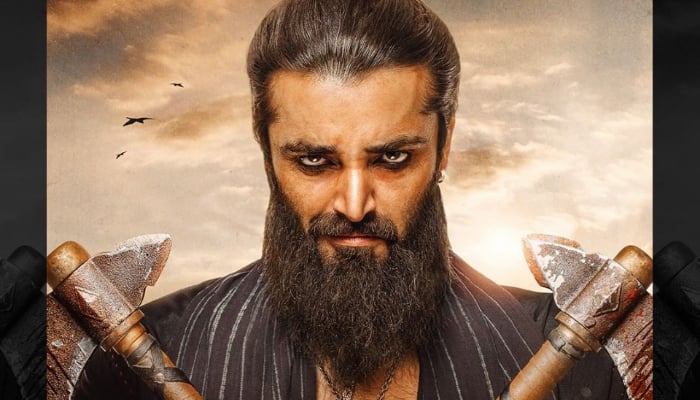 However, he is now ready to get candid about his hiatus, and his much-awaited return to the silver screen.
In a conversation with Geo TV, Hamza opened up about his thoughts about Maula Jatt, what the public should expect from him, and his understanding of the fusion of his craft and the religion he holds so close to his heart.
"I took a long break to focus on educating myself," Hamza shared, adding that even now, as the world awaits the release of the biggest Pakistani production starring him, he is "focusing on doing less but quality work."
Hamza then dives into detailing his reasoning behind the 'break' from acting, which he believes he already explained in a 18-minute-long video he shared some four-and-a-half years ago announcing the said break.
"I never announced my exit from the industry, in fact, I made a whole video that majority of the people didn't watch, and just read the headlines that I've left acting," he said.
He continued: "In that video… I specifically said that I've reached that point in life where I have 100% belief in the whole system of Allah, the Holy Prophet (PBUH), holy books, Day of Judgement, the concept of heaven and hell…"
Hamza further explained: "I realised that all of it is real, and so, I will be taking a long break to watch the whole film of the trailer I've seen about religion. I want to reach to the depths of my questions, and learn more about my own self."
The Alif actor also categorically stated: "The version of religion that I align myself with, the religion of Allah, does not categorize entertainment in itself, be it music or acting, as haram (prohibited)."
So, where does The Legend of Maula Jatt lie within Hamza's version of his craft? By his own admission, it holds quite the top spot because he has huge expectations with the project which he proudly describes as the 'biggest production in Pakistan'.
"I am very hopeful about Maula Jatt because it's one of the biggest productions of Pakistan, budget and scale wise. Its success is gonna set a milestone for other films," said Hamza.
"I am really hopeful not just because it's my own project, but it will be a huge step forward for the media industry overall. If Maula Jatt is successful, it will also encourage others to make projects on such a big scale and budget."
Hamza is also confident that the story, a remake of the 1979 cult classic Punjabi flick of the same name by Younis Malik, is eternally relevant, and so will not have a hard time resonating with people more than four decades after the original.
"Good versus evil, the clash between good and bad and principal versus evil, like in Maula Jatt, has existed in every society since the dawn of time, it's an integral part of humanity," Hamza believes.
According to the Parwaaz Hai Junoon actor, the Maula Jatt team has worked hard to not limit the film by a time/period constraint.
"As far as the script is concerned, the way we've shown it is very time neutral. It's not shot in this age or even in prehistoric times, you can interpret it in whatever time and age… because, the story itself is relevant," Hamza said.
As the release of The Legend of Maula Jatt inches closer each day; the film is slated to hit theatres on October 13, 2022, Hamza has also revealed that fans can expect to see him in something new as early as next year.
"I might do something new by next year. Something that is within the limits defined by Allah," Hamza concluded on a high note.
Pakistan gear up for historic clash against Saudi Arabia
AL-AHSA, SAUDI ARABIA: In a first, Pakistan will today take on Saudi Arabia in the second round of the 2026 FIFA World Cup Qualifiers for the first time in its footballing history, reported The News on Thursday.
The historic game will be played at the Al-Fateh Stadium at 7:30 pm local time.
Pakistan and Saudi Arabia last played against each other in 1978 at the latter's home which the Green Shirts were humiliated 6-0.
Jordan and Tajikistan are the other teams in Pakistan's group.
These four teams will play against each other home and away, the top two nations will progress to the third round while the last two teams qualify for the third round of the 2027 Asian Cup Qualifiers. Being a host country of the 2027 Asian Cup, Saudi Arabia have already qualified for the continent's major showpiece event.
Pakistan team since its arrival in Saudi Arabi on November 11 has held six training sessions at the Al-Fateh Stadium's reserve venue. They were joined by their foreign-based players who came in two different groups.
England-based winger Imran Kayani had joined the team in Islamabad and was part of all the training sessions held in the federal capital under English coach Stephen Constantine. The Whitehawk FC player is likely to make his international debut today.
According to team sources, overseas players Harun Hamid, Yousuf Butt, Abdullah Iqbal and Abdul Samad arrived in Saudi Arabia two days ago while Otis Khan and Rahis Nabi checked in at the hotel on Tuesday.
Coach Constantine on Wednesday said that they expect a tough match against the hosts.
"There is no doubt that Saudi Arabia are a tough side and we will try to make our best effort against them," he said during a pre-match news conference at the Al-Fateh Sports Club.
He said that the time was short for preparation but whatever time they had at their disposal they tried to prepare well.
"We had a few good days here and a week at Islamabad and hopefully we will put in our best," Stephen said.
He said that Pakistan will badly miss their defender Easah Suliman who has been ruled out for a few weeks due to an injury which he developed while playing in the Azerbaijan league. Constantine refused to disclose who will lead the side.
"When one is down the other comes to take his place," he said.
The coach sees the game as a big opportunity for Pakistani players to attract foreign scouts.
"They have to play well and when they do well then definitely they may get offers from professional clubs but it's a great honour to represent one's country first," Constantine said.
The second round matches will be held in three phases with the second phase and third phase to be held in March and June respectively.
Meanwhile, Saudi Arabia have injury woes of their own as Al-Hilal's winger Salem Al-Dawsari was ruled out of both the games against Pakistan and Jordan due to an ankle injury.
Saudi Arabia's Italian coach Roberto Mancini said that his team is ready for the show.
"It's a first official game for us in the Qualifiers. We are ready and you know the first game is always difficult," Mancini told the news conference.
"I think it is time to put youngsters in the team for the future because we saw many players in three months. And we believe that we have a good young players for the future and it's important to give them a chance in the important game," Mancini said.
"My target is to try to play good football. we started well but we played against tough teams and in future this team will progress well," he said. Since taking charge as Saudi Arabia's head coach last August his charges have lost three matches of the four they have played. He said that Saudi Arabia will not take Pakistan lightly.
Pakistan squad:
Goalkeepers: Yousuf Butt, Salman-Ul-Haq, Hassan Ali
Defenders: Abdullah Iqbal, Haseeb Khan, Mamoon Moosa Khan, Mohibullah, Muhammad Sohail, Muhammad Saddam, Junaid Shah, Rao Umar Hayat, Muhammad Hamza Munir
Midfielders: Rahis Nabi, Alamgir Ghazi, Rajab Ali, Ali Uzair, Imran Kiyani, Harun Hamid
Forwards: Shayak Dost, Otis Khan, Fareed Ullah, Abdul Samad Arshad, Muhammad Waleed Khan, Adeel Younas
Officials: Stephen Constantine (head coach), Rogerio Ramos (goalkeeper coach), Claudio Altieri (performance coach), Muhammad Ali Khan (manager), Azam Khan (doctor), Muhammad Abdullah (physio), Haider Ali (media), Abdul Qayyum (masseur).
Pakistan squad for World Cup 2023 announced
Chief selector Inzamam-ul-Haq unveiled squad.
Hasan Ali replaces injured Naseem Shah.
Pakistan enter mega-event as number one ranked side.
---
LAHORE: In a much-awaited announcement, the Pakistan Cricket Board (PCB) has finally revealed the 15-member squad for the upcoming ICC World Cup 2023.
The announcement of Pakistan's squad faced unexpected delays as the team management held consultations following a humiliating exit from the Asia Cup and the injuries faced by major bowlers during the tournament.
Chief selector Inzamam-ul-Haq unveiled the squad at Lahore's Gaddafi Stadium.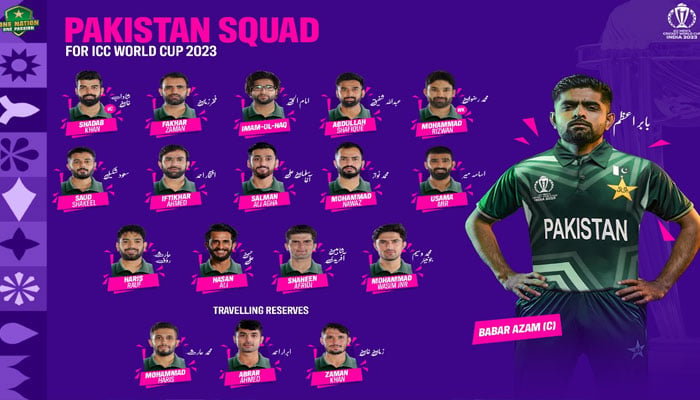 Babar Azam will captain the team, while Shadab Khan remains the team's vice-captain. Hasan Ali has been called in to replace pacer Naseem Shah — who has been ruled out from the tournament due to his shoulder injury.
Ali, however, will be returning to one-day international (ODI) cricket after a year-long hiatus following his last appearance against West Indies in Multan in 2022.
"We were forced to make one change because of an unfortunate injury to Naseem Shah. We had a few injury scares in the recent Asia Cup, but I am glad to share that all the players are fully fit and are eager to perform for their country in the all-important tournament. I have received encouraging reports from our medical panel about Haris Rauf. He has started to (shadow) bowl at the National Cricket Academy and will be available for selection," said Inzamam while speaking during a press conference today.
"I have a firm belief that this squad can bring the World Cup trophy to Pakistan and make the whole nation proud with their incredible performances. It is time to get behind our team and provide them with the backing and support that they need."
Babar Azam's side enters the mega-event as the number one ranked side and enjoys the best win/loss ratio of 2.4 in this World Cup cycle for any side that has played the ODI format.
The ICC World Cup 2023 will take place in India with 10 teams fighting for the elusive title across 10 venues from October 5 to November 19, with the Narendra Modi Stadium in Ahmedabad hosting the tournament opener and the final.
The Cricket World Cup will be played in a round-robin format, with all teams playing against each other for a total of 45 league matches.
The top four teams will qualify for the semifinals, which will be held in Mumbai on November 15 and in Kolkata on November 16. The semi-finals and the final will have reserve days.
Squad
Babar Azam (c), Shadab Khan, Abdullah Shafiq, Fakhar Zaman, Haris Rauf, Hasan Ali, Iftikhar Ahmed, Imam-ul-Haq, Mohammad Nawaz, Mohammad Rizwan (wk), M Wasim Jnr, Saud Shakeel, Salman Ali Agha, Shaheen Shah Afridi, Usama Mir.
Reserves
Mohammad Haris, Zaman Khan, Abrar Ahmed.
Shahid Afridi's heartfelt note for daughter Ansha on wedding with Shaheen
Veteran cricketer Shahid Afridi Wednesday shared a heartfelt note for his daughter, Ansha, expressing his feelings over her marriage with Pakistan pacer Shaheen Shah Afridi.
The wedding ceremony took place in Karachi a day earlier.
Following their engagement two years ago, the couple had tied the knot in an intimate nikah ceremony held in February this year.
In an emotional and moving post on X, formerly Twitter, the former cricketer wrote Urdu couplets for his daughter.
"Aya tha ghar main noor abhi kal ki baat hai
Rukhsat bhi ho raha hai wo ankhon kay saamney
Dooba hua bhi hai terey baba ka dil magar
Umeed subh-e-nau isey ayi hai thamney," Afridi wrote.
Along with the couplet, the former Pakistan captain shared two photos of himself with the newly wedded couple. In both images, taken from the back, Afridi is seen lovingly holding onto his daughter and son-in-law in a pleasant mood.
In one of the pictures, the former all-rounder is seen leaning towards Ansha, expressing his emotions of a father seeing his daughter off.
In the photo, Afridi's daughter is seen wearing an intricately-designed red dress, embellished with gold zardozi and sequin work.
Photos from the wedding, which took place at a private wedding venue in Karachi, have gone viral on social media with Shaheen seen mingling with guests and fellow cricketer and Pakistan captain Babar Azam amid the joyous occasion.
The 23-year-old fast bowler arrived at the venue to receive his bride with his family, while the rukhsati (seeing off) ceremony was decked with a diverse guest list which included former captain Misbah-ul-Haq, Saeed Anwar, Tanveer Ahmed, and Sohail Khan.
The couple got married seven months ago in Karachi. However, Ansha's rukhsati was put on hold until September. Their valima ceremony will, however, be held in Islamabad on September 21.