Six more killed as destructive rains intensify Balochistan's woes
Death toll reaches 182 in Balochistan.
Several villages submerged in water.
Floods wash away three dams.
---
QUETTA: The ongoing monsoon rains continued to wreak havoc in Balochistan, with flash-floods in Qila Abdullah and several other areas killing as many as six people and inundating a number of villages overnight.
According to Provincial Disaster Management Authority (PDMA), Balochistan, the number of rain-related deaths has reached 182 in the province and several villages have been submerged in floodwaters.
Three dams have washed away and many link roads have been destroyed in Qila Abdullah.
The train service between Chaman and Quetta has also been affected due to floodwater in the area, while scores of cattle head have perished and crops and orchards ruined.
The traffic between Quetta and Karachi was also suspended as the linking highway had been damaged in different areas of the Lasbela district.
CM's concern
According to Commissioner Kalat Division Dawood Khilji, the recently established alternate route at the Landa area of Uthal on the National Highway was washed away by flood on Friday.
He appealed to the public to avoid travelling on the Quetta-Karachi highway.
The PDMA rescue teams are present in the area and are providing rescue services to people stranded in flood-hit areas, the official said.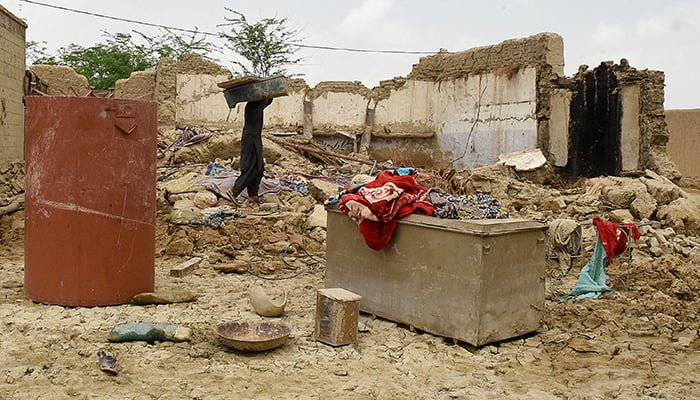 Chief Minister Balochistan Abdul Qadoos Bizenjo expressed his grave concern over massive damage to Qila Abdullah, Chaman, Lasbela, and Muslim Bagh due to heavy rains.
He contacted the public representatives and district administration officials of the flood-ravaged areas directing them to visit the affected areas and provide all possible help to the affectees.
Affectees seek help
Despite the passage of more than a month, the government has not yet been able to provide relief to the people affected by floods as bureaucratic hurdles come in the way.
Flood affectees have accused the administration of treating them in a derogatory fashion during the distribution of rations by asking for original computerised national identity cards (CNICs).
The officials are reportedly seeking the CNICs for verification purposes, but the affectees have stated that they lost everything when their homes were flooded.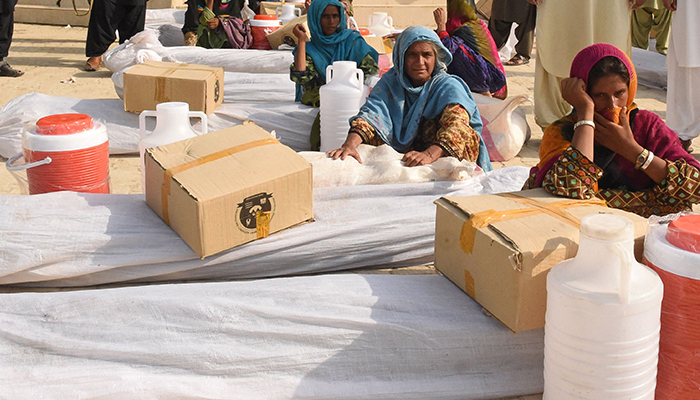 "Ration comes for us but they ask for CNICs. We did have some cards but not for everyone. How can a family of 10 survive on one card's ration?" one of the victims from Lasbela told Geo News.
The victim appealed to the administration to resolve this issue, adding that if they feel they are lying, they can survey their homes to determine the number of people in a household.
"We are standing here for ration. We have not received anything [but] they are pushing us out. We can talk to the tehsildar when we go inside," another victim told Geo News.
Vigorous monsoon activity in coming days
The woes of Balochistan are far from ending as the Pakistan Meteorological Department (PMD) has forecast more rains not only in the province, but also in Sindh and South Punjab.
The Met Office, in a statement, said that depression has developed in Arabian Sea which is likely to move towards the west along the Makran coast.
Due to this weather system, monsoon currents are continuously penetrating in southern parts of the country. Another low pressure (LPA) is likely to approach Sindh on 16th August.
Under the influence of this weather system, widespread rain-wind/thundershowers — with scattered heavy to very heavy falls — are expected in Sindh and Balochistan from August 16-18 with occasional gaps.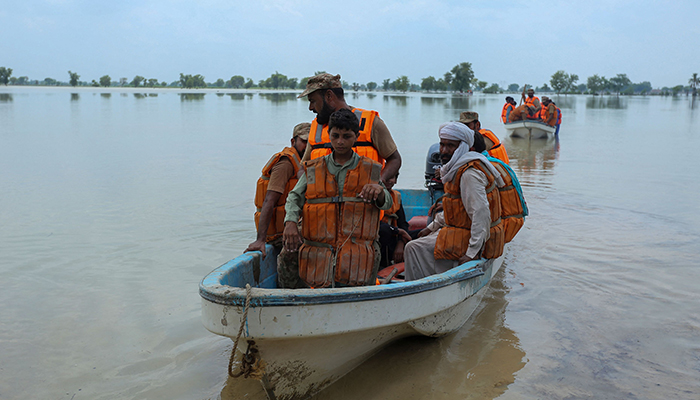 It warned that flash flooding is expected in Qilla Saifullah, Loralai, Barkhan, Kohlu, Mosa Khel, Sherani, Sibbi, Bolan, Kalat, Khuzdar, and Lasbella, Awaran, Turbat, Panjgur, Pasni, Jiwani, Ormara, Gwadar from August 14-18.
The Met asked fishermen to remain more cautious from August 16-18. It also asked travellers and tourists to remain more cautious during the forecast period.
"All concerned authorities are advised to remain alert and to take necessary precautionary measures during the forecast period," the meteorological department said.
Funds invested in real estate used for cancer care: Shaukat Khanum Trust
Invested $3m in endowment funds in real estate: SKMT.
Endowment funds used to provide cancer care: spokesperson.
SKMT investments are audited by third parties, says spokesperson.
---
LAHORE: Following controversy on Imran Khan's comments in court, the management of Shaukat Khanum Memorial Trust (SKMT) clarified that they invested $3 million in an endowment fund in a real estate project in Oman so they can be used to provide quality cancer care, The News reported on Monday .
The clarification came in response to news items regarding the usage of SKMT funds in real estate by its founder Imran Khan. The SKMT said that its funds have never been misused or "diverted", by its chairman, Imran Khan, or any other individual
An SKMT spokesperson said that all its funds, including those invested in its endowment fund, are used only to support its mission of providing world-class care to cancer patients.
"As is common for many charity organisations, SKMT created an endowment fund to provide financial security and to cater for expenses in the long term. This endowment fund is supervised by an investment committee, with all investments made by the fund upon the recommendations of this committee. The chairman does not, and has never, made investment decisions in isolation," the spokesperson said.
He added, "It is crucial to point out that only non-Zakat funds are invested in this manner, with all Zakat collected being utilised on direct patient care within the year in which it is collected."
On investment in real estate, the spokesperson said: "In 2008, an amount of US$3 million was invested by the endowment fund in a real estate project in Oman. The investment allowed for an early exit, with a 100% capital guarantee on the investment. In 2015, SKMT exercised its early exit option and the entire amount of US$3 million was duly recovered."
He added the trust has already shared details of this investment, and recovery of its funds with the public numerous times. Although the investment did not generate a profit in dollar terms, it certainly did in rupees, since the difference in exchange rate referred to in the article in question worked in favour of SKMT, he added.
The spokesperson added: "As with all other financial transactions, all investments made by SKMT and its Endowment Fund are duly audited and reported, with financial reports being made publicly available through the Shaukat Khanum website. Both the initial investment, and its subsequent return were reflected in the organisation's financial reports, and continue to be publicly available."
Complete data of all contributions are held and audited by autonomous third parties to guarantee compliance with all relevant laws, not only within Pakistan, but in all jurisdictions where funds are collected on behalf of the SKMT, or to support it.
The spokesperson said that over 30 years, the trust treated more than 45,000 to 50,000 cancer patients every year at SKMT hospitals in Lahore and Peshawar, most of whom would have been unable to access highly specialised cancer treatment elsewhere. It is strictly because of its strong clinical, administrative and governance systems that the SKMT became only the second institution in the world to gain Enterprise Accreditation from the US-based Joint Commission International in September 2022.
The spokesperson added that allegations aiming to sow doubt in their donor's minds are equivalent to playing with patients' lives.
The official added that the cost of providing cancer care is continuously on the rise, and despite brittle financial conditions, the management of SKMT is committed not only to providing state-of-the-art cancer treatment to all its patients but also to defending an excellent reputation for financial transparency.
The News reported on Sunday that the PTI Chairman Imran Khan admitted that he invested funds worth $3 million donated to the Shaukat Khanum Memorial Trust (SKMT) in a housing project.
The revelation was made during a hearing of an Rs10 billion defamation case filed against Defence Minister Khawaja Asif on Saturday. The former prime minister appeared in the court from his Lahore residence in Zaman Park via video link.
Massive power breakdown hits Pakistan
Minister says power generation units are temporarily shut in winter at night.
Says frequency variation in national grid triggered outage.
Says ministry trying to restore power in next 12 hours.
---
LAHORE/KARACHI/QUETTA/ISLAMABAD: A countrywide power breakdown, triggered by a "frequency variation" in the national grid early Monday morning, has left large parts of the country including Karachi, Lahore, Islamabad, Peshawar and Quetta without electricity.
Power Minister Khurrum Dastagir, while talking to Geo News, said that the power generation units are temporarily shut down in winter at night as an economic measure to save fuel costs.
"When the systems were turned on at 7:30am this morning one by one, frequency variation was reported in the southern part of the country between Jamshoro and Dadu. There was a fluctuation in voltage and power generating units were shut down one by one due to cascading impact. This is not a major crisis," said the federal minister as the country plunged into darkness for the second time in four months.
The minister said that his ministry has started restoring some grid stations in Tarbela and Warsak.
"Peshawar Electric Supply Company (PESCO) and some grids of Islamabad Electric Supply Company (IESCO) have already been restored," claimed the minister.
Talking about the breakdown in Karachi, the minister said that the matter in the port city is complicated as it has a complete electric supply system.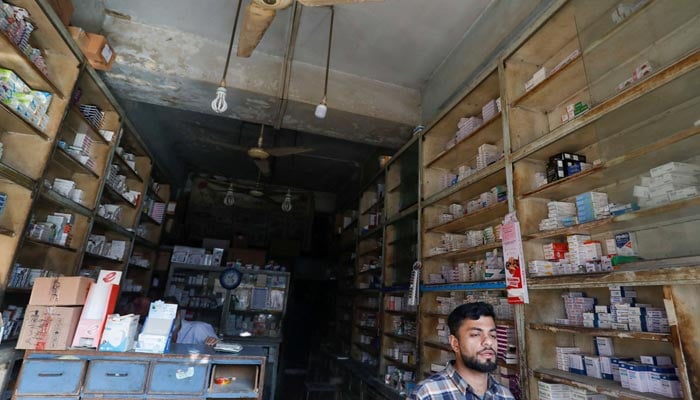 "We provide K-Electric about 1,000-1,100 megawatts routinely, however, it will be restored within a few hours. It is not certain how long will it take to sort this issue. However, my target is to restore electricity in the country in the next 12 hours," said the minister.
Before the energy ministry's announcement, different power distribution companies had confirmed the breakdown.
According to Quetta Electric Supply Company (QESCO), the two transmission lines have tripped leaving 22 districts of Balochistan, including Quetta without power.
Karachi power update
Meanwhile, K-Electric spokesperson Imran Rana said that at approximately 7:34am today, the national grid experienced a loss of frequency, affecting the power supply to multiple cities across Pakistan
"This has also cascaded to KE's network affecting power supply to Karachi," Rana said, adding the KE's network is safe and protected.
"Our teams are actively monitoring the situation and enabling restoration efforts."
An IESCO spokesperson said that its 117 grid stations were without electricity.
Meanwhile, PESCO also confirmed the outage in areas where it supplies electricity.
This is the second time within four months that a country was hit by a major power breakdown.
NEPRA takes notice
The National Electric Power Regulatory Authority (NEPRA), in a statement, said that it has taken "serious notice" of the power outage and directed the National Transmission & Despatch Company (NTDC) to submit a "detailed report".
The statement also said that the regulator has previously imposed fines on similar outages in the 2021 and 2022. It also shared that NEPRA has consistently issued directives and recommendations on tackling such events in future.
Previous breakdown
In October of last year, Karachi, Hyderabad, Sukkur, Quetta, Multan, and Faisalabad were hit by a power outage.
At that time, the power minister said that nearly 8,000 megawatts of power went offline.
Back then, Dastagir had said that the simultaneous faults in two power lines, which had triggered the breakdown, at the same time was concerning for the government. He had also announced that an in-depth inquiry was ordered and promised action.
A timeline of power breakdowns in Pakistan
The country's generation and distribution network has suffered eight major power breakdowns during the last nine years.
In 2014 and 2017, nationwide blackouts were caused by a fault in Tarbela Power Station while fog, frequency variation and the Guddu Power Plant fault were blamed for breakdowns in 2015, 2018, 2019, 2021, 2022 and 2023.
Every time the party in power announced to conduct a comprehensive probe and vowed to rectify the issues but nothing has happened despite multiple inquiries.
Karachi weather update: What's the latest forecast?
Karachiites will have to bundle themselves up as the weather will be dry and cold at night in the next 24 hours, the weather department said Friday. 
According to the forecast by the Pakistan Meteorological Department (PMD), the mercury in the port city is expected to hover around 10 to 12 degrees Celsius in the next 24 hours.
The Met department said that the cool winds are blowing from the northeast at a speed of seven to 10 kilometres per hour. The level of humidity in the city is 48%.
During the last 24 hours, the lowest temperature in Karachi was recorded at 14°C.
Weather countrywide
Meanwhile, in Balochistan, the intensity of the cold has increased due to snowfall in different areas. Consequently, a travel emergency has been imposed on Khojak Pass. 
A day earlier, the weather department predicted rain with snowfall in the upper parts of the country during the coming days.
"Met Office informed that a westerly wave affecting North Balochistan, is likely to grip upper parts on January 20 (night) and may persist till January 25 with occasional gaps," the statement read.
It further said that light to moderate rain-wind with snowfall over the hills (isolated hailstorm) is expected in Kashmir, Gilgit- Baltistan, Murree, Galliyat, Islamabad, Pothohar region, Kohistan, Swat, Dir, Chitral, Manshera, Haripur, Abbottabad, Karak, Charsada, Peshawar, Nowshera, Swabi, Buner, Bajaur, Kurram, Waziristan, Kohat, Bannu, Sargodha, Mianwali, Khushab, Bhakkar, Faisalabad, Toba Tek Singh, Jhang, Gujranwala, Gujrat, Hafizabad, Mandi Bahauddin, Lahore, Kasur, Sialkot, Narowal, Sheikhupura and Nankana Sahib from January 21 to January 24 with occasional gaps.
Light rain and drizzle is also expected in Multan, Sahiwal, Okara, Pakpattan, Dera Ghazi Khan, Layyah, Bahawalpur, Bahawalnagar, Rahimyar Khan, Sukkur and Dera Ismail Khan on January 20-21, the Met department said.
Meanwhile, rain-wind — moderate to isolated heavy snowfall — is expected in Kashmir, Neelum valley, Muzaffarabad, Poonch, Hattian, Bagh, Haveli, Sudhanoti, Kotli, Bhimber, Mirpur), Murree, Galiyat, Chitral, Dir, Swat, Malakand, Kohistan, Mansehra and Abbottabad from January 23-25.
What are the possible impacts?
Due to the heavy snowfall, there may be a closure of roads in Murree, Galiyat, Naran, Kaghan, Dir, Swat, Kohistan, Mansehra, Abbottabad, Shangla, Astore, Hunza, Skardu, Neelum valley, Bagh, Poonch and Haveli during the forecast period.
"Landslides in Upper Khyber Pakhtunkhwa, Kashmir and Gilgit Baltistan may also occur during the forecast period," it said.
The office said that the tourists are advised to remain extra cautious during the spell, adding that temperatures are likely to fall significantly after the spell.