Samina Baig becomes first Pakistani woman mountaineer to summit K2
Pakistani female mountaineers created history on Friday morning by achieving what no other woman from the country has done before – reaching the top of the 2nd highest peak of the world – 8611m high K2.
At 7:40am Pakistan time, Samina Baig summited the mighty K2 along with her team members and became the first ever Pakistani woman to scale the K2. Less than three hours after Samina's summit, Naila Kiani reached the top – becoming the second.
No other Pakistani woman has achieved this feat before.
Several other climbers from various countries, including female climbers from Oman, Lebanon, Iran, and Taiwan, also summited the peak on Friday morning.
The summit push started late last night as soon as rope fixing teams completed their jobs and the first group reached K2 at around 3:00am in the night.
Pakistan's 31-year-old climber, Samina Baig's team confirmed that she – along with other Pakistani mountaineers – summitted at 7:42am PKT on Friday.
"We are extremely proud to announce that Samina Baig, with her strong Pakistani team, successfully summited the world's most fascinating and dangerous mountain, known as Savage Mountain, the world's second and Pakistan's tallest mountain, K2, at 8611 metres this morning at 7:42am," said the statement by Samina's team at ground.
"Grateful and blessed that K2 allowed her to stand atop this incredible mountain," the statement added.
Samina Baig comes from the remote village of Gilgit Valley, Shimshal. Earlier in 2013, she became the first Pakistani woman to scale the world's highest peak, Mount Everest.
The other members to climb with Samina include Eid Muhammad, Bulbul Karim, Ahmed Baig, Rizwan Dad, Waqar Ali and Akber Hussain Sadpara.
Less than three hours after Samina's feat, Pakistan's other climber, Naila Kiani, reached the top of K2.
"Yes, Allhamdolillah," Naila texted this correspondent via satellite communication device, confirming her summit.
Taking to Twitter, Prime Minister Shehbaz Sharif congratulated Samina Baig and the team on accomplishing the feat. 
"Congratulations to Samina Baig, the first Pakistani woman mountaineer to reach the summit of the world's second highest peak, 'K2,' and her family on their accomplishment. Samina Baig has emerged as a symbol of Pakistani women's determination, courage, and bravery," said the PM in tweet.
Pakistan's Sohail Sakhi and Sirbaz Ali Khan also summited K2 along with Naila.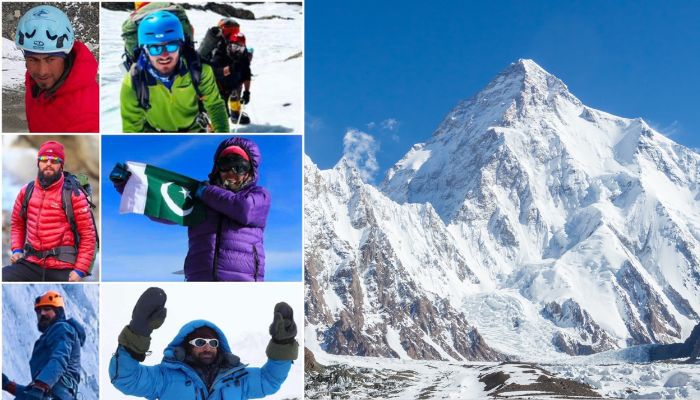 Over 50 climbers completed their summits of K2 on Friday morning, and this also included Norway's Kristin Harlia, who reached the top of K2 between 2:30am and 4:00am and has since then returned to safe camp.
Kristin Harilia is aiming to summit all 14 8000ers in six months. This was her 8th such summit in less than 3 months. If she gets success, she will be the first woman in world to summit all the world's top peaks in one season.
She was joined by the USA's Kristin A. Bennett, Norway's Frank Loke and Canada's Liliya Ianovskia. They were supported by a team of mountain guides that included Pakistan's Fida Ali along with Nepal's Pema Chhiring Sherpa, Dawa Ongju Sherpa, Pemba Tasi Sherpa, Dawa Dorchi Sherpa, Dawa Wongju Sherpa, and Pemba Dorchee Sherpa.
In another development, 29-year-old Tseng Ko-Erh, who is also known as Grace Tseng, summited the mountain without using supplementary oxygen and has become the youngest female in the world to do so. She is also the first Taiwanese woman to stand atop K2.
Her expedition organisers announced that their 3-member team had just made it to the top of the world's 2nd highest mountain. They reached the summit of Mount K2 (8611 m) at 7:35 am Pakistani time.
Two other members of the team were Nima Gyalzen Sherpa and Ningma Dorje Tamang of Nepal.
Iran's Afsane Hesamifard and Oman's Nadhira Alharthy became the first ever female climbers from their respective countries to summit the K2. They were part of the seven summit trek team and reached the top just a few hours after the rope fixing. The team also included a Chinese female climber, He Jing, who summited the mountain without supplementary oxygen.
The other members of the seven summit team included Poland's Monika Witkowska, Russia's Vladimir Kotlyar, and Nepal's Mingtemba Sherpa, Pasang Sherpa, Fura Tshering Sherpa, and Ngima Sherpa.
In another group to summit K2 on Friday morning, Nelly Attar – an Arab Lebanese woman – successfully scaled the K2. She was accompanied by America's Terray Ellington Sylvester, Argentina's Claudio Cocho Javier and Estonia's Krisli Melesk.
Along with them, Pakistan's Inayat Ali also climbed K2. Nepali Aang Phurba Sherpa, Siddhi Bahadur Tamang, Dorji Gyljen Sherpa, Kamdorji Sherpa, Lakhpa Wongchu Sherpa, Mingdongji Sherpa, Lakpa Bhote, Rinji Sherpa, Temba Sherpa and Lakpa Sherpa – who all were part of Madison Mountaineering – also summited K2 in the early morning.
When will final decision be taken on Asia Cup?
As authorities continue to struggle to reach a consensus on the venue of the Asia Cup 2023, it has been learnt that the final decision could take place on the sidelines of the Indian Premier League (IPL) final on May 28.
According to Indian media, the Board of Control for Cricket in India (BCCI) has refused to send their team to Pakistan for the Asia Cup and is keen on ensuring that the event is held at a neutral venue.
However, the Pakistan Cricket Board (PCB) is not interested in hosting the event outside Pakistan since it would affect its efforts with regard to the return of international cricket in the country.
"The respective presidents of the Bangladesh, Afghanistan and Sri Lanka cricket boards will grace the IPL 2023 final to be held on May 28 at the Narendra Modi Stadium. We will hold discussions with them for outlining the future course of action in relation to Asia Cup 2023," BCCI secretary Jay Shah, who is also the president of the Asian Cricket Council, was quoted as saying by Hindustan Times.
The BCCI also wants the entire tournament to take place in Sri Lanka instead of agreeing to PCB's hybrid model.
Earlier, The News reported that the Asian Cricket Council (ACC) has given the green signal to Najam Sethi's hybrid model for this year's Asia Cup.
According to the hybrid model presented to the ACC by Najam Sethi following the early stalemate, Pakistan will host four to six matches of the Asia Cup. At the same time, India will play its matches on a neutral venue that also hosts other matches.
A source in the ACC has confirmed to The News from India that the Asian body has accepted the hybrid model proposed by the Pakistan Cricket Board (PCB) Management Committee Chairman Sethi in principle and without putting any extra conditions.
There was no condition set on Pakistan's participation in the October World Cup to be held in India, which still depends on the Pakistan government's approval.
"The ACC has accepted Najam's Sethi hybrid model proposal to host the Asia Cup allotted to Pakistan. According to this hybrid model, Pakistan will host four to six matches at the venue (within Pakistan) to be decided later while India will play its matches on a neutral venue," the source said.
"The ACC is expected to officially announce the decision within the next few weeks. According to Sethi's model, India's matches will be played on a neutral venue which will be decided by the ACC member countries with mutual coordination. However, even in deciding on a neutral venue, the financial aspect will be kept at the top.
"Say, India or other ACC member countries want Sri Lanka as a neutral venue, Pakistan as a host country will have the right to get a proper return of Pakistan-India matches (two or three). These must not be less than what India Board has earned by hosting the 2022 Asia Cup matches between the two countries. The amount is estimated as over half a million dollars from the two countries' matches.
"If the ACC assures that amount, the PCB will have no hesitation even to agree with Sri Lanka as a neutral venue for the rest of the matches."
Fakhar Zaman bags ICC Men's Player of the Month award after stunning ODI streak
Some recent scintillating performances by Pakistan's opening batter Fakhar Zaman have bagged him the International Cricket Council (ICC) Men's Player of the Month award for April 2023, the cricket governing body announced on Tuesday.
The in-form batter had been named the ICC Men's Player of the Month after a stunning month in April.
"He [Zaman] beat out tough competition from Sri Lanka spin wizard Prabath Jayasuriya, and emerging New Zealand batter Mark Chapman," a press release by ICC stated.
The ICC said that Fakhar led the charge for Pakistan as they pulled off their second-highest ODI run-chase in Rawalpindi late in the month.
The opener smashed an unbeaten 180 to help Pakistan chase down a target of 337 against the visiting New Zealand side to go 2-0 up in the series.
Fakhar's knock came with 17 boundaries and six massive sixes as Pakistan won with 10 balls to spare in a high-scoring contest.
This was the left-hander's second ton in as many matches during April with his 117 off 114 balls helping Pakistan chase down 289 in the first game at the same venue.
Fakhar led the run-chase from the onset, only being dismissed in the 43rd over, by when Pakistan were well on their way to chase down the winning score. He won the Player of the Match award for his efforts.
The left-hander started the month with a rapid 47 in the first T20I in Lahore against New Zealand, playing a part in the home side's thumping 88-run victory. While he didn't click in the next two T20I matches, Fakhar stormed into form in ODIs, a format he has always thrived in
Fakhar now has 3,148 ODI runs at an average of 49.71 and a strike-rate of almost 95 during his 67-match career and the Pakistan opener said it was a great thrill to claim the coveted award.
'Truly an honour'
"It is truly an honour for me to be named ICC Player of the Month for April," Fakhar said.
"This month has been one of the highlights of my career and it was an amazing feeling to play in front of my own people in Lahore, Rawalpindi and Karachi," he said.
Sharing his personal favourite: the hard-hitting batter said: "I really enjoyed scoring back-to-back centuries in Rawalpindi, but my favourite was the 180 not out in the second match.
"I hope to continue the momentum leading into the ICC Men's Cricket World Cup, and make Pakistan cricket fans happy and proud with my performances."
Will Pakistan visit India to participate in ICC World Cup?
As the World Cup inches closer, there are many questions and uncertainties arising about Pakistan's participation in the mega event as it is scheduled to take place in India.
The Indian cricket board had refused to send its team to Pakistan and hence, the Green Shirts might not travel to its neighbouring country for participating in the mega event as well.
However, Pakistan Cricket Board (PCB) is most likely to get permission from its government to participate in World Cup in India in light of Foreign Minister Bilawal Bhutto Zardari's statement during his visit to Goa, sources told GeoSuper.tv.
"Sports should be kept separated from politics and foreign policy," the FM had stated during his visit to attend the two-day Shanghai Cooperation Organisation (SCO) meeting.
Earlier, several reports claimed that Pakistan will play against India in World Cup at Narendra Modi Stadium, Ahmedabad, Gujarat.
"Pakistan may not agree to play against India at Narendra Modi Stadium due to certain reasons," a source said, without discussing further details on this matter before the announcement of the official schedule.
It must be noted here that International Cricket Council (ICC) hasn't announced the schedule for the World Cup so far. The mega event will take place in October-November this year in India.
A reliable source in PCB has also denied reports regarding their demand from the Board of Control for Cricket in India (BCCI) to give them a guarantee in writing that if Pakistan goes to India for ICC World Cup, then they will come here for ICC Champions Trophy in 2025.