Rs10bn allocated for quake-hit Turkey, announces PM Shehbaz Sharif
PM Shehbaz says Pakistan will never leave Turkey in these circumstances.
Says committee has been formed to send funds to Turkey.
Urges people, welfare organisations and businessmen to take part in fund collection drive.
---
Prime Minister Shehbaz Sharif on Friday announced that the federal government has allocated Rs10 billion to help Turkey's earthquake relief efforts, saying that Pakistan will continue to assist the calamity-hit country every day.
A devastating 7.8 magnitude earthquake wreaked havoc in Turkey and Syria early morning on Monday that has so far claimed about 21,000 lives as hopes of finding more survivors faded.
Speaking at an airport in Lahore where relief goods were being sent for the earthquake victims, the prime minister said Pakistan will never leave Turkey in these circumstances, urging the nation to pray for the victims of the earthquake in Friday prayers today.
The premier said that thousands of people have been killed and wounded in Turkey and Syria and many are searching for their loved ones stuck under the rubble.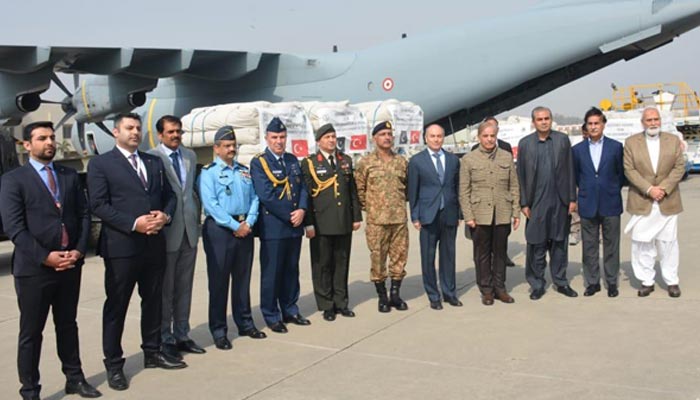 "I believe that the people of Turkey and Syria will come out of this difficulty," he said, adding that Pakistan assured Turkey of assistance the day when this tragedy took place.
He said that the Turkish president visited Pakistan at the time when the country was hit by heavy flooding and donated millions of dollars to the flood-affected people.
"A Pakistan Army team was sent the day when the earthquake hit Turkey and the dispatchment of the relief goods has begun," he continued.
He said that goods weighing 100 tonnes are being sent to Turkey in a truck today.
The prime minister urged the people, welfare organisations and businessmen to take part in the fund collection drive. He also requested the chief ministers to help in this regard.
"A committee has been formed to send funds to Turkey. 1,486 tonnes of relief goods are being sent to Turkey and Syria," he added.
The premier said that 13 centres have been established in Pakistan for the collection of funds, adding that donations will also be collected in educational institutions across the country.
Earlier this week, Pakistan established a relief fund to help the victims of a deadly earthquake in Turkey. 
"To help the victims of the earthquake in Turkey at this difficult hour, PM Shehbaz Sharif has decided to establish PM Relief Fund," Information Minister Marriyum Aurangzeb said Tuesday after a plane load of relief goods and rescue team from Pakistan reached Turkey.
The minister said that the federal cabinet has announced to contribute one month's salary while the PM has appealed to the philanthropists to extend help.
Haj 2024: Pakistanis to get 'free SIMs with internet'
Caretaker Minister for Religious Affairs and Inter-faith Harmony Aneeq Ahmed said Tuesday that the government would provide free-of-cost mobile SIMs with roaming internet packages to Pakistanis performing Haj in 2024.
In conversation with a private news channel, the caretaker minister said abayas would also be given to female pilgrims, having a Pakistani flag on the backside, and 13kg suitcases would be given to all.
The minister called the reduction of around Rs100,000 in the Haj cost a "historic step" taken by the caretaker government, noting that a further Rs50,000 would be slashed and the amount would be refunded to the people in their accounts.
He said a new mobile application has been designed to assist pilgrims, which will provide navigation support and enable constant communication between pilgrims and relevant officials.
Initially available in English and Urdu, the application will later incorporate various regional languages, he said, adding, that the app would also provide digital training programmes to every pilgrim.
The minister also disclosed a project that Haj ministry, with the collaboration of the education ministry, has planned to convert city mosques into schools to enroll out-of-school children where the mosques' imams would play a leading role.
The minister said that mosques will play their role as community centers in every city areas, adding that imams will resolve community issues as well after offering prayers.
He said that haj ministry is taking all four provinces on board and enhancing the connectivity of mosques.
While describing another project, the minister said that his ministry with the collaboration of the health ministry has another project in the works, in which medical clinics will also be part of mosques.
Three education board chairmen, several officers sacked in Sindh
KARACHI: Sindh caretaker Chief Minister Justice (retd) Maqbool Baqir Thursday approved the removal of three chairmen of education boards and ordered the sacking of several officers, Geo News reported, citing notifications from the CM House.
The interim chief executive removed the chairpersons of the Board of Intermediate Karachi, Sindh Technical Board, and Larkana boards. He also ordered the sacking of secretaries and controller examinations of BIEK, Nawabshah, Mirpurkhas, Sukkur, and Larkana boards.
Moreover, Larkana, Sukkur, Nawabshah, and Board of Secondary Education Karachi's audit officers were also removed from their posts.
The Sindh government has also sought permission from the Election Commission of Pakistan (ECP) to appoint new personnel to the now-vacant positions — as interim rulers need the body's approval for hiring people.
In the letter addressed to the commission, the government has also said that in several education boards across the province, top posts are being operated on "stop-gap" arrangements and in order for these departments to function better, permanent appointments need to be made.
According to the notifications available with Geo News, Justice (retd) Baqir has removed BIEK Chairman Dr Prof Naseem Memon and appointed him as the Board of Intermediate & Secondary Education Larkana's (BISEL) chairman — where he will serve till June 30, 2024.
Zaheeruddin Bhutto, interim controller of examination of BIEK, was removed from his post effective immediately, while BIEK Secretary Kashif Siddiqui was also sacked — and he will return to his previous position.
Zahid Lakho, the audit officer of BIEK, was also stripped of his additional charge of the board's secretary.
BISEL Chairman Sikandar Ali Miraj has also been removed with immediate effect, and he will be returning to his original post of Inspector of Instruction.
BISEL Controller Examination Nadeem Soomro has been removed from his position and directed to report to the Human Settlement and Social Housing Department.
On the instructions of the caretaker CM, Syed Aqash Shah was relieved of the charge of BISEL's acting secretary.
Hyderabad board's secretary Shaukat Khanzada was also removed from his post and directed to report to the college education department. Zahiruddin Sheikh, the audit officer of the Hyderabad board, has been sacked and asked to report to the board's head office.
Ghulam Mustafa was removed from the post of BISEL's audit officer and directed to report to the post of deputy controller.
Board of Intermediate and Secondary Education Sukkur (BISES) Secretary Mohammad Salman has been removed and asked to report to the deputy secretary's office. BISES Controller Examination Dr Abdul Fateh Mehr has been removed and asked to report to the secretary's office.
The caretaker chief minister has also removed Ghulam Qadir Dharijo, the audit officer of BISES, and directed him to report to the chairman's office.
Punjab to shut down school, colleges in Punjab's smog-hit areas on Friday, Saturday
Lahore, Gujranwala among cities hit by smog.
Markets and restaurants to open for work at 3pm on Fri and Sat.
Govt offices to remain open on Fri; will start work at 3pm on Sat.
---
LAHORE: All schools, colleges and universities will remain closed on Friday and Saturday, as Punjab on Thursday notified measures to curb smog across the province as it impacts the daily life of citizens.
Punjab Caretaker Chief Minister Syed Mohsin Naqvi, who chaired a high-level meeting of the Punjab Cabinet Anti-Smog Committee today, announced the provincial government's decision during a presser in Lahore.
The smog-hit cities include Lahore, Gujranwala, Faisalabad, Multan, Sahiwal, Sargodha, Kasur, Sheikupura, Hafizabad, Narowal, Nankana Sahib and Sialkot.
Markets and restaurants, he added, will open for work at 3pm on Friday and Saturday, while all kinds of businesses will have to be closed on Sunday.
"Markets can remain open till night. We don't want anyone to suffer loss, but they will have to adjust according to the situation."
CM Punjab said offices will remain operational on Friday but will open for work at 3pm on Saturday. These measures, the chief minister added, are being taken as Air Quality Index (AQI) levels are higher in the morning and decrease with time.
The government will also install towers to clear smog in Lahore for which, CM Punjab said, a memorandum of understanding (MoU) has been signed.
He added that the government will also provide electric bikes to 10,000 students on subsidy to curb the use of regular motorcycles which cause air pollution for which a committee has been formed to finalise suggestions. Meanwhile, government employees will also be provided e-bikes on lease.
CM Punjab said the government is considering measures for artificial rain if clouds approach Lahore on November 29.
However, that will only happen if a "specific kind of cloud" moves towards the city. The government has also decided to double the amount of water being sprinkled on the streets.
The chief minister said the main Mall Road on Sunday will only be open for bicycle users from morning till 5pm. Some of the measures, CM Naqvi said, have been taken symbolically, some are long-term, while others have been taken to break the peak of pollution in the city and province.
He also urged people to wear masks to protect their health.