Prince Harry blasted for his 'disgraceful decision'
Prince Harry – who has confirmed that he won't return to the UK for his late grandfather Phillip's memorial service – will 'regret' his move, according to a royal expert.
Royal expert Dan Wootton tweeted: "Prince Harry's silly feud with the Government over security means he won't return to the UK for his late grandfather's Service of Thanksgiving later this month."
"But he managed a jaunt to Texas for a rodeo this week. A disgraceful decision that he will end up regretting," Wootton slammed Harry's shocking move.
Another royal commentator Richard Fitzwilliams thinks, "it's a great pity, it regrettable the rift will remain unhealed."
The decision means that the Queen, who is desperate to see her great-granddaughter first time, is "unlikely" to meet Lilibet in person.
Speaking about whether the Queen will ever meet Lilibet, Mr Fitzwilliams added: "It's increasingly unlikely."
American surgeons successfully perform world's first eye transplant
New York surgeons claim to have conducted the world's first whole-eye transplant on a man, marking a significant turning point in the history of the medical field, though it's unclear if the patient will recover vision.
Aaron James, who survived a high-voltage electrical accident, underwent a 21-hour surgery to replace half of his face, marking a significant breakthrough, according to experts, in the quest to restore sight to millions of people.
James, a high-voltage utility line worker from Arkansas lost most of his face in 2021 after he accidentally touched a 7,200-volt live wire.
He underwent a rare partial face and eye transplant, on 27 May this year involving over 140 healthcare professionals.
The intricate procedure was carried out by surgeons at New York University (NYU) Langone Health, who said on Thursday that James, 46, was making a full recovery from the dual transplant and that the donated eye appeared exceptionally healthy. His right eye still works.
"The mere fact that we've accomplished the first successful whole-eye transplant with a face is a tremendous feat many have long thought was not possible," said Dr Eduardo Rodriguez, one of the leading surgeons on the team.
"We've made one major step forward and have paved the way for the next chapter to restore vision."
Doctors say James' surgery offers scientists an unprecedented window into how the human eye tries to heal, BBC reported.
"We're not claiming that we are going to restore sight," Dr Rodriguez told ABC News. "But there's no doubt in my mind we are one step closer."
While there is no certainty James will regain vision in his new eye, doctors do not rule out the possibility either.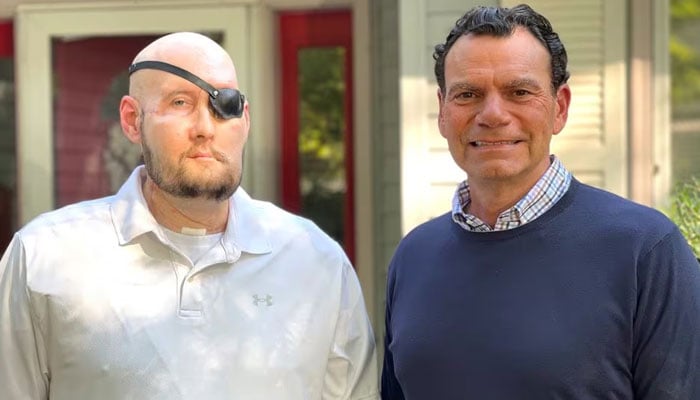 "If I can see out of it, that's great," James said in an interview. "But if it'll kick-start the next path in the medical field, then I'm all for it."
James, a military veteran, will continue to be monitored by doctors but has seen "exceptional" progress with his eye transplant, according to Bruce E Gelb, MD, a transplant surgeon at NYU.
The donated face and eye came from a male donor in his 30s, and stem cells were injected into the optic nerve for repair.
James is only the 19th person in the US to undergo a face transplant.
He has called the eye transplant "life-changing" and says he is "grateful beyond words" to the donor and their family for making the surgery possible.
Gaza, the Middle East, and the Munich Calculus
History will likely record that Hamas provoked the Gaza war with one eye on Israeli Prime Minister Benjamin Netanyahu and one on Saudi Crown Prince Muhammed bin Salman (MBS).
This is not a war that Hamas could ever win on the battlefield. The horrifying daily death toll is witness to that. No, this is a war that has in its crosshairs the nascent agreement between Israel and the Gulf states – the so-called Abraham Accords.
Many years ago, I spoke with a Palestinian who helped plan the "Black September" kidnapping of Israeli athletes at the Munich Olympics. "Before Munich, we were a forgotten people; afterwards, everyone knew our plight," he told me with a mixture of sadness and pride. Two years after Munich, PLO leader Yasser Arafat was invited to address the UN general assembly.
Munich was the template for what experts came to call "terrorism theater." Violence for the TV cameras. And it worked; the Palestinians finally had a seat at the table.
But in the half century since, between 10,000 and 20,000 Palestinians had been killed by Israel. The independent Palestinian state promised in the 1993 Oslo Accords never materialised. And most recently, MBS and his allies were making peace with Israel and sidelining the Palestinians.
From the perspective of Hamas, it was time to force the Palestinian cause back to center stage. Call it the Munich Calculus: Violence gets the world's attention. The slaughter of 1,400 Israelis and inevitable massive military response by Israel – which has now claimed more Palestinian lives than decades of conflict combined – is "terrorism theater" on an unprecedented global stage.
"The Middle East region is quieter today than it has been in two decades," President Biden's national security adviser said one week before the current crisis broke out. US battlegroups are now steaming to the region, American jets have struck Iranian proxies in Syria, and thousands of anti-American protestors have taken to the streets around the world.
The White House plan to "pivot" to Asia and away from the Middle East is in shambles, a slow-moving American rapprochement with Iran is effectively dead, and there is a very real prospect of a new era of anti-American terrorism. The normalisation of relations between Iran and the Saudi bloc of Gulf states after years of proxy war in Yemen and elsewhere is also under threat.
Meanwhile, Arab leaders are walking a fine line; condemning Israel's assault on Gaza while issuing what historically have proven to be empty expressions of support for the Palestinians.
However, a cynical read of the situation — and after four decades of reporting on the Middle East, I bring a large measure of cynicism to the table — is that MBS and his allies may actually be satisfied to quietly sit back and watch as Hamas is erased from the landscape of the Middle East.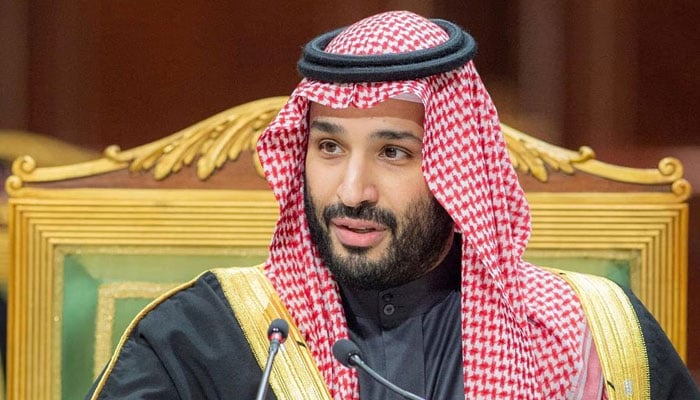 That would open the way for the Saudi crown prince to step forward as the savior of the Palestinians, offering to supplant the Abraham Accords with something like a return to the Arab Peace Initiative, proposed in 2002 by the late Saudi King Abdullah bin Abdelaziz, which included the creation of a Palestinian state.
Look at the language used last week by the finance minister of Bahrain, a country rarely out of step with Saudi policy: "It's extremely important for the future of this region that we continue to build bridges," he told an investment summit in Riyadh as Gaza was being pummeled by Israeli bombs. Though the Bahraini minister never specifically mentioned Hamas, it is noteworthy that he said those in the Middle East who are "looking to destroy" are "not part of the writing of that future."
The challenge for Arab leaders is to maintain the balance between placating angry publics and playing the long game of regional "normalisation." Polls earlier this year found a significant decline in support for Hamas across the Arab world. Arab governments are likely to try to leverage that through media and other proxies, such as the comments by Saudi elder statesman Prince Turki al-Faisal, who recently told an American audience that Hamas's slaughter of Israeli civilians violated Islamic law. In the Gaza conflict, he said, there are no heroes, only victims.
Still, public opinion has never been the prime driver of the policy decisions of Arab governments. Limited protests and online comment are tolerated as safety valves, but dissent will continue to be carefully managed, as demonstrated by Egypt's decision this week to shutter Mada Masr, the last major independent media outlet in that country.
Make no mistake, Arab and Muslim anger at perceived American complicity in the slaughter in Gaza has the potential to inspire a new generation of jihadis, sending the world back down a broader spiral of violence. However, protests outside US embassies in places like Islamabad and Jakarta have no impact on the Middle East policy equation.
The real factors that could enhance or upset the Gulf balancing act:
Israeli public opinion. Prior to the conflict, Israelis were split on the creation of a Palestinian state. Will the Gaza war create greater recognition among Israelis of a need to resolve the Palestinian question or will it harden opposition?
US public opinion. US support for Israel is the greatest factor in the Middle East equation. In recent years, Americans have become more sympathetic to the Palestinian cause. Polls carried out in the first days after the Hamas slaughter of Israelis showed strong support for Israel. But there have also been widespread demonstrations, including by thousands of American Jews, demanding a ceasefire. The longer the bombing continues, the higher the Palestinian death toll, the greater the likelihood the Palestinians will gain in the battle for hearts and minds. The war is already emerging as an issue in the 2024 US presidential election.
And then there is Iran. Tehran will be instrumental in avoiding a larger regional conflict, if it deems that in its best interests. Hezbollah and other Iranian proxies wouldn't dare act without Tehran's blessing. MBS was on the phone with Iran's president within days of crisis erupting, and backchannel communications between Washington, Jerusalem, and Tehran are underway via Riyadh, Doha, and other Arab capitals as officials work to avoid an expansion of the war.
But even if cooler heads in the corridors of power prevail, that doesn't rule out the danger that isolated extremists of one type or another might act without state sanction and set off a cascade of violence that no one can control.
---
Lawrence Pintak is the author of America & Islam and five other books at the intersection of Islam, media, and US policy. He was the founding dean of the Edward R. Murrow College of Communication at Washington State University. He posts @Lpintak on Instagram and X.
The implications of depopulating Gaza
Leaderships of countries across the Muslim world are now left with an impossible set of concurrent circumstances.
In December 1987 after two decades of humiliation, oppression, and continued life under occupation, Palestinians began a series of protests that ended up becoming what is today referred to as the first Intifada.
Within a month of the start of the protests, the Israeli government at the time sought to deal with the protests through firing live ammunition on protestors – but this caused a major backlash in the United States and at the UN, and so a new method was devised: breaking the hands of Palestinians. Why? The New York Times explains, in a story by David Shipler, published on January 26, 1988. "In response to complaints from the Reagan Administration and the United Nations Security Council about use of lethal force, Israel's Defense Minister, Yitzhak Rabin, announced a policy last week of 'might, power and beatings' to cow the Arabs. Troops were reportedly sent into homes to break the hands of Arab youths so they could not throw stones."
If that defence minister's name, 'Yitzhak Rabin', seems familiar, it is because it should. Rabin was awarded the 1994 Nobel Peace Prize for his role in the historic Oslo Peace Accords that were signed in September 1993 between himself, as the prime minister of Israel, and Yasser Arafat, as the leader of the Palestinian Liberation Organisation (PLO). Rabin was assassinated in November 1995 by a right wing, Islamophobic, pro-illegal settlements Israeli terrorist named Yigal Amir.
The people that run Israel today are of the same ideological fraternity as Yigal Amir. Here is a description of Israel's Minister of National Security, Itamar Ben-Gvir, by Ruth Margalit from the February 20, 2023 edition of the New Yorker magazine:
"Ben-Gvir, who entered parliament in 2021, leads a far-right party called Jewish Power. His role model and ideological wellspring has long been Meir Kahane, a Brooklyn rabbi who moved to Israel in 1971 and, during a single term in the Knesset, tested the moral limits of the country…To Kahane, Arabs were 'dogs' who 'must sit quietly or get the hell out'. His party, Kach (Thus), was finally barred from parliament in 1988. Jewish Power is an ideological offshoot of Kach; Ben-Gvir served as a Kach youth leader and has called Kahane a 'saint'. Ben-Gvir, who is forty-six, has been convicted on at least eight charges, including supporting a terrorist organization and incitement to racism."
In exactly three decades, the Palestinian-Israeli peace journey, for which the Oslo Accord seemed like such a major moment has turned into an unmitigated and unrelenting nightmare. Israelis live in constant fear of Hezbollah rocket attack, all kinds of terrorist threats, and now the bloody reality of the October 7 Hamas attack on Israel.
The people of Gaza (and the West Bank) live through an unrelenting and ceaseless expansion of occupation that has literally continued non-stop from 1993 to today. But the nightmare unleashed upon the Palestinians since October 8 has no parallel in recent memory, anywhere. Israel is solely responsible for the carnage of innocent Palestinian carcasses and placenta, strewn across the debris of flattened apartment buildings and homes and restaurants and schools and hospitals in Gaza. But without the October 7 attacks by Hamas, the current genocide or ethnic cleansing or pogrom or whatever you want to call what is happening in Gaza, may not have happened– – ot now, not like this.
Since the discourse on Hamas is so emphatic among Western audiences – whatever its motivation, it is a designated terrorist group – we are compelled to ignore or neglect the roots of its behaviours and actions. This then leaves us with a more pressing question. Where did Hamas – a terrorist group – come from?
To answer this, we have to return to the beginning of the 1987 Palestinian protests that were dealt with by Yitzhak Rabin and the Israeli government through "might, power and beatings". In December 1987, there was no Hamas. There was the PLO, which was then known to Israeli and Western audiences as, you guessed it, a 'terrorist' organisation. Rabin and the Israelis beat the PLO into submission after the first Intifada. One of the conditions for the Oslo Accords of 1993 was for the PLO to renounce 'terrorism' which it did. Hamas is the fatherless child of the decapitation of the legitimacy of Palestinian resistance. Indeed, the first time the acronym Hamas (Harkat al Muqawwama al Islamiyyah) appeared was in January 1988, the exact same time as the New York Times report on Rabin's 'might, power and beatings' approach to dealing with the first Intifada.
Soon (and much sooner than many had imagined) a long-held dream of Israeli right wingers, and their supporters throughout the capitals of Western nations, is going to be realised: Gaza will be depopulated. That is the opportunity that Hamas's October 7 attack has helped create for the irreconcilable right-wing zealots that shape policy in Tel Aviv and around the world. The ostensible objective of these military attacks is to eliminate Hamas as an entity. But everyone – including the Israeli right wing and its many supporters in Washington DC, London, Brussels and around the world – knows eliminating Hamas will not eliminate the legitimate aspirations of Palestinians, but it might make them more extreme. Not unlike how Hamas itself essentially replaced the once-terrorist-and-now-teddy-bear PLO.
In the age of social media, Palestinian 'resistance' will become louder and more visible – where and when it can. But occasional protests in London, annual speeches by the heads of state or foreign ministers of OIC countries (and outliers like Columbia and Venezuela) at the UN General Assembly and the occasional viral video or image are clearly being seen by Israel and its supporters as manageable noise.
What seems to be unmanageable for Israel and its supporters is the politics of continued expansion of illegal settlements throughout Palestinian lands. Throughout the last three weeks, illegal Israeli settlers have been depopulating Palestinian villages under the canopy of terror being unleashed by the Israeli weapons being rained down upon Gaza.
It is not a coincidence that senior members of the Israeli coalition government are themselves illegal settlers. The term 'illegal settler' has come to have no standing in either Israeli or international law. In stark contrast, the term terrorist has valid standing everywhere. This disparity or dichotomy is not brand new, but its salience is renewed every time a place is carpet bombed or threatened to be bombed back to the stone age, or has the rage of empire unleashed upon it.
Iran, Russia and many anti-West extremists see this disparity and revel in it. They can expand their information operations about the wider inequities and injustices that the still-US-led world order or 'rules-based order' openly endorses and sustains. The game, for Russia in particular, is to expand and deepen distrust and disgust with the West. The ceaseless reminders of American and Western duality in how those countries are framing the Russian invasion of Ukraine versus the Israeli invasion of Gaza are manna from heaven for the global Russian disinformation machine.
Leaderships of countries across the Muslim world are now left with an impossible set of concurrent circumstances. They must appease the raging angst and frustration of their populations with respect to Gaza; they must somehow continue to engage in wider policies of de-risking and normalization within their regions; and they must try to govern mostly young and desperately underserved populations without a dismantling of whatever semblance of order exists in their respective countries. From Morocco to Indonesia and from Kazakhstan to the Maldives – the ripples and ramifications of the depopulation of Gaza will be generational, even if a wider military conflagration or escalation in the Middle East is somehow avoided.
Elites in Muslim societies know this all too well – and their instinct, quite rightly, is to want to maintain order close to home, rather than become entangled with a losing proposition in Gaza, so far away. This will create societal and political pressures so profound that many orders will be tested severely. The only orders that will survive are those that are able to enact the kind of reforms and transformations they need at home – that materially improve the lives of their people.
Pakistani military and civilian leaders need to ask themselves if they realistically see themselves as being able to enact such changes or reforms. The rage of the people is real – and though Gaza is and will remain the ignition point, the fuel is much closer to home.