PMDA disbanded, newly elected Information Minster Marriyum Aurangzeb announces
Information Minister Marriyum Aurangzeb announces disbanding Digital Media Wing.
Zero tolerance for baselss criticism of institutions, journalists, she says.
Bilawal to take oath soon; PM Shehbaz to address nation in a day or two, she adds.
---
ISLAMABAD: Newly elected Information Minister Marriyum Aurangzeb Tuesday announced disbanding the Pakistan Media Development Authority (PMDA) set up during the PTI government's tenure.
"An attempt was being made to gag an already muzzled media. But now, whatever shape and form PMDA is working in, we have announced to disband it," the minister — who took oath hours earlier — told journalists.
Aurangzeb said the coalition government would not allow the imposition of curbs on freedom of expression in the country as she termed the PMDA a "black law".
She mentioned that the Islamabad High Court (IHC) had termed the Pakistan Electronic Crimes Act (PECA) Amendment Ordinance "unconstitutional" due to the efforts of journalists and PML-N as well.
"So now, we will review this PECA law and take all stakeholders on board in this regard. We will also identify the gaps which are there and were used to muzzle the media," Aurangzeb added.
---
Important announcements
Disbanding of Pakistan Media Development Authority
Disbanding of Digital Media Wing
Works to soon be done on journalists' protection bill
Zero tolerance for baseless criticism of institutions, journalists
More accessibility of information to journalists
---
The information minister said for the last four years, the Pakistani society experienced suffocation, may it be in the form of abusive language, targeting of politicians, black laws, or ordinances.
"I think we should now move towards a new beginning as a coalition government has been formed that represents entire Pakistan," the information minister said.
'Zero tolerance'
In response to a question, Aurangzeb said the government has gathered data on the bot Twitter accounts that were being operated to malign the institutions and run trends against them.
"This does not come under freedom of expression as these campaigns are being run through software. There is zero tolerance on such trends and campaigns," the information minister said.
Aurangzeb warned the PTI that it could not protest outside journalists' homes just because their government failed to deliver. "There will be zero tolerance regarding this and we have instructed the inspector general of Islamabad to make sure that culprits are published."
No revenge; president should resign
Aurangzeb noted that the government would not take revenge on its political opponents, but whosoever has done something illegal while in office, action will be taken against them.
With regards to President Arif Alvi refusing to administer the oath to the federal cabinet and Prime Minister Shehbaz Sharif, Aurangzeb said the president should be aware of the fact that he is not a member of the PTI, but has a constitutional role.
"…if he cannot fulfil the oath he took while becoming president, then the best option for him is to resign," the information minister told Alvi, who refused to administer oaths to the coalition government's members, and in his absence, Senate Chairman Sadiq Sanjrani administered the oaths.
Bilawal to take oath; Shebaz to address nation
Aurangzeb also said confidently that PPP Chairman Bilawal Bhutto-Zardari was going to London, but once he comes back, he would take his oath as the federal minister.
PML-N leader Khawaja Asif had confirmed a day earlier that Bilawal would become the next foreign minister, but the PPP chairman did not attend today's oath-taking ceremony.
Apart from Bilawal, nine other federal and state ministers from PPP took oath today, including Syed Khursheed Ahmed Shah, Syed Naveed Qamar, Sherry Rehman, Abdul Qadir Patel, Shazia Marri, Syed Murtaza Mahmud, Sajid Hussain Turi, Ehsan ur Rehman Mazari, and Abid Hussain Bhayo.
The newly elected information minister added that the prime minister would also address the nation in a day or two and would announce the government's long and term goals.
Accountability crucial for govt
At the outset of her first press briefing after becoming the information ministry, Aurangzeb said during the previous government's tenure, Pakistan's media industry went through a dark phase, facing a financial crisis, the firing of journalists, muzzling of freedom of expression, censorship, and other problems that the journalists faced.
The journalists were shot and abducted during PTI's tenure, she said. "…Absar Alam, Matiullah Jan, Hamid Mir, and Asad Toor all faced troubles in the last four years, and I stand in solidarity with them," the newly elected federal minister said.
She noted that accountability by the media was crucial for the government as it helps the rulers rectify themselves and serve the people better.
Massive power breakdown hits Pakistan
Minister says power generation units are temporarily shut in winter at night.
Says frequency variation in national grid triggered outage.
Says ministry trying to restore power in next 12 hours.
---
LAHORE/KARACHI/QUETTA/ISLAMABAD: A countrywide power breakdown, triggered by a "frequency variation" in the national grid early Monday morning, has left large parts of the country including Karachi, Lahore, Islamabad, Peshawar and Quetta without electricity.
Power Minister Khurrum Dastagir, while talking to Geo News, said that the power generation units are temporarily shut down in winter at night as an economic measure to save fuel costs.
"When the systems were turned on at 7:30am this morning one by one, frequency variation was reported in the southern part of the country between Jamshoro and Dadu. There was a fluctuation in voltage and power generating units were shut down one by one due to cascading impact. This is not a major crisis," said the federal minister as the country plunged into darkness for the second time in four months.
The minister said that his ministry has started restoring some grid stations in Tarbela and Warsak.
"Peshawar Electric Supply Company (PESCO) and some grids of Islamabad Electric Supply Company (IESCO) have already been restored," claimed the minister.
Talking about the breakdown in Karachi, the minister said that the matter in the port city is complicated as it has a complete electric supply system.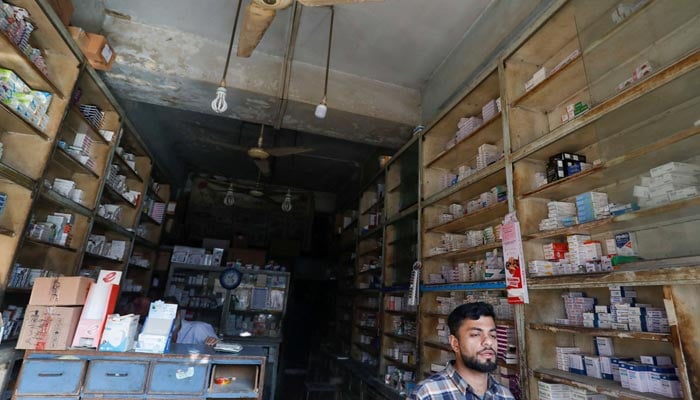 "We provide K-Electric about 1,000-1,100 megawatts routinely, however, it will be restored within a few hours. It is not certain how long will it take to sort this issue. However, my target is to restore electricity in the country in the next 12 hours," said the minister.
Before the energy ministry's announcement, different power distribution companies had confirmed the breakdown.
According to Quetta Electric Supply Company (QESCO), the two transmission lines have tripped leaving 22 districts of Balochistan, including Quetta without power.
Karachi power update
Meanwhile, K-Electric spokesperson Imran Rana said that at approximately 7:34am today, the national grid experienced a loss of frequency, affecting the power supply to multiple cities across Pakistan
"This has also cascaded to KE's network affecting power supply to Karachi," Rana said, adding the KE's network is safe and protected.
"Our teams are actively monitoring the situation and enabling restoration efforts."
An IESCO spokesperson said that its 117 grid stations were without electricity.
Meanwhile, PESCO also confirmed the outage in areas where it supplies electricity.
This is the second time within four months that a country was hit by a major power breakdown.
NEPRA takes notice
The National Electric Power Regulatory Authority (NEPRA), in a statement, said that it has taken "serious notice" of the power outage and directed the National Transmission & Despatch Company (NTDC) to submit a "detailed report".
The statement also said that the regulator has previously imposed fines on similar outages in the 2021 and 2022. It also shared that NEPRA has consistently issued directives and recommendations on tackling such events in future.
Previous breakdown
In October of last year, Karachi, Hyderabad, Sukkur, Quetta, Multan, and Faisalabad were hit by a power outage.
At that time, the power minister said that nearly 8,000 megawatts of power went offline.
Back then, Dastagir had said that the simultaneous faults in two power lines, which had triggered the breakdown, at the same time was concerning for the government. He had also announced that an in-depth inquiry was ordered and promised action.
A timeline of power breakdowns in Pakistan
The country's generation and distribution network has suffered eight major power breakdowns during the last nine years.
In 2014 and 2017, nationwide blackouts were caused by a fault in Tarbela Power Station while fog, frequency variation and the Guddu Power Plant fault were blamed for breakdowns in 2015, 2018, 2019, 2021, 2022 and 2023.
Every time the party in power announced to conduct a comprehensive probe and vowed to rectify the issues but nothing has happened despite multiple inquiries.
Punjab ordered to issue divorce certificates to non-Muslims
Lahore High Court directs provincial authority to frame rules within 90 days.
Petitioner says issue is faced by many members of Christian community.
NADRA's Registration Policy allows change of marital status on basis of affidavit.
---
The Lahore High Court (LHC) Wednesday directed the Punjab government to frame, within 90 days, rules under which union councils would issue divorce certificates to members of Christian and other non-Muslim communities in Pakistan.
In many parts of the country, the divorce certificates are not issued to non-Muslims by union councils that instead claimed such certificates were "not issued to the Christian community." This is an issue for members of the said community because, without a divorce certificate, they cannot request the National Database and Registration Authority (NADRA) to update their marital status while applying for the renewal of their identity cards.
The matter was brought to the attention of the LHC during the case Shumaila Sharif vs the secretary union council etc.
The petitioner in her appeal requested that the court is a writ of Mandamus — an order from a court to an inferior government official ordering the government official to properly — against the relevant union council and direct it to issue her the divorce certificate.
The case proceedings
The petition was heard on December 16 last year and the presiding judge was Judge Tariq Saleem Sheikh.
During the proceedings, the counsel of the petitioner, Advocate Umar Saeed, said that the issue was faced by several people in the Christian community and was not a one-off incident.
Citing Section 33 (1)(j) of the Punjab Local Government Act 2022 (PLGA 2022) — which mandates that union councils ensure registration of births, deaths, marriages and divorces for all the communities without discrimination — and Article 36 of the Constitution, which expressly requires the state to protect the minorities' legitimate rights and interests, the counsel argued that by refusing to issue the requisite certificate, the council was failing to fulfil its legal duty.
Additionally, Advocate Kashif Alexander, the court's amicus curiae on the matter, contended that obtaining a divorce certificate is a legal right that cannot be denied.
Together the two emphasise that while the Constitution of Pakistan (1973) does not explicitly guarantee the right to identity, Article 9 (right to life) and Article 14 (dignity of man) safeguard that right. Therefore, any citizen whose marital status changes due to the dissolution of marriage by divorce has a fundamental right to obtain a divorce certificate from the competent authority and then have their CNIC updated/revised.
The Additional Advocate General has little to defend the respondents and said that the provincial government was taking steps to address the complaints of the Christian community regarding the non-issuance of divorce certificates.
The verdict
During the proceedings, it was brought to the court's attention that NADRA's Registration Policy dated 06.04.2021 (Version 5.0.2) allowed a change of marital status of a divorcee on the basis of an affidavit in the prescribed form.
In light of this, the court directed that until the provincial government framed the requisite rules needed for the issuance of the divorce certificate by the union council, NADRA shall accommodate the Christian community in accordance with the Registration Policy 19.
Anchor Mishal Bukhari passes away at 38
Mishal Bukhari, a renowned journalist and anchorperson, has passed away at the age of 38 after battling cancer for two years, Daily Jang reported. 
The news of Mishal's demise was announced by her husband, Ameer Abbas, who is also a renowned anchorperson, on Twitter.
"My wife, journalist Mishal Bukhari, a beautiful heart, an incomparable personality, an incredibly patient, unbelievably brave woman, left an unbearable shock after fighting cancer for two years," Abbas wrote.
The funeral prayers of the journalist will be held at 1pm in Jamia Masjid-al-Muntazir in Lahore today.
Mishal, who was an award-winning broadcast journalist, was born on July 8, 1984, in Karachi. She started her career as a news anchor on a private TV channel. She also worked for Pakistan Television.
The news of her sad demise triggered an outpour of reactions from fellow journalists and politicians, who offered their condolences.
"Remembering #mishalbukhari our host #AppTV who lost battle against cancer in Lahore on Tuesday evening. Thoughts of our team members with whom she worked are with her parents, family," wrote Rauf Klasra.
Former deputy speaker Qasim Khan Suri offered condolences and prayed for the departed soul and her family members. 
Maritime Affairs Minister Faisal Subzwari prayed for the family members and the deceased journalist. 
Columnist Dr Shahid Masood also offered his condolences and prayers. 
Pakistan lost another journalist at the very outset of 2023 after 2022, a year riddled with several tragic deaths including senior Pakistani journalists. The last year saw the shocking deaths of famous televangelist Aamir Liaquat Hussain, anchorperson Arshad Sharif and Jang Press president Imran Aslam.
In July 2022, the news of sudden death of Hussain sent shock waves across the country. This was followed by the tragic death of Sharif, who was shot dead in a case of "mistaken identity" by Kenyan police in Nairobi in October.
Later in December, Aslam, a giant of journalism, passed away during the course of treatment at a local hospital.