PM Shehbaz to attend Queen Elizabeth's funeral, meet Nawaz in London
PM Shehbaz Sharif to embark on two-day visit Sunday.
PM expected to brief Nawaz Sharif on political situation.
PDM bigwigs hold call to discuss anti-Imran Khan strategy.
---
ISLAMABAD: Prime Minister Shehbaz Sharif will embark on a two-day UK visit during which he will represent Pakistan at the funeral of Queen Elizabeth II and meet PML-N supremo Nawaz Sharif.
People familiar with the matter told Geo News that the premier will visit England this Sunday, a day after concluding his Uzbekistan visit, where he attended the Shanghai Cooperation Organisation (SCO) Council of Head of States (CHS) summit.
The prime minister is scheduled to have a three-hour long meeting with the elder Sharif on the day he touches down in the country. He will spend a busy day in the UK capital attending a number of engagements.
PM Shehbaz will return to Pakistan on Monday soon after attending the state funeral for the late Queen — who died at the age of 96 on September 8 at her Balmoral Castle residence.
The coffin of the late monarch has been lying at the historic Westminster Hall since Wednesday.
Some 750,000 people in total are expected to file past the coffin ahead of the state funeral on Monday which presidents, prime ministers, royalty and other world leaders are due to attend.
US President Joe Biden, French President Emmanuel Macron and the leaders of Australia, Canada and Jamaica will join the emperor of Japan among the congregation.
Shehbaz-Nawaz meeting
During the meeting in London, PM Shehbaz is expected to brief Nawaz — his elder brother and PML-N supremo — on the country's economic and political situation.
The coalition government has not been able to achieve political and economic stability since its formation in April, while decisions like increasing petrol prices and soaring inflation have drawn criticism to Shehbaz Sharif's government.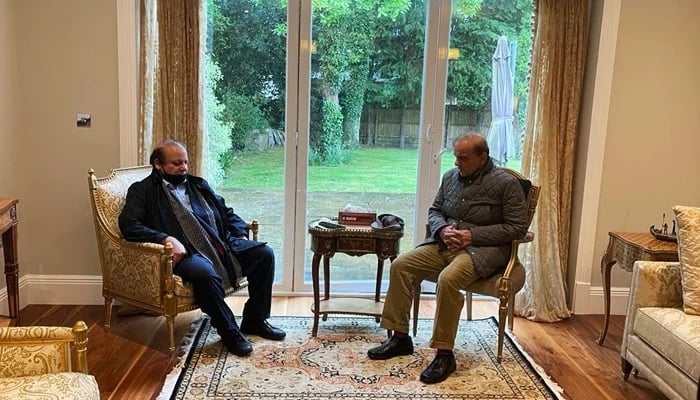 Senior analyst Suhail Warraich had revealed — while speaking in the Geo News programme "Aaj Shahzeb Khanzada Kay Sath" in late August — that Nawaz is neither satisfied with the performance of Shehbaz nor Finance Minister Miftah Ismail. Warraich said Nawaz wants Shehbaz to review his policies.
Warraich added that Nawaz repeatedly asked him to call on Shehbaz and ask him to revisit his economic policies. "Shehbaz should take the public into confidence about his economic policies," the journalist quoted the PML-N founder as saying.
Replying to a question regarding his meeting with Nawaz in London, Warraich said that Nawaz Sharif is absolutely unhappy with the economic policies of the incumbent government. He said Nawaz is not impressed by Miftah's performance.
The analyst quoted Nawaz as repeatedly saying: "I had already proposed to you not to form the government and go for the general elections." Warraich said: "It appears that Nawaz Sharif has made up his mind that he wants economic policy from Ishaq Dar alone.
Warraich said Nawaz wants Dar to work on the economy. He also said Nawaz doesn't seem to be reposing trust in Miftah as he [Nawaz] believes that the finance minister doesn't know much about economic policies.
PDM bigwigs hold call
Meanwhile, Pakistan Democratic Movement (PDM) leaders Maulana Fazlur Rehman, Asif Ali Zardari, and Nawaz held a telephone contact Friday to discuss the ongoing political situation in the country.
The PDM leaders rejected PTI Chairman Imran Khan's demand for immediate general elections and made it clear that the ruling alliance would go to general elections next year after economic stability and rehabilitation of the flood-affected people.
They declared election date will not be given due to Khan's long march. They vowed that scale of justice should be equal for all.
PDM head Fazl had telephoned the PML-N supremo and the PPP co-chairman.
Sources said the three leaders also discussed the strategy to counter Khan's new protest call.
4 dead, 12 injured as sucide blast rips through Hangu mosque
Incident takes place within parameters of Police Station Doaba. 
Two suicide bombers were involved in attack, says Hangu DPO.
12 people, rescued from rubble, shifted to nearby hospital.
---
HANGU: A blast ripped through a mosque in Khyber Pakhtunkhwa's Hangu, local officials confirmed Friday, leaving three dead — including a policeman — and 12 injured.
The incident took place within the parametres of Police Station Doaba during the Friday sermon — a time when scores of believers are gathered at a mosque for their weekly prayer.
Hangu District Police Officer Nisar Ahmed said 30-40 people were under the rubble — as the mosque's roof caved in — and an operation was underway to rescue them.
Ahmed said two suicide bombers were involved in the attack — one targeted the gate of the police station, and the other blew himself up inside the mosque.
The 12 people, rescued from the rubble, have been shifted to a nearby hospital, he said.
Caretaker Khyber Pakhtunkhwa Chief Minister Azam Khan, taking notice, directed officials to enforce an emergency in all hospitals of the city as he sought a report on the blast from law enforcers.
The police officials said that two militants tried entering the police station and started firing at the gate. They added that one of the terrorists was killed at the gate by the police in retaliatory fire.
Moreover, two policemen were also injured during the firing, officials of the law enforcement agency said, adding that the other militant blew himself up inside the mosque.
The timely action by the police resulted in fewer casualties following the blast, they added.
This was the second terror attack to hit Pakistan in a single day as earlier today, a suicide blast in Balochistan's Mastung district killed at least 35 people including a police officer while injuring over 45.
The explosion took place near the mosque where people were gathering to mark Eid Miladun Nabi — the birth anniversary of Prophet Muhammad (PBUH).
For the past year now, Pakistan has been gripped by a spate of terror attacks, with Balochistan and Khyber Pakhtunkhwa particularly being under the radar of militants targeting security forces and civilians to deteriorate peace.
Security forces, however, continue to conduct operations against terrorists to eliminate terrorism from the country in its resolve to strengthen the sacrifices of its soldiers.
Earlier this month, a report compiled by the Pakistan Institute for Conflict and Security Studies (PICSS) stated a sharp increase recorded in militant attacks across the country in the month of August with 99 terror incidents reported.
This, according to the report, was the highest number recorded in any single month since November 2014. These attacks have resulted in 112 deaths and 87 injuries, mostly targeting security forces personnel and civilians.
One-month deadline for illegal foreign nationals to be announced soon
Major countrywide crackdown to be launched by LEAs.
Around 1.1 million Afghan refugees illegally reside in Pakistan.
Surge in street crime in capital linked with illegal Afghans.
---
ISLAMABAD: The government will soon announce a one-month deadline for all illegal foreign immigrants, including Afghans, to leave the country or face the music.
After the one-month deadline, a major countrywide crackdown will be launched by the law-enforcement agencies to identify and deport such illegal immigrants, the vast majority of whom are said to be Afghans.
Interior Minister Sarfraz Bugti will announce the policy in a few days time, an informed source said.
The decision at the highest level has already been taken not to let Pakistan become a haven for illegal immigrants, many of whom are not only involved in criminal activities but are also part of the smuggling mafia, the source added.
It is said the authorities have already arrested many illegal Afghan immigrants who were doing illegal dollar trade at the cost of the country's economy. A large number of such illegal foreign nationals are also doing different businesses in several major cities including the federal capital. The surge in street crime in Islamabad is also linked with the influx of illegal Afghans.
There are said to be around 1.1 million Afghan refugees residing in Pakistan illegally.
It is said as many as 400,000 Afghans entered Pakistan illegally since the return of the Afghan Taliban to Afghanistan in August 2021. There are another 700,000 Afghans identified who have been living in the country illegally.
Media reports suggest that 1.1 million Afghan refugees neither possess any visa nor any valid documents, allowing them to stay in the country. Most of these illegal refugees were involved in anti-state and criminal activities.
Therefore, they would be sent back at the earliest, said a report, adding the Afghan Taliban government was also informed about Pakistan's decision.
Islamabad has hosted millions of refugees for decades, and at one point five million Afghan refugees were residing in Pakistan.
Some estimates suggest there are still close to four million Afghan refugees living in Pakistan. However, the count of individuals possessing valid refugee cards, as per official records, is considerably lower.
HEC announces Commonwealth Scholarships for masters, PhD
In a positive development for students, the Higher Education Commission (HEC) has announced Commonwealth Scholarships for masters and PhD programmes for the year 2023.
The Commonwealth Scholarship Commission in the UK (CSC) provides the UK government's Commonwealth scholarship scheme led by international development objectives. 
The CSC has funded over 30,000 individuals to study in the UK and gain skills, acquire knowledge, and build networks to tackle global development challenges
Pakistan and Azad Jammu and Kashmir (AJK) students can apply for the scholarships till October 17 (Tuesday) on the CSC portal.
The HEC's website said that 26 nominations are available for masters, 30 for PhD and 10 for teaching faculty PhD.
Applicants are advised to visit the links to apply for the masters, PhD and teaching faculty (PhD) scholarships.