PM Shehbaz to attend Queen Elizabeth's funeral, meet Nawaz in London
PM Shehbaz Sharif to embark on two-day visit Sunday.
PM expected to brief Nawaz Sharif on political situation.
PDM bigwigs hold call to discuss anti-Imran Khan strategy.
---
ISLAMABAD: Prime Minister Shehbaz Sharif will embark on a two-day UK visit during which he will represent Pakistan at the funeral of Queen Elizabeth II and meet PML-N supremo Nawaz Sharif.
People familiar with the matter told Geo News that the premier will visit England this Sunday, a day after concluding his Uzbekistan visit, where he attended the Shanghai Cooperation Organisation (SCO) Council of Head of States (CHS) summit.
The prime minister is scheduled to have a three-hour long meeting with the elder Sharif on the day he touches down in the country. He will spend a busy day in the UK capital attending a number of engagements.
PM Shehbaz will return to Pakistan on Monday soon after attending the state funeral for the late Queen — who died at the age of 96 on September 8 at her Balmoral Castle residence.
The coffin of the late monarch has been lying at the historic Westminster Hall since Wednesday.
Some 750,000 people in total are expected to file past the coffin ahead of the state funeral on Monday which presidents, prime ministers, royalty and other world leaders are due to attend.
US President Joe Biden, French President Emmanuel Macron and the leaders of Australia, Canada and Jamaica will join the emperor of Japan among the congregation.
Shehbaz-Nawaz meeting
During the meeting in London, PM Shehbaz is expected to brief Nawaz — his elder brother and PML-N supremo — on the country's economic and political situation.
The coalition government has not been able to achieve political and economic stability since its formation in April, while decisions like increasing petrol prices and soaring inflation have drawn criticism to Shehbaz Sharif's government.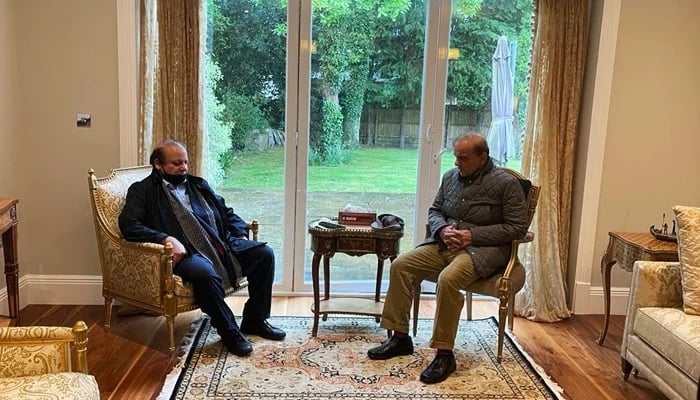 Senior analyst Suhail Warraich had revealed — while speaking in the Geo News programme "Aaj Shahzeb Khanzada Kay Sath" in late August — that Nawaz is neither satisfied with the performance of Shehbaz nor Finance Minister Miftah Ismail. Warraich said Nawaz wants Shehbaz to review his policies.
Warraich added that Nawaz repeatedly asked him to call on Shehbaz and ask him to revisit his economic policies. "Shehbaz should take the public into confidence about his economic policies," the journalist quoted the PML-N founder as saying.
Replying to a question regarding his meeting with Nawaz in London, Warraich said that Nawaz Sharif is absolutely unhappy with the economic policies of the incumbent government. He said Nawaz is not impressed by Miftah's performance.
The analyst quoted Nawaz as repeatedly saying: "I had already proposed to you not to form the government and go for the general elections." Warraich said: "It appears that Nawaz Sharif has made up his mind that he wants economic policy from Ishaq Dar alone.
Warraich said Nawaz wants Dar to work on the economy. He also said Nawaz doesn't seem to be reposing trust in Miftah as he [Nawaz] believes that the finance minister doesn't know much about economic policies.
PDM bigwigs hold call
Meanwhile, Pakistan Democratic Movement (PDM) leaders Maulana Fazlur Rehman, Asif Ali Zardari, and Nawaz held a telephone contact Friday to discuss the ongoing political situation in the country.
The PDM leaders rejected PTI Chairman Imran Khan's demand for immediate general elections and made it clear that the ruling alliance would go to general elections next year after economic stability and rehabilitation of the flood-affected people.
They declared election date will not be given due to Khan's long march. They vowed that scale of justice should be equal for all.
PDM head Fazl had telephoned the PML-N supremo and the PPP co-chairman.
Sources said the three leaders also discussed the strategy to counter Khan's new protest call.
Terrorist who martyred two ISI officials in Khanewal gunned down in IBO
Terrorist was at large after killing security officials.
Security forces conduct joint operation to nab militant.
Niazi succumbs to injuries after being injured in fire exchange.
---
A terrorist who martyred Naveed Sadiq and Nasir Hussain — the director and inspector of the Inter-Services Intelligence's (ISI) Counter-Terrorism Wing — was gunned down by law enforcement agencies on Monday in an intelligence-based operation (IBO) in Khyber Pakhtunkhwa's (KP) Kurram Agency.
The slain terrorist, identified as Umar Niazi, was at large after he martyred the two ISI officials on January 3.
The security agencies arrested the terrorist with serious injuries following an exchange of fire. Niazi succumbed to his injuries after a while.
Intelligence agencies nabbed the terrorist before he could slip into Afghanistan.
Earlier this month, the terrorist martyred ISI officials Sadiq and Hussain when they were at a local hotel in Khanewal, Punjab.
Sadiq, meanwhile, was martyred in Khanewal at a time when he was on a mission to take down the network of a banned outfit operating from Afghanistan.
South Punjab Additional Inspector General of Police (AIGP) Sahabzada Shahzad Sultan said the perpetrators were on a motorcycle.
Both officials were posthumously awarded the Hilal-e-Shujaat and Tamgha-e-Shujaat.
Sadiq, who headed the ISI's CTD wing, was awarded the Sitara-e-Shujaat on March 23, 2021, in recognition of his bravery and courage against anti-national elements.
He joined the police force as a sub-inspector in 2002. After appearing for a high-level exam in 2009, he was appointed to the ISI, the premier intelligence agency, as the assistant director.
During his tenure, the spy agency official exposed key networks of banned outfits. After months of efforts, he gained access to the high command of Daesh. He also neutralised the terrorists after raiding and finding their ambush site in Faisalabad.
Islamabad court decides to indict Imran Khan in Toshakhana case
ISLAMABAD: A local court in Islamabad has decided to indict Pakistan Tehreek-e-Insaf (PTI) Chairman Imran Khan in the Toshakhana case.
The court has set February 7 as the date for the indictment of the PTI chairman.
Blast in Balochistan's Kachhi leaves one injured
Blast takes place in Kachhi district.
Police say explosives were placed on roadside.
Balochistan under constant terror attacks recently.
---
In yet another terror incident in the restive province of Balochistan, at least one person was injured after an explosion took place in the Kachhi district of the province, police said on Monday. 
The police told media persons that the explosives were placed on a roadside.
Balochistan has been under constant terror attacks recently with several incidents taking place in the province.
Bolan incident
Recently, at least 18 people were injured after a remote-control bomb detonated on a railway track in Bolan, forcing the train's engine and seven carriages off the track.
Railway authorities said that the injured had been shifted to Combined Military Hospital (CMH), Sibi.
The Jaffer Express train was travelling from Machh to Sibi, when the blast occurred, local authorities said.
"A relief train was dispatched from Sibi to rescue passengers of the train and bring them to Sibi safely. Passengers on the Jaffer Express coming from Peshawar to Machh were stopped at Sibi and are now being brought to Quetta via buses," they added.
According to Deputy Commissioner Kachhi Agha Samiullah, the blast was carried out by a remote-control device.
On the other hand, the carriages of the derailed train are being lifted from the railway track.
Terror attacks
In the annual report issued by the Centre for Research & Security Studies (CRSS), Balochistan suffered from 110 attacks last year, becoming the second most vulnerable province in the country.
Over 250 people lost their lives in terrorist attacks and counter-attacks, whereas over 200 sustained serious injuries in the province.
The last month of the year witnessed over two dozen attacks in quick succession, and that became one-fourth of the total fatalities that occurred in Balochistan, a province which has just 6% of the country's population.
According to reports, the Balochistan Liberation Army (BLA) and Baloch Nationalist Army (BNA), the terrorist organisations, are mainly involved in terror incidents in the area-wise largest province of the country. In Balochistan, at least 14 major attacks took place mostly on security forces targets.
Security forces remained the primary target of terrorist attacks in the province.