Pakistan condemns Israeli terrorism after airstrikes pound Gaza
Israeli military's new airstrikes end more than a year of calm.
10 Palestinians killed as Israeli airstrikes hit Gaza.
PM says if barbarism had a face, it would be that of Israel.
---
ISLAMABAD: Pakistan on Saturday condemned Israel's killing of Palestinians in Gaza as fresh violence continued a second day, ending more than a year of relative calm along the border.
Israel on Friday said it had launched a special operation against the Palestinian Islamic Jihad group, killing one of its senior commanders in a surprise daytime air strike on a high-rise building in Gaza City.
Health authorities in the enclave controlled by Hamas said 10 people had been killed by Israel's bombardment, including a five-year-old girl, with 79 others injured. Israel's army estimated that its operation had killed 15.
In a tweet, Prime Minister Shehbaz Sharif said the martyrdom of 10 Palestinians, including a five-year-old girl in Gaza, is the latest act of Israeli terrorism.
"If impunity and barbarism had a face, it would have been that of Israel, which has targeted Palestinians without any care for consequences. Pakistan strongly condemns Israeli airstrikes."
Latest spate of aggression typical of Israeli atrocities: FO
The Ministry of Foreign Affairs, in a brief statement, said that Pakistan strongly condemns recent air strikes by Israel on Gaza that resulted in deaths including of a five-year old girl, and injuries to so many innocent Palestinians.
"The latest spate of aggression is typical of the Israeli atrocities, illegal actions and indiscriminate use of force against innocent Palestinians over the decades in complete defiance of international human rights and humanitarian laws," the Foreign Office said.
Pakistan called upon the international community to urge Israel to put an immediate end to the "blatant use of force and flagrant violations of human rights" of the Palestinian people. "It is imperative to immediately stop the aggression," the Foreign Office stressed.
"We renew our call for a viable, independent and contiguous Palestinian State, with pre-1967 borders, and Al-Quds Al-Sharif as its capital being the only just, comprehensive and lasting solution of the Palestinian question, in accordance with the relevant United Nations and OIC resolutions," the statement read.
In the occupied West Bank, the Israeli military said it had apprehended 19 Islamic Jihad members in overnight arrest raids.
Palestinian freedom fighters fired at least 160 rockets over the border, the military said, some deep into Israel toward the commercial hub Tel Aviv.
Most of the missiles were intercepted, and a few people were lightly injured when running to shelters.
Egypt, the United Nations and Qatar had begun mediating an end to the violence, according to a Palestinian official with knowledge of the efforts, "but no breakthrough yet", the official said.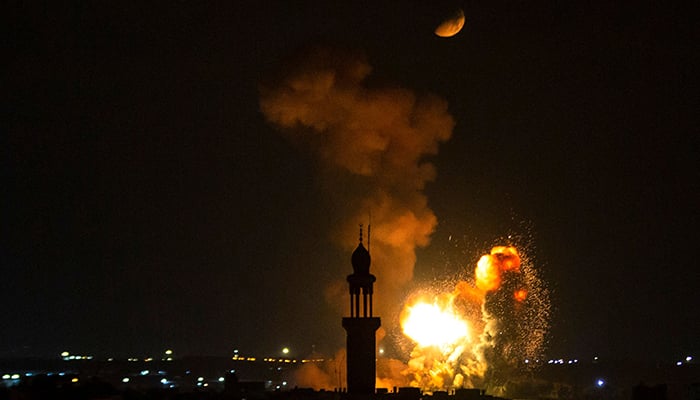 A Western-backed Palestinian Authority official condemned Israel's attacks.
"We call on the international community to intervene and provide protection for our people," Civil Affairs Minister Hussein al-Sheikh said on Twitter.
Further escalation would largely depend on Hamas, the group which controls Gaza, and whether it would opt to join the fighting.
Tensions rose this week after Israeli forces arrested an Islamic Jihad commander in the West Bank, drawing threats of retaliation from the group.
The frontier had been largely quiet since May 2021, when 11 days of fierce fighting between Israel and militants left at least 250 people in Gaza and 13 in Israel dead.
KU teachers boycott classes from today over financial, administrative crisis
Strike to continue until teacher's body decides otherwise.
KUTS secretary says budget not approved for past 4 years.
Teachers' strike in evening programme ongoing since Sept 14.
---
KARACHI: The Karachi University Teachers Society (KUTS) will go on strike for an indefinite period of time starting from Friday (today) in protest over the non-payment of dues for over a year.
Speaking to The News, KUTS Secretary Dr Faizan-ul-Hassan Naqvi said that the strike will continue for an unspecified period over the financial and administrative crises until the teacher's body decides otherwise.
Naqvi added that the KU's budget had not been approved for the past four years, which had affected the academic and research work at the university.
"The teachers in the evening programme have not been paid their arrears for the past one-and-a-half years, while the permanent faculty members are yet to receive the increment announced in the provincial government's budget four months ago," he said.
"The visiting faculty are being hired at a rate of Rs600 per lecture, which after deduction is reduced to Rs480. Even this is not being paid."
Moreover, the KU's structure and facilities were in a dilapidated condition suggesting mismanagement of the administration, Naqvi asserted and lamented that students were moving towards private universities because of these problems in the public sector.
Earlier in the day, the KUTS convened a general body meeting at the art auditorium, which passed a resolution to boycott all academic activities at the varsity until further notice.
It also endorsed the teachers' strike in the evening programme ongoing since September 14. The meeting demanded that the Sindh governor and the chief minister take notice of the crises and form a commission to investigate their causes.
Geneva flood pledges: Pakistan receives only $1.48bn of $10.9bn
Only $780m disbursed in project financing as of Sep 2023.
Govt receives roughly $700m in oil and commodity financing.
Saudi Arabia so far disbursed $600 million as an oil facility.
---
ISLAMABAD: Pakistan has, to date, received only $1.48 billion in funding from both multilateral and bilateral creditors as part of the Geneva pledges totaling $10.9 billion designated for the reconstruction of areas affected by devastating floods last year, The News reported on Wednesday.
The progress of project financing, however, has been alarmingly slow, with just $780 million disbursed as of September 2023. Pakistan endured severe flooding in the previous fiscal year, resulting in extensive human and financial hardships, but there was hope for rehabilitation, as donors committed $10.9 billion in the form of loans to support the reconstruction endeavors.
Islamabad, too, has successfully obtained approximately $700 million in oil and commodity financing. Nevertheless, it is an undeniable fact that the distribution of project loans has remained frustratingly sluggish, necessitating swift action from all federal and provincial agencies responsible for pulling off flood-related projects in their respective regions. Therefore, accelerating these efforts is imperative.
"The caretaker prime minister has also taken notice of this slow disbursement of committed pledges as the project loan acceleration depends upon the executing agencies' ability to implement the projects on a fast-track basis," a top official of the government confided to The News here on Tuesday.
The Islamic Development Bank (IsDB) had committed $3.6 billion on account of commodity financing, out of which $1.1 billion was planned to be disbursed on an annual basis over a year. Out of $3.6 billion, there was a planned disbursement of $300 million, which was underway during the current fiscal year.
However, the remaining $3.3 billion was still problematic because it was syndicated financing, which the IsDB planned to secure from other commercial banks. So far, there are indications that its interest rate might exceed and fall into a range of over 10%.
However, the oil-exporting giants argued before the government that if they secured local funding, it would be on the much higher side, keeping in view the higher interest rates in the domestic market.
The Kingdom of Saudi Arabia has so far disbursed $600 million as an oil facility out of total financing committed for commodities and oil financing. The government has heavily relied on the disbursements of project loans from the World Bank and Asian Development Bank. From the World Bank loans, there are projects going to be executed in Sindh and Balochistan for the construction of housing and agriculture sectors.
The premier is expected to chair an important meeting to review progress on donor-funded projects for flood-affected areas after his return from abroad, as one of such important meetings got postponed last week before his recent departure to the USA.
The implementation of flood-affected area projects needs acceleration in order to materialise maximum disbursements from the pledged loans, but without improving bottlenecks at execution levels, this wish will remain just a pipe dream.
Parts of Karachi receive light to moderate rain
The weather in Karachi turned pleasant as different areas of the city witnessed intermittent showers on Wednesday.
The Pakistan Meteorological Department (PMD) had predicted rain with wind and thunderstorm in the metropolis today afternoon and evening.
Several areas of the port city including Quaidabad, Landhi, Korangi and Sohrab Goth received light to moderate rain. Other areas including Orangi Town, Surjani, Nazimabad, Shershah, Old City Area, Clifton, Garden, and Saddar also received light showers. 
According to the Met Office, Karachi is expected to remain cloudy for the next 24 hours. Moreover, the lowest temperature recorded in the city was 29.5°C.
Different areas in the city will likely receive heavy rain as more thunderclouds may form in the northeast in the evening, said a weather analyst.
The analyst added that there is a good chance of rain in the eastern and southern parts of the city with a possibility of more rain in Malir, Landhi, Gulshan-e-Hadid, Gulshan-e-Maymar, Port Qasim and other areas.
A day earlier, the PMD said that rain coupled with dust thunderstorms is expected to hit Karachi today with occasional gaps, adding that monsoon currents of moderate intensity are continuing to penetrate Sindh.