Indian climber banned for faking Everest ascent reaches summit
Yadav claimed to have reached top of 8,849m mountain in 2016.
His photos at summit were later shown to have been digitally altered.
"There were a lot of allegations on me… that's why I (had to) prove myself and climb Everest," he says.
---
KATHMANDU: An Indian climber banned from Everest after faking a summit of the world's highest mountain has successfully scaled the peak for real, telling AFP he returned to "prove" himself.
Narender Singh Yadav claimed to have reached the top of the 8,849-metre (29,032-foot) mountain in May 2016.
But photos of the 26-year-old at the summit were later shown to have been digitally altered, prompting the Nepal government to revoke recognition of his feat.
Yadav and two other climbers were issued a six-year ban backdated to 2016, and this was the first year he was able to return to the mountain.
"Everest is a dream for all of us but Everest is life for me," Yadav told AFP on Friday.
"There were a lot of allegations on me… that's why I (had to) prove myself and climb Everest."
Yadav maintains he reached the summit but that the expedition leader doctored his photos and posted them on social media after he was nominated for India's prestigious Tenzing Norgay Adventure Award in 2020.
The award was subsequently withheld, an experience Yadav said was "very painful for me and my family".
His ban ended on May 20. Seven days later, he was on the summit — this time with an ample cache of photos and videos to prove his feat.
"We granted him a certificate on Wednesday after he presented enough evidence of his Everest summit," said Nepal tourism department official Bishma Raj Bhattrai.
Pemba Rita Sherpa, a guide with expedition organiser Pioneer Adventure, said that two guides accompanied him instead of the usual one to make sure there were no disputes.
"We took many photos and videos of him," he said. "We have to speak what is real. It is about our Sherpas' reputation and the company's reputation."
A successful Everest summit is the crowning achievement of any climber's career, and many go on to forge careers as motivational speakers and authors.
The current system of authentication requires photos along with reports from team leaders and government liaison officers stationed at the base camp — but it has been open to fraud attempts.
An Indian couple was banned for 10 years in 2016 after they published doctored photos purporting to show them at the top of Everest.
The pair — both police constables — superimposed themselves and their banners onto photos taken by another Indian climber at the summit.
This year, a rare window of good weather has allowed more than 500 climbers and guides to reach the Everest summit since a team of Nepali climbers opened the route on May 7.
The Himalayan nation reopened its peaks to mountaineers last year after the coronavirus pandemic shut down the industry in 2020.
What's Sania Mirza searching for out in the desert?
Indian tennis ace Sania Mirza regularly posts on social media to keep her fans engaged. Her posts range from professional to personal life updates.
In her latest post on the photo-cum-video sharing platform Instagram, the tennis star uploaded a photo, wherein she can be seen barefoot in the desert.
The photo was taken in Dubai, United Arab Emirates, where Sania lives with her five-year-old Izhaan Mirza Malik, while her husband, Pakistani cricketer Shoaib Malik, visits intermittently to meet his family.
In her Instagram post, there seems to be a hidden message. It read: "What you are looking for isn't out there. It's in you." The caption also ended with a brown heart — which might be because she found the desert to be calm.
Mirza always styles herself perfectly, and even while barefoot in the desert, she is dressed elegantly.
The tennis ace was wearing a grey long dress, complimented with golden earrings and a set of three bracelets.
Fans were also impressed with her elegance and style, with one writing: "She is definitely one of the most beautiful women I have ever seen."
Another wrote: "Your remarkable grace and strength truly resonate worldwide."
"Wow so sweet and beautiful look […] You are my favourite tennis player Sania," another Instagram user commented on the post.
The post has so far garnered more than 85,00 likes and 683 comments.
Sania is not only famed in India but in Pakistan as well due to her marriage with former Pakistan cricket team captain Malik. The couple tied the knot in 2010, and share a 5-year-old son, Izhaan.
Controversy surrounded their relationship after divorce rumours surfaced last year. However, neither Sania nor Shoaib have openly confirmed or denied the reports of their separation or divorce as yet.
Pakistan gear up for historic clash against Saudi Arabia
AL-AHSA, SAUDI ARABIA: In a first, Pakistan will today take on Saudi Arabia in the second round of the 2026 FIFA World Cup Qualifiers for the first time in its footballing history, reported The News on Thursday.
The historic game will be played at the Al-Fateh Stadium at 7:30 pm local time.
Pakistan and Saudi Arabia last played against each other in 1978 at the latter's home which the Green Shirts were humiliated 6-0.
Jordan and Tajikistan are the other teams in Pakistan's group.
These four teams will play against each other home and away, the top two nations will progress to the third round while the last two teams qualify for the third round of the 2027 Asian Cup Qualifiers. Being a host country of the 2027 Asian Cup, Saudi Arabia have already qualified for the continent's major showpiece event.
Pakistan team since its arrival in Saudi Arabi on November 11 has held six training sessions at the Al-Fateh Stadium's reserve venue. They were joined by their foreign-based players who came in two different groups.
England-based winger Imran Kayani had joined the team in Islamabad and was part of all the training sessions held in the federal capital under English coach Stephen Constantine. The Whitehawk FC player is likely to make his international debut today.
According to team sources, overseas players Harun Hamid, Yousuf Butt, Abdullah Iqbal and Abdul Samad arrived in Saudi Arabia two days ago while Otis Khan and Rahis Nabi checked in at the hotel on Tuesday.
Coach Constantine on Wednesday said that they expect a tough match against the hosts.
"There is no doubt that Saudi Arabia are a tough side and we will try to make our best effort against them," he said during a pre-match news conference at the Al-Fateh Sports Club.
He said that the time was short for preparation but whatever time they had at their disposal they tried to prepare well.
"We had a few good days here and a week at Islamabad and hopefully we will put in our best," Stephen said.
He said that Pakistan will badly miss their defender Easah Suliman who has been ruled out for a few weeks due to an injury which he developed while playing in the Azerbaijan league. Constantine refused to disclose who will lead the side.
"When one is down the other comes to take his place," he said.
The coach sees the game as a big opportunity for Pakistani players to attract foreign scouts.
"They have to play well and when they do well then definitely they may get offers from professional clubs but it's a great honour to represent one's country first," Constantine said.
The second round matches will be held in three phases with the second phase and third phase to be held in March and June respectively.
Meanwhile, Saudi Arabia have injury woes of their own as Al-Hilal's winger Salem Al-Dawsari was ruled out of both the games against Pakistan and Jordan due to an ankle injury.
Saudi Arabia's Italian coach Roberto Mancini said that his team is ready for the show.
"It's a first official game for us in the Qualifiers. We are ready and you know the first game is always difficult," Mancini told the news conference.
"I think it is time to put youngsters in the team for the future because we saw many players in three months. And we believe that we have a good young players for the future and it's important to give them a chance in the important game," Mancini said.
"My target is to try to play good football. we started well but we played against tough teams and in future this team will progress well," he said. Since taking charge as Saudi Arabia's head coach last August his charges have lost three matches of the four they have played. He said that Saudi Arabia will not take Pakistan lightly.
Pakistan squad:
Goalkeepers: Yousuf Butt, Salman-Ul-Haq, Hassan Ali
Defenders: Abdullah Iqbal, Haseeb Khan, Mamoon Moosa Khan, Mohibullah, Muhammad Sohail, Muhammad Saddam, Junaid Shah, Rao Umar Hayat, Muhammad Hamza Munir
Midfielders: Rahis Nabi, Alamgir Ghazi, Rajab Ali, Ali Uzair, Imran Kiyani, Harun Hamid
Forwards: Shayak Dost, Otis Khan, Fareed Ullah, Abdul Samad Arshad, Muhammad Waleed Khan, Adeel Younas
Officials: Stephen Constantine (head coach), Rogerio Ramos (goalkeeper coach), Claudio Altieri (performance coach), Muhammad Ali Khan (manager), Azam Khan (doctor), Muhammad Abdullah (physio), Haider Ali (media), Abdul Qayyum (masseur).
Pakistan squad for World Cup 2023 announced
Chief selector Inzamam-ul-Haq unveiled squad.
Hasan Ali replaces injured Naseem Shah.
Pakistan enter mega-event as number one ranked side.
---
LAHORE: In a much-awaited announcement, the Pakistan Cricket Board (PCB) has finally revealed the 15-member squad for the upcoming ICC World Cup 2023.
The announcement of Pakistan's squad faced unexpected delays as the team management held consultations following a humiliating exit from the Asia Cup and the injuries faced by major bowlers during the tournament.
Chief selector Inzamam-ul-Haq unveiled the squad at Lahore's Gaddafi Stadium.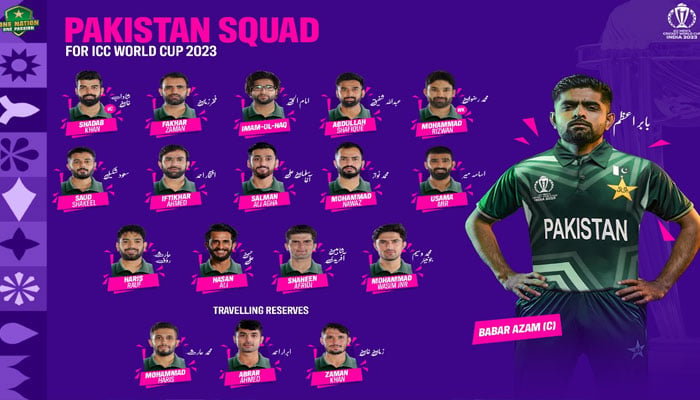 Babar Azam will captain the team, while Shadab Khan remains the team's vice-captain. Hasan Ali has been called in to replace pacer Naseem Shah — who has been ruled out from the tournament due to his shoulder injury.
Ali, however, will be returning to one-day international (ODI) cricket after a year-long hiatus following his last appearance against West Indies in Multan in 2022.
"We were forced to make one change because of an unfortunate injury to Naseem Shah. We had a few injury scares in the recent Asia Cup, but I am glad to share that all the players are fully fit and are eager to perform for their country in the all-important tournament. I have received encouraging reports from our medical panel about Haris Rauf. He has started to (shadow) bowl at the National Cricket Academy and will be available for selection," said Inzamam while speaking during a press conference today.
"I have a firm belief that this squad can bring the World Cup trophy to Pakistan and make the whole nation proud with their incredible performances. It is time to get behind our team and provide them with the backing and support that they need."
Babar Azam's side enters the mega-event as the number one ranked side and enjoys the best win/loss ratio of 2.4 in this World Cup cycle for any side that has played the ODI format.
The ICC World Cup 2023 will take place in India with 10 teams fighting for the elusive title across 10 venues from October 5 to November 19, with the Narendra Modi Stadium in Ahmedabad hosting the tournament opener and the final.
The Cricket World Cup will be played in a round-robin format, with all teams playing against each other for a total of 45 league matches.
The top four teams will qualify for the semifinals, which will be held in Mumbai on November 15 and in Kolkata on November 16. The semi-finals and the final will have reserve days.
Squad
Babar Azam (c), Shadab Khan, Abdullah Shafiq, Fakhar Zaman, Haris Rauf, Hasan Ali, Iftikhar Ahmed, Imam-ul-Haq, Mohammad Nawaz, Mohammad Rizwan (wk), M Wasim Jnr, Saud Shakeel, Salman Ali Agha, Shaheen Shah Afridi, Usama Mir.
Reserves
Mohammad Haris, Zaman Khan, Abrar Ahmed.