Imran Khan to seek bail from ATC in-person tomorrow: PTI leader
Babar Awan says terrorism case against Imran Khan is "fabricated".
He says the government has destroyed Pakistan's narrative.
Khan has been booked for allegedly threatening judge, police.
---
ISLAMABAD: Imran Khan, chairman of PTI and former prime minister, will appear before an anti-terrorism court (ATC) tomorrow (Thursday) for seeking bail in a terrorism-related case, a party leader said Wednesday.
In a video statement, PTI's senior leader Babar Awan said the party's legal committee decided that Khan's bail plea would be filed in the ATC tomorrow, and the former premier would go there himself.
Awan claimed that by filing this case, the government has completely "destroyed" Pakistan's anti-terrorism narrative as he termed the charges against Khan "false".
"This is a fabricated case; no threat was issued; no Kalashnikov rifle was fired," the former special assistant to PM on parliamentary affairs said.
A case was registered against the former prime minister under the Anti-Terrorism Act for threatening an additional sessions judge and senior police officers of the Islamabad Police during a public rally.
Seeking bail, the party moved the Islamabad High Court (IHC) where Khan managed to secure a transit bail till August 25, but was asked to approach the ATC as the case was terrorism-related.
The FIR registered against Khan states that he threatened Additional Sessions Judge Zeba Chaudhry and police officers at a rally in F-9 Park to "terrorise" police officials and the judiciary.
The main aim of the intimidation was to prevent the police officers and judiciary from carrying out their legal obligations, states the FIR.
The FIR was registered on the complaint of Magistrate Ali Javed in Islamabad's Margalla Police Station under Section 7 of ATA.
What did Imran Khan say?
Last Sunday, PTI chief Khan warned that he would "not spare" Islamabad's inspector-general, deputy inspector general, and female magistrate, vowing to file cases against them for torturing Gill.
"We will not spare the IG and DIG," he said while addressing a public gathering at the F-9 park. The former prime minister called out Additional District and Sessions Judge Chaudhry, who had approved Gill's two-day physical remand at the request of the capital police, and said she, too, should prepare herself as the case will also be registered against her.
The PTI chief passed the remarks while leading a rally in Islamabad from Zero Point to F-9 Park in support of incarcerated leader Gill, who the party claims was subjected to alleged "gruesome torture" in police custody.
Massive power breakdown hits Pakistan
Minister says power generation units are temporarily shut in winter at night.
Says frequency variation in national grid triggered outage.
Says ministry trying to restore power in next 12 hours.
---
LAHORE/KARACHI/QUETTA/ISLAMABAD: A countrywide power breakdown, triggered by a "frequency variation" in the national grid early Monday morning, has left large parts of the country including Karachi, Lahore, Islamabad, Peshawar and Quetta without electricity.
Power Minister Khurrum Dastagir, while talking to Geo News, said that the power generation units are temporarily shut down in winter at night as an economic measure to save fuel costs.
"When the systems were turned on at 7:30am this morning one by one, frequency variation was reported in the southern part of the country between Jamshoro and Dadu. There was a fluctuation in voltage and power generating units were shut down one by one due to cascading impact. This is not a major crisis," said the federal minister as the country plunged into darkness for the second time in four months.
The minister said that his ministry has started restoring some grid stations in Tarbela and Warsak.
"Peshawar Electric Supply Company (PESCO) and some grids of Islamabad Electric Supply Company (IESCO) have already been restored," claimed the minister.
Talking about the breakdown in Karachi, the minister said that the matter in the port city is complicated as it has a complete electric supply system.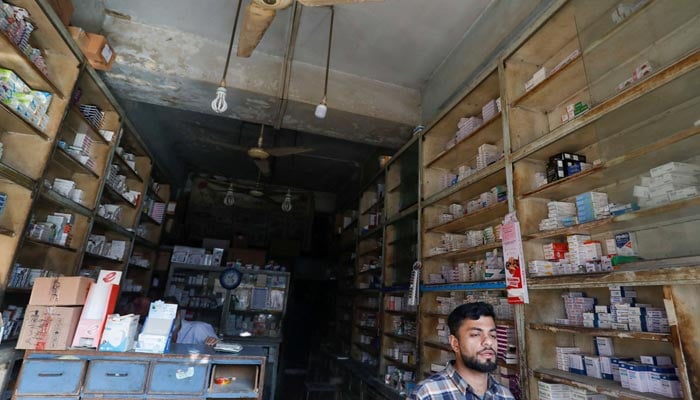 "We provide K-Electric about 1,000-1,100 megawatts routinely, however, it will be restored within a few hours. It is not certain how long will it take to sort this issue. However, my target is to restore electricity in the country in the next 12 hours," said the minister.
Before the energy ministry's announcement, different power distribution companies had confirmed the breakdown.
According to Quetta Electric Supply Company (QESCO), the two transmission lines have tripped leaving 22 districts of Balochistan, including Quetta without power.
Karachi power update
Meanwhile, K-Electric spokesperson Imran Rana said that at approximately 7:34am today, the national grid experienced a loss of frequency, affecting the power supply to multiple cities across Pakistan
"This has also cascaded to KE's network affecting power supply to Karachi," Rana said, adding the KE's network is safe and protected.
"Our teams are actively monitoring the situation and enabling restoration efforts."
An IESCO spokesperson said that its 117 grid stations were without electricity.
Meanwhile, PESCO also confirmed the outage in areas where it supplies electricity.
This is the second time within four months that a country was hit by a major power breakdown.
NEPRA takes notice
The National Electric Power Regulatory Authority (NEPRA), in a statement, said that it has taken "serious notice" of the power outage and directed the National Transmission & Despatch Company (NTDC) to submit a "detailed report".
The statement also said that the regulator has previously imposed fines on similar outages in the 2021 and 2022. It also shared that NEPRA has consistently issued directives and recommendations on tackling such events in future.
Previous breakdown
In October of last year, Karachi, Hyderabad, Sukkur, Quetta, Multan, and Faisalabad were hit by a power outage.
At that time, the power minister said that nearly 8,000 megawatts of power went offline.
Back then, Dastagir had said that the simultaneous faults in two power lines, which had triggered the breakdown, at the same time was concerning for the government. He had also announced that an in-depth inquiry was ordered and promised action.
A timeline of power breakdowns in Pakistan
The country's generation and distribution network has suffered eight major power breakdowns during the last nine years.
In 2014 and 2017, nationwide blackouts were caused by a fault in Tarbela Power Station while fog, frequency variation and the Guddu Power Plant fault were blamed for breakdowns in 2015, 2018, 2019, 2021, 2022 and 2023.
Every time the party in power announced to conduct a comprehensive probe and vowed to rectify the issues but nothing has happened despite multiple inquiries.
Punjab ordered to issue divorce certificates to non-Muslims
Lahore High Court directs provincial authority to frame rules within 90 days.
Petitioner says issue is faced by many members of Christian community.
NADRA's Registration Policy allows change of marital status on basis of affidavit.
---
The Lahore High Court (LHC) Wednesday directed the Punjab government to frame, within 90 days, rules under which union councils would issue divorce certificates to members of Christian and other non-Muslim communities in Pakistan.
In many parts of the country, the divorce certificates are not issued to non-Muslims by union councils that instead claimed such certificates were "not issued to the Christian community." This is an issue for members of the said community because, without a divorce certificate, they cannot request the National Database and Registration Authority (NADRA) to update their marital status while applying for the renewal of their identity cards.
The matter was brought to the attention of the LHC during the case Shumaila Sharif vs the secretary union council etc.
The petitioner in her appeal requested that the court is a writ of Mandamus — an order from a court to an inferior government official ordering the government official to properly — against the relevant union council and direct it to issue her the divorce certificate.
The case proceedings
The petition was heard on December 16 last year and the presiding judge was Judge Tariq Saleem Sheikh.
During the proceedings, the counsel of the petitioner, Advocate Umar Saeed, said that the issue was faced by several people in the Christian community and was not a one-off incident.
Citing Section 33 (1)(j) of the Punjab Local Government Act 2022 (PLGA 2022) — which mandates that union councils ensure registration of births, deaths, marriages and divorces for all the communities without discrimination — and Article 36 of the Constitution, which expressly requires the state to protect the minorities' legitimate rights and interests, the counsel argued that by refusing to issue the requisite certificate, the council was failing to fulfil its legal duty.
Additionally, Advocate Kashif Alexander, the court's amicus curiae on the matter, contended that obtaining a divorce certificate is a legal right that cannot be denied.
Together the two emphasise that while the Constitution of Pakistan (1973) does not explicitly guarantee the right to identity, Article 9 (right to life) and Article 14 (dignity of man) safeguard that right. Therefore, any citizen whose marital status changes due to the dissolution of marriage by divorce has a fundamental right to obtain a divorce certificate from the competent authority and then have their CNIC updated/revised.
The Additional Advocate General has little to defend the respondents and said that the provincial government was taking steps to address the complaints of the Christian community regarding the non-issuance of divorce certificates.
The verdict
During the proceedings, it was brought to the court's attention that NADRA's Registration Policy dated 06.04.2021 (Version 5.0.2) allowed a change of marital status of a divorcee on the basis of an affidavit in the prescribed form.
In light of this, the court directed that until the provincial government framed the requisite rules needed for the issuance of the divorce certificate by the union council, NADRA shall accommodate the Christian community in accordance with the Registration Policy 19.
Anchor Mishal Bukhari passes away at 38
Mishal Bukhari, a renowned journalist and anchorperson, has passed away at the age of 38 after battling cancer for two years, Daily Jang reported. 
The news of Mishal's demise was announced by her husband, Ameer Abbas, who is also a renowned anchorperson, on Twitter.
"My wife, journalist Mishal Bukhari, a beautiful heart, an incomparable personality, an incredibly patient, unbelievably brave woman, left an unbearable shock after fighting cancer for two years," Abbas wrote.
The funeral prayers of the journalist will be held at 1pm in Jamia Masjid-al-Muntazir in Lahore today.
Mishal, who was an award-winning broadcast journalist, was born on July 8, 1984, in Karachi. She started her career as a news anchor on a private TV channel. She also worked for Pakistan Television.
The news of her sad demise triggered an outpour of reactions from fellow journalists and politicians, who offered their condolences.
"Remembering #mishalbukhari our host #AppTV who lost battle against cancer in Lahore on Tuesday evening. Thoughts of our team members with whom she worked are with her parents, family," wrote Rauf Klasra.
Former deputy speaker Qasim Khan Suri offered condolences and prayed for the departed soul and her family members. 
Maritime Affairs Minister Faisal Subzwari prayed for the family members and the deceased journalist. 
Columnist Dr Shahid Masood also offered his condolences and prayers. 
Pakistan lost another journalist at the very outset of 2023 after 2022, a year riddled with several tragic deaths including senior Pakistani journalists. The last year saw the shocking deaths of famous televangelist Aamir Liaquat Hussain, anchorperson Arshad Sharif and Jang Press president Imran Aslam.
In July 2022, the news of sudden death of Hussain sent shock waves across the country. This was followed by the tragic death of Sharif, who was shot dead in a case of "mistaken identity" by Kenyan police in Nairobi in October.
Later in December, Aslam, a giant of journalism, passed away during the course of treatment at a local hospital.