Imran Khan announces nationwide rallies after claiming Shahbaz Gill faced 'sexual abuse'
Imran Khan vows to bring those who "tortured" Shahbaz Gill to justice.
"All the pictures and videos show clearly Gill was tortured," he says.
PTI chairman says he will lead rally in Islamabad tomorrow.
---
ISLAMABAD: PTI Chairman Imran Khan Friday announced nationwide rallies to show solidarity with his chief of staff, Shahbaz Gill, after the former premier claimed his party leader faced "sexual abuse" in police custody.
"I will lead a rally in Islamabad tomorrow […] and rallies will be held in all divisional headquarters across the country," the PTI chairman told journalists.
Khan's brief presser came after he was barred from meeting Gill at the Pakistan Institute of Medical Sciences (PIMS) hospital in the federal capital.
Despite the police's demand to extend Gill's remand in a sedition case, a district and sessions court in Islamabad earlier today ordered to send him to the Pakistan Institute of Medical Sciences (PIMS) for a reassessment of his health.
"Shahbaz Gill's condition is not fine," the court remarked while announcing the verdict reserved by duty judge Judicial Magistrate Raja Farrukh Ali Khan.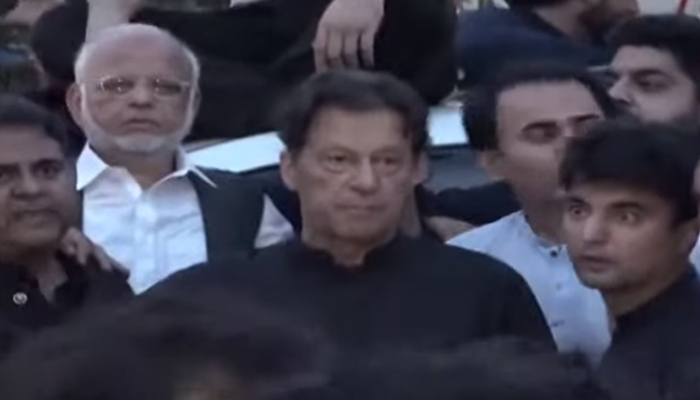 PTI leaders have demanded the release of Gill from police custody and repeatedly claimed that he was tortured in police custody. Amnesty International has also raised concerns over reports regarding the PTI leader.
Gill is currently under treatment at the PIMS hospital after his health reportedly deteriorated at the Adiala Jail. Subsequently, a medical board was formed to determine the condition of Gill.
The board recommended several tests and X-rays for the PTI leader. The results showed that there were no abnormalities and his health was fine.
Meanwhile, in his press conference, Khan reiterated that he would prefer death and will not accept the current government.
Gill 'humiliated'
In a series of tweets earlier, the PTI chairman demanded justice for his chief of staff and claimed that he was sexually abused while in police custody.
"All the pictures and videos show clearly Gill was tortured both mentally and physically, including sexual abuse — most too gruesome to relate," the PTI chairman said in a series of tweets.
the PTI chairman said the police humiliated Gill for breaking him down and that he now has full detailed information about the events regarding Gill's episode.
"ICT police says it did not inflict any torture. So my question is: Who tortured Gill?" Khan asked.
The PTI chairman added that there is a general perception in the public at large and in "our minds too as to who could have carried out the gruesome torture".
"Remember the public will react. We will leave no stone unturned to find out those responsible and bring them to justice," he added.
Imran Khan's aide kickstarts PTI funding campaign in Europe
LONDON: Pakistan Tehreek-e-Insaf (PTI) leader Zulfi Bukhari has kickstarted a mass mobilisation and fundraising campaign for the party in the United Kingdom and Europe.
Addressing a workers' convention in High Wycombe in London along with Sahibzada Jahangir, one of the founders of PTI, Zulfi said that the mass mobilisation and fundraising has been started for the elections scheduled for February next year.
"We will take part in elections at any cost. We need funds and effort from the overseas regions. The party needs funds for its legal challenges as well for the election campaign," he said.
Zulfi said the entire leadership is prepared for the elections and will not be deterred by the arrest threats.
The former cabinet member said he will be going to Pakistan himself as soon as the party leadership directs him, adding that he was prepared to go to jail.
However, it is unlikely that Zulfi will be travelling to Pakistan anytime soon as the caretaker govt has requested Interpol for his arrest. He was in Dubai when the Interpol request was made, he left UAE and since then has not travelled outside London.
Zulfi said he will be personally visiting cities in the United Kingdom and Europe to raise funds.
The PTI leader revealed that the campaign in the UK is scheduled to start shortly and arrangements are in place. He said the PTI Core Committee was meeting daily to discuss affairs of the party to formulate strategies on a daily basis.
Zulfi Bukhari has so far stayed away from PTI UK events but his decision to take part in mobilisation suggests he has been asked by the leadership in Pakistan to engage with the local chapter.
Two weeks ago, he told an audience at the University of London that making Usman Buzdar Punjab's chief minister was a mistake but Imran Khan did the right thing by not sacking him.
Bannu Cantonment Board CEO Bilal Pasha 'commits suicide'
Police say Bilal Pasha was suffering from mental stress.
Police say they found his body at his residence.
Inquiry launched into incident to find cause of death.
---
BANNU: Bannu Cantonment Board chief executive officer Bilal Pasha has allegedly committed suicide by shooting himself, the police said on Tuesday.
According to Deputy Superintendent of Police (DSP) Cantt Azmat Khan, Pasha was suffering from mental stress for several days which led to his suicide.
The police said that they found Pasha's body covered in blood inside his residence where he shot himself. They added that his body had been moved to the District Headquarters Hospital, Bannu.
According to a media report, the police have launched an inquiry into the incident to find whether Pasha committed suicide or was murdered. They also said that he had a bullet wound in his head.
Following the funeral prayers, which were held at the premises of the cantonment board, the body was sent to Pasha's hometown Khanewal for burial.
The news of Pasha's death, who was a distinguished CSS officer, spread across social media which left everyone in shock. Several reports had also claimed that the CEO had died of a cardiac arrest.
People across social media demanded an investigation into the matter, saying that the police should find out whether it was a suicide or someone murdered him. 
Bilal belonged to Punjab and began his primary education in a mosque-established school. He then studied at Emerson College Multan and graduated in Agriculture from the University of Faisalabad.
He also secured 47th rank in the CSS examination.
Arrest Marriyum Aurangzeb and present in court on Dec 9: Lahore ATC
ATC Judge Abher Gul Khan directs SHO to execute orders.
Arrest orders issued for non-appearance in court.
Aurangzeb accused of making hate speech against Imran Khan.
---
LAHORE: An Anti-Terrorism Court (ATC) in Lahore on Monday directed the police to arrest Pakistan Muslim League-Nawaz (PML-N) leader Marriyum Aurangzeb in a hate speech case and produce her in court on December 9.
The orders were issued by ATC Judge Abher Gul Khan who directed the station house officer (SHO) concerned to execute the arrest warrants of Aurangzeb.
The non-bailable arrest warrant was issued against the former information minister for not appearing before the court.
A terrorism case has been registered against Aurangzeb, Mian Javed Latif, state-run Pakistan Television's Managing Director Sohail Khan and others for allegedly trying to incite hatred by using the religion card against Pakistan Tehreek-e-Insaf (PTI) Chairman Imran Khan.
Latif and Aurangzeb were accused of making controversial remarks at the behest of their party leadership in order to spread religious hatred against the former prime minister.
In the previous hearing, the ATC judge cancelled the non-bailable arrest warrant against Latif after he appeared before the court.
Advocate Farhad Ali Shah representing Javed Latif and Marriyum Aurangzeb appeared before the court.
During the hearing, Judge Khan inquired about the whereabouts of the PML-N leaders and was informed that Latif had appeared while Aurangzeb had not.
Consequently, the judge issued a non-bailable arrest warrant for the former information minister and directed all suspects named in the case to appear before the court on December 9.
The issuance of the warrant came after the political leaders' initial failure to appear in court. The judge set December 9 as the deadline for the prosecution to respond to the former information minister's application seeking acquittal.
In her plea, Aurangzeb asserted that she played no role in the alleged incitement through her speeches in talk shows. She distanced herself from any claims made against her during these shows emphasising her innocence and requesting acquittal.