Govt warns PTI of 'consequences' if they create chaos during long march
Interior minister demands assurance that march would be peaceful.
Says if Imran Khan keeps encouraging his supporters to disrespect members of other parties, he will face the same fate too.
"I am warning you to take your words back or I won't let you step out of your house," Rana Sanaullah warns Sheikh Rasheed.
---
LAHORE: Warning the PTI of the consequences, Interior Minister Rana Sanaullah Saturday said if they plan to create chaos during the long march, he won't let them step out of their house.
Speaking to journalists outside Lahore district and sessions court, Sanaullah criticised former prime minister and PTI Chairman Imran Khan for "inciting" and "misleading" the public against the incumbent government.
He warned that if he [Imran Khan] doesn't let go of these tactics and keeps encouraging his supporters to disrespect members of other parties, he will face the same fate too. "You won't be able to escape from it," he asserted.
He further added that if Imran Khan didn't mend his ways, they too would instruct their workers to "catch and beat them up".
"They [the supporters] will become human beings after a few thrashings," he maintained, adding that the PTI should assure the government that the march would be peaceful, political and democratic.
'Take your words back'
Referring to Sheikh Rasheed's statement regarding PTI's upcoming long march turning "bloody", Sanaullah said: "You [Rasheed] told people that this march will be bloody. I am warning you to take your words back or I won't let you step out of your house."
The interior minister recalled that Rasheed used to say that jail is just like his susraal, questioning that then why has he applied for pre-arrest bail in court. "Why are you scared of going to your sausral?" he questioned.
'Imran Khan defending Farah Gogi'
Sanaullah said that the former premier is defending Farah Khan, a friend of the PTI chairman's wife Bushra Bibi; alleging that Imran's amnesty scheme was "introduced for Farah because she greatly benefitted from it".
Replying to a question regarding PTI leader Shahbaz Gill's accident, he revealed that the person involved in the accident has been arrested and has no connection with PML-N.
Situation is getting worrisome: Sheikh Rasheed
Reacting to Sanaullah's comments, former interior minister Sheikh Rasheed said that the situation in the country is getting worrisome and every day will be crucial till May 31. "In order to save the country we want the election commission to announce the date for the election," he said.
He reiterated that he doesn't belong to PTI; he only supports Imran Khan. "If you want to arrest us you can do so we are people with big hearts who will forgive them when we come back in power," he stated.
'Acute food insecurity to rise in Pakistan over next six months'
Pakistan and 21 other crisis-hit countries will witness an increase in acute food insecurity over the next six months, according to a new early warning report issued by two Rome-based UN agencies.
The report by the World Food Programme (WFP) and the Food and Agriculture Organisation (FAO) calls for urgent attention to save both lives and livelihoods. It covers the period from June to November 2023.
Called 'Hunger Hotspots — WFP-FAO early warnings on acute food insecurity', the report identified 18 hotspots with Afghanistan, Nigeria, Somalia, South Sudan and Yemen placed at the highest alert level and Haiti, the Sahel (Burkina Faso and Mali) and Sudan elevated to the highest concern levels.
"Business-as-usual pathways are no longer an option in today's risk landscape if we want to achieve global food security for all, ensuring that no one is left behind," FAO Director-General QU Dongyu said in a statement.
"We need to provide immediate time-sensitive agricultural interventions to pull people from the brink of hunger, help them rebuild their lives, and provide long-term solutions to address the root causes of food insecurity. Investing in disaster risk reduction in the agriculture sector can unlock significant resilience dividends and must be scaled up," he added.
The report also highlighted the risk of a spill-over of the Sudan crisis raising the risk of neighbouring countries to negative impacts.
"Not only are more people in more places around the world going hungry, but the severity of the hunger they face is worse than ever," WFP's Executive Director Cindy McCain said in a statement.
"This report makes it clear: we must act now to save lives, help people adapt to a changing climate, and ultimately prevent famine. If we don't, the results will be catastrophic," McCain warned.
In addition, global economic shocks and stressors continue to drive "acute hunger" across almost all hotspots, the report added.
With unusually high global food prices, low to middle-income countries will likely be driven further into a deep crisis, it added.
Pakistan, the Central African Republic, Ethiopia, Kenya, the Democratic Republic of the Congo, Syria and Myanmar, which has been included in the latest report for the first time, were described as hotspots of very high concern.
"All these hotspots have a large number of people facing critical acute food insecurity, coupled with worsening drivers that are expected to further intensify life-threatening conditions in the coming months," the report warned.
Lebanon, El Salvador and Nicaragua have all been added to the list of hotspots since the last edition was published and El Salvador, Guatemala, Honduras, and Nicaragua have been included in the report again.
To avert a further deterioration of acute hunger and malnutrition, the report provides concrete country-specific recommendations on priorities for an immediate emergency response to save lives, prevent famine and protect livelihoods, as well as anticipatory action.
Humanitarian action will be critical in preventing starvation and death – particularly in the highest alert hotspots, but the report notes how humanitarian access is constrained by insecurity, bureaucratic barriers, and movement restrictions – posing a major challenge to humanitarian responders around the globe.
The report also stresses the importance of strengthening anticipatory action in humanitarian and development assistance – ensuring predictable hazards do not become full-blown humanitarian disasters.
Punjab polls case hearing adjourned indefinitely after suo motu review law 'comes into effect'
Larger bench to hear review plea under new law.
CJP Bandial says the situation is "interesting".
Court indefinitely adjourns hearing on ECP plea.
---
ISLAMABAD: The Supreme Court Monday indefinitely adjourned the hearing on the Election Commission of Pakistan's (ECP) petition against the top court's order of holding Punjab's general elections on May 14 after the court was apprised that a law for the review of suo motu judgements had come into effect.
The Supreme Court Review of Judgements and Orders Bill, 2023, came into force Friday after President Arif Alvi's assent. The law states that for reviewing a suo motu judgement, a bigger bench — than the one that issued the order — will hear the case.
"In case of judgements and orders of the SC in exercise of its original jurisdiction under Article 184 of the Constitution, the scope of review on both facts and law, shall be the same as an appeal under Article 185 of the Constitution," the law reads.
A three-member bench — headed by Chief Justice of Pakistan Umar Ata Bandial and comprising Justice Ijaz Ul Ahsan and Justice Munib Akhtar — heard the plea.
This is the same bench that issued the April 4 verdict — under Article 184 (3) or the suo motu law. It had directed the commission to hold elections in Punjab in the mid of May and ordered the federal and Punjab governments to provide assistance to the ECP.
Despite the top court's order, the federal government expressed its inability to provide funds to the election commission and the armed forces had said they could not provide security due to the ongoing law and order situation.
So even with the presence of the order, the polls did not take place on May 14.
'Happy' CJP
At the outset of today's hearing, Attorney General for Pakistan Mansoor Usman Awan told the court that a law for challenging suo motu orders has come into effect.
He added that under the new law's section 2, the orders issued under Article 184 (3) could be appealed against.
"This law will have retrospective effect," he noted, at which Justice Akhtar said this is why ECP lawyer Sajeel Swati is smiling.
Responding to the AGP, CJP Bandial said the situation is interesting. He added that the court understands the need for reviewing suo motu orders.
Through the Supreme Court (Practice and Procedure) Act, 2023, the government created a new "judicial jurisdiction", the CJP noted, adding that the rulers tried intervening with the court's administrative matters.
"But I am happy that this law [the review act] is only related to Article 184(3)."
The CJP added that "everyone" should reconsider their stance.
"After the May 9 incidents, try to find a silver lining. Try to bridge the differences. Try to bring balance and peace to the system and hold elections through the right procedure."
Court did not invalidate commission: CJP
Moving on, the CJP told the attorney-general that he must have read the court's judgement in the audio leaks commission case. "Keep in mind that the court did not invalidate the commission," CJP Banidal remarked.
It may be noted that the Supreme Court Friday stayed the proceedings of the high-powered judicial commission formed to probe the audio leaks related to the judiciary, as well as the federal government's notification on the commission's constitution.
Justice Qazi Faez Isa, when he resumed the proceedings of the audio leaks commission the next day, raised questions over the SC order stopping the judicial panel from working.
Today, CJP Bandial said that the court has to protect the independence of the judiciary.
The top judge remarked that things will not work when secret meetings take place.
"It is a historical accident that there is only one chief justice," he added.
The CJP said that the court had seen the notifications for the Memogate Commission, Abbottabad Commission and the commissions set up in the Shahzad Saleem murder case. He said that all the judicial commissions are constituted at the will of the chief justice.
"If you want to investigate something, it should be done through proper procedures. I will not form a commission consisting myself," he added.
The top judge also gave the option of investigations through another judge, saying that "this political temperature will not improve livelihood and law and order".
Pakistani surgeon sets world record in robotic surgery for women
LONDON: A Pakistani surgeon Dr Amer Raza is leading the innovative Da Vinci surgical robotic surgery for the treatment of endometriosis, which affects pregnancy for women of all ages.
Dr Raza has led a team of surgeons to perform the maximum number of complex gynaecology operations in two days at London's Chelsea and Westminster Hospital — setting a new record of not only using an innovative robotic technology but also doing 12 major operations in a day.
Amer Raza, a graduate of Nishtar Medical College, Multan, has not only performed the operations but also set a world record of doing 12 major operations in a day.
Robotic surgery is the most modern type of keyhole surgery in which a surgeon operates in the patient's abdomen through instruments controlled from a distance.
Dr Raza is a renowned expert in endometriosis, in which women suffer from pelvic pains and period pains which have a major adverse impact on conceiving. The condition not only affects the pelvic organs but also the bowel, bladder and nerves. The disease affects women from young age to old age and tens of millions of women across the world suffer from this condition.
He graduated from Nishtar Medical College, Multan, and has been trained as a laparoscopic surgeon. He is now one of the world's leading surgeons in endometriosis and complex pelvic disease.
He is also the director of the world-class International Centre of Endometriosis Cromwell Hospital, London, and is leading a big team of multi-speciality surgeons. Dr Raza is also the Founder and Director of CCMIG Chelsea Centre of minimal access surgery, which organises national and international laparoscopic courses across the world. He travels to the Middle East, Pakistan, Africa and Europe to teach laparoscopic gynaecology courses.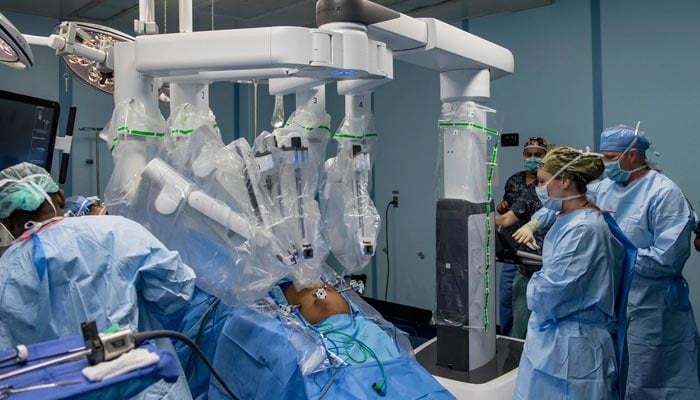 Speaking to Geo News, Dr Amer Raza said: "Since COVID, our National Health Service (NHS) has been under huge pressure of long waiting times. We have pioneered the most efficient strategic planning to do the most number of operations with the help of robotics in two days. Robotics technology allows a doctor to complete the operation in a shorter time with more safety and accuracy than a conventional approach. I am very excited that we have achieved this landmark and that our efforts will help women of all age groups.
"Robotic surgery is now attracting the attention of clinicians and patients alike due to its benefits. The technique will be adopted in hospitals across the world and many robotic systems are being introduced in the health sector. Endometriosis causes debilitating symptoms including chronic pelvic pain, fatigue and fertility problems. Surgery can help to provide pain relief."
Dr Raza said that he and his team crafted a care model in which preoperative work, surgical approach by robotics and after-operation discharge was planned. Robotic surgery allows the team to finish the operation in a relatively shorter time than a conventional laparoscopic approach, saving 30-50 minutes in each surgery to enable the team to do more operations.
"The new technique also causes less blood loss and the recovery period is significantly faster. We were assisted by a team of 20 staff members who worked very efficiently to enable us to do this," said the British Pakistani doctor.
Dr Raza said he owes a lot to Pakistan and will be working with doctors and hospitals in Pakistan to introduce robotic technology to help women. "I look forward to working with doctors in Pakistan. Britain has thousands of doctors from Pakistan who are doing great work in the NHS. I am glad that the British press has highlighted my contribution which is a credit to Pakistan," he said.
Dr Raza has recently been featured on Channel 4 and dozens of English papers covering his achievement and hailing it as a breakthrough for women.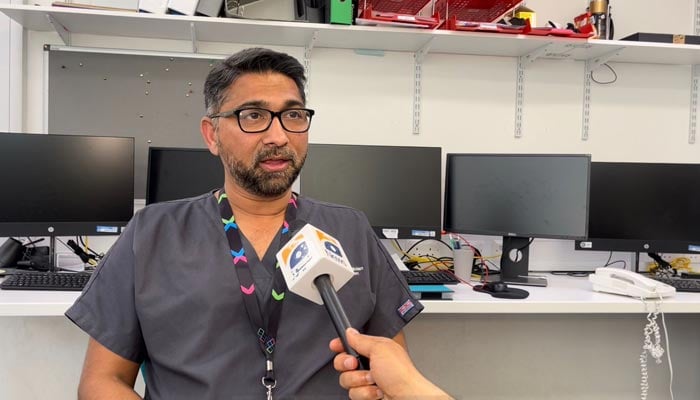 He said that one in 10 women in the UK are affected by endometriosis. There are many ways to explain the disease but primarily the inside lining of the uterus called endometrium comes outside the uterus and leads to adhesions and causing pelvic pains.
The diseases increase in over half of the cases and cause severe debilitating problems such as bowel and ureteric issues. Endometriosis involves the ovaries in almost half the cases and can cause damage to ovaries and fertility.
According to NHS statistics, half a million women are currently on a waiting list for gynaecology treatment in the UK and more than 5,000 have been waiting more than 18 months. The organisation and strategic planning along with innovative robotic surgery is the way forward to address the huge backlog in the NHS.
Dr Raza is originally from the village of Babi in Tehsil Taunsa. He started his career at Nishtar Medical College Multan and then moved to the UK in Birmingham. He has worked in many hospitals before being employed as endometriosis and laparoscopic surgeon in Chelsea and Westminster hospitals.