BTS' Suga makes a cameo appearance in PSY's track 'That That' teaser
K-pop music sensation band BTS' Suga and Psy have collaborated for an upcoming album titled, PSY 9th.
On Thursday, April 28th, PSY's official social media handles dropped the 3rd teaser video of the title song That That from the upcoming album and fans were left stunned as the teaser video also featured the Butter crooner.
In the track's teaser video BTS' Suga, who has also produced the song, appeared along with PSY, grooving in style like the protagonist of a western movie.
Both the Gangnam Style singer and the Permission To Dance rapper were seen dressed in cowboy outfits as they dance in the music video.
Earlier, Psy announced that Min Yoon-gi aka Suga would be producing That That. However, the duo did not disclose that Suga would also be featured on the song until a separate announcement was made yesterday (April 27).
Psy will release his 9th full-length album 'PSY 9th' on various online music sites on April 29th.
Preparations for Shaheen Afridi's wedding in full swing
KARACHI: National team fast bowler Shaheen Afridi has reached Karachi along with his family for his marriage to legendary cricketer Shahid Afridi's daughter, Ansha.
Shaheen is set to marry the daughter of Pakistan's star player on Friday, February 3.
According to family sources, Shaheen Afridi and Ansha will sign their nikah nama — a marriage contract officiated by a cleric in Muslim weddings — now while the rukhsati (seeing off) will take place later.
Fans will be excited to know that Shaheen and Ansha's marriage preparations are underway and the groom-to-be and his family have reached the port city. The pacer got engaged to Ansha two years ago.
The sources told Geo News that the Mehndi ceremony will be held tonight in the city of lights.
It is also worth mentioning that the wedding invitation for the ceremony is going viral on social media. However, no one from the two families has verified whether the card is real or fake.
In an earlier interview on the show "Aik Din Geo Kai Sath" on Geo News, the 21-year-old revealed that it was his wish to marry Afridi's daughter. When the host, Sohail Waraich, asked Shaheen about his engagement and relationship with Shahid Afridi's daughter.
The cricketer blushed and said, "It was my wish, and Alhumdulillah it is fulfilled now," he shared.
During the interview, when Shaheen was asked whether Ansha feels jealous about his female fan following, Afridi said he is unsure about it.
"I am not sure, maybe she feels something like that," the cricketer quipped.
Further, the host asked Shaheen about upsetting plenty of female fans by getting engaged at an early age.
At this, Shaheen said: "I found my heart and that's enough for me."
Wedding bells are also ringing for several other cricketers on Pakistan's national side.
Then on January 20, Shan Masood got married in an intimate Nikah ceremony in Peshawar. Shan tied the knot with the love of his life Nische in Peshawar. Their reception will take place in Karachi on January 27.
Three days later, all-rounder Shadab Khan tied the knot with former cricketer Saqlain Mushtaq's daughter in a private nikah ceremony.
Taking to Twitter last month, Khan announced his wedding to the daughter of the current head coach of the national team. Meanwhile, the cricketer also requested people to give space to him and his wife.
Sham Idrees announces break in his marriage with Froggy
YouTube's famous couple Sham Idrees and Froggy aka Sehar are taking sometime away from each other in their relationship.
Sham, taking it to his Instagram, left his fans in a shock after announcing his separation with Froggy. He wrote: "I would like to announce that me and froggy are taking sometime away from each other in our relationship. Please don't involve me in issues concerning froggy, rabil or any of the other family members. I appreciate some privacy during this difficult time."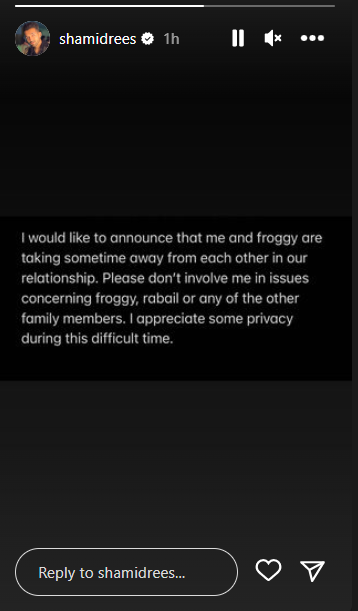 Sham is a Canadian based YouTuber, who has a following of 1.4 million people on Instagram, is widely-known for his entertaining content. His videos often feature his wife Sehar along with him.
The couple tied the knot a few years ago and is parents to baby Sierra who is two-years old. The duo welcomed another daughter on September 28, 2022. They named her Shanaya Idrees.
After the birth of his first daughter, Sham Idrees also introduced his fans to his daughter Dua from his previous marriage.
PSL schedule to be 'announced soon'
LAHORE: The schedule of the eighth edition of the much-awaited national T20 cricket event, Pakistan Super League (PSL), is likely to be announced on Friday, sources told Geo News on Wednesday.
The schedule of the eighth edition of the tournament has been finalised, however, the Pakistan Cricket Board (PCB) will hold final consultation with the PSL franchisers tomorrow (Thursday), the sources said.
According to the sources, the inaugural ceremony of the PSL will be staged in Multan as per the current schedule.
The sources added that the matches of the tournament would be played at four different venues. They also mentioned that the PSL will commence on February 13 and the final would be played on March 19.
PSL matches would be played in Karachi, Lahore, Multan, and Rawalpindi, the sources noted. They added that the matches at the four venues would be played simultaneously.
The sources also said that the strategy to allow the PCB to stage one exhibition match in Quetta has also been discussed. The exhibition matches would be played between Peshawar and Quetta, the sources added.
PSL 2023 Draft
The players' draft for PSL 2023 was held in December last year in Karachi, with around 1,000 local and foreign players available to be picked by six franchises for 61 slots.
Five out of six PSL teams had retained eight players, while Peshawar Zalmi retained seven players last month when the retention and transfer windows were closed.
These teams completed a squad of 18 — which had three players each in the platinum, diamond, and gold categories, five in the silver category, two in emerging and up to two in supplementary categories.
Teams could have up to three foreign players in the first three categories — platinum, diamond, and gold — among them one overseas player was mandatory in platinum and diamond.
In a squad of 16, teams picked five overseas players, while in 18 they had six foreign players.
As many as 517 foreigners and 491 Pakistani players were available for selection.