Billie Eilish opens up about her Tourette's syndrome: 'Very exhausting'
Billie Eilish got candid about her Tourette's syndrome as she said that even though it is 'exhausting,' she has made her peace with it.
In an interview with David Letterman for his Netflix series My Next Guest Needs No Introduction, the singer said she gets offended when people laugh on her condition.
During the conversation, the Lovely hit-maker turned her head and opened her mouth, to which Letterman asked her if she had seen a fly.
"No I'm ticcing," the 20-year-old singer replied after which the host apologized.
Eilish revealed that lights had triggered her tics, adding, "If you film me for long enough, you're going to see lots of tics. I don't care. It's really weird, I haven't talked about it at all."
"I really love answering questions about it, because it's very very interesting. And I am incredibly confused by it. I don't get it," she admitted.
The singer continued: "For me, they're very exhausting. It's not like I like it, but I feel like it is part of me. I have made friends with it. And so now, I'm pretty confident in it."
Eilish, who was diagnosed with the syndrome at age 11, further noted that she does not like it when people think she is trying to be funny when she has a tic.
"The most common way people react is they laugh, (think) that I'm trying to be funny. And I'm always left incredibly offended by that," the singer said.
Eilish added that there are other artists in the industry who also have Tourette, but she will not name them.
"What's funny is so many people have it that you would never know. A couple artists came forward and said, 'I've actually always had Tourette's,' and I'm not gonna out them because they don't wanna talk about it, but that was actually really interesting to me."
PSL schedule to be 'announced soon'
LAHORE: The schedule of the eighth edition of the much-awaited national T20 cricket event, Pakistan Super League (PSL), is likely to be announced on Friday, sources told Geo News on Wednesday.
The schedule of the eighth edition of the tournament has been finalised, however, the Pakistan Cricket Board (PCB) will hold final consultation with the PSL franchisers tomorrow (Thursday), the sources said.
According to the sources, the inaugural ceremony of the PSL will be staged in Multan as per the current schedule.
The sources added that the matches of the tournament would be played at four different venues. They also mentioned that the PSL will commence on February 13 and the final would be played on March 19.
PSL matches would be played in Karachi, Lahore, Multan, and Rawalpindi, the sources noted. They added that the matches at the four venues would be played simultaneously.
The sources also said that the strategy to allow the PCB to stage one exhibition match in Quetta has also been discussed. The exhibition matches would be played between Peshawar and Quetta, the sources added.
PSL 2023 Draft
The players' draft for PSL 2023 was held in December last year in Karachi, with around 1,000 local and foreign players available to be picked by six franchises for 61 slots.
Five out of six PSL teams had retained eight players, while Peshawar Zalmi retained seven players last month when the retention and transfer windows were closed.
These teams completed a squad of 18 — which had three players each in the platinum, diamond, and gold categories, five in the silver category, two in emerging and up to two in supplementary categories.
Teams could have up to three foreign players in the first three categories — platinum, diamond, and gold — among them one overseas player was mandatory in platinum and diamond.
In a squad of 16, teams picked five overseas players, while in 18 they had six foreign players.
As many as 517 foreigners and 491 Pakistani players were available for selection.
Where does Babar Azam stand in ICC ODI rankings?
Pakistan skipper Babar Azam has retained his top spot in the International Cricket Council (ICC) Men's ODI Player Ranking with 887 points in hand after the conclusion of the home series against New Zealand. 
Meanwhile, all-rounder Mohammad Nawaz improved 12 spots to 28th on the list for bowlers after collecting six wickets during the recently-concluded ODI series against the Kiwis.
India's star batter Virat Kohli has improved his ICC Men's ODI Player Ranking after his brilliant form in the recent past.
Kohli notched up two centuries while amassing a staggering 283 runs from three innings during India's recent ODI series sweep over Sri Lanka.
The former Indian captain has jumped two places to fourth overall, with 750 points, on the latest list for ODI batters.
Meanwhile, South Africa's Rassie van der Dussen (766) and Quinton de Kock (759) are in second and third place respectively.
Kohli's teammates Shubman Gill, Mohammed Siraj and Kuldeep Yadav have also improved their rankings after good performances against Sri Lanka.
"Gill hit a century and a fifty during the series and his 207 runs at an average of 69 helped the opener improve 10 spots to 26th overall on the rankings for ODI batters," the ICC said in a press release.
"But it is perhaps Siraj that makes the most eye-catching move, with the 28-year-old jumping a massive 15 spots to third on the list for ODI bowlers following his nine wickets for the series.
"No bowler picked up more wickets during that series and Siraj improves to a career-best rating of 685 points to close in on pacesetters Trent Boult (730) and Josh Hazlewood (727).
"Kuldeep was also rewarded for his five wickets from just two matches against Sri Lanka, with the left-armer jumping seven places to 21st on the latest bowler rankings."
Here's a 'new way' to send voice notes on WhatsApp
Meta-owned WhatsApp is once again rolling out a new update for its users, allowing them to have a smooth and better experience while connecting with their loved ones. 
The instant messaging app is releasing the ability to share voice notes through status updates, WaBetaInfo reported Wednesday.
The new update is being introduced through the Google Play Beta Program, bringing the version up to 2.23.2.8. However, this feature is only available to some beta testers for now and users will have to wait for a future update to get their hands on the feature. 
The feature would let users "share a voice note as a status update with a certain audience configured within your privacy settings."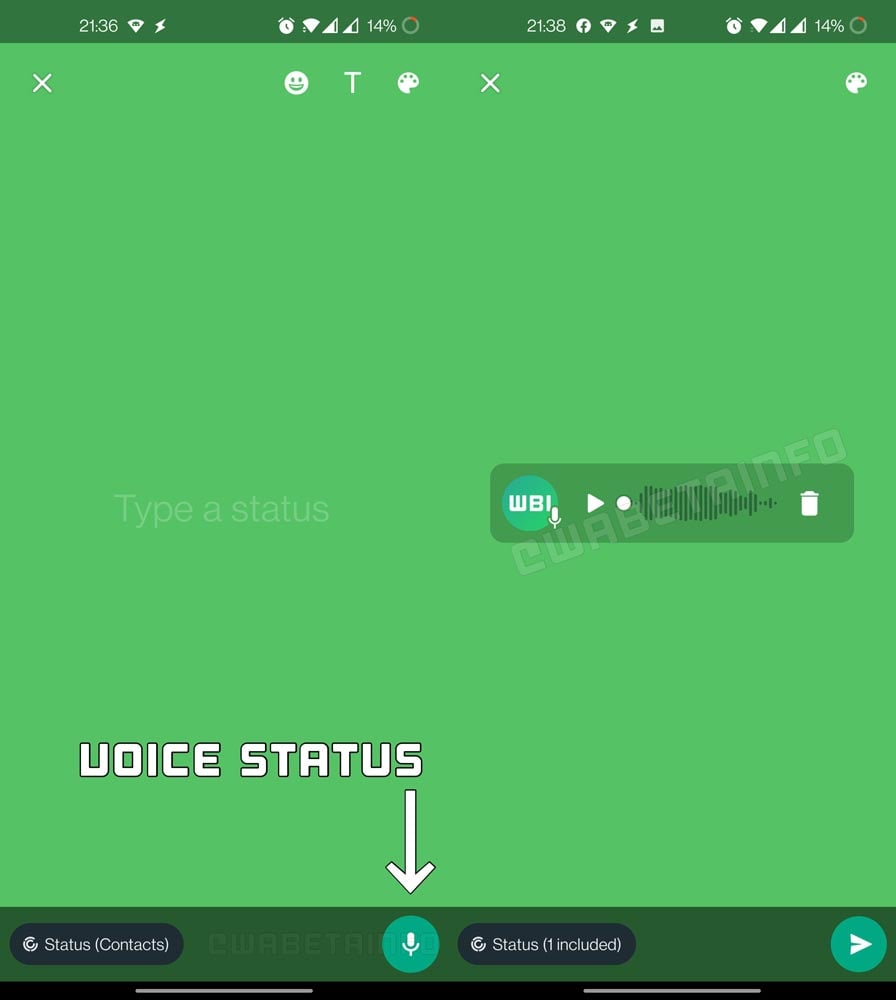 As it is shown in the screenshot above, users can share voice notes as status updates by "accessing the feature within the text status section, in case it is enabled for them".
The users can also discard a recording before they share it, hence, gaining more control over their voice recordings. As per the app-tracking website, the maximum recording time for the voice note is 30 seconds.
Moreover, those who want to listen to the voice recordings on status updates need to update their WhatsApp.
Ensuring the privacy of its users, WhatsApp has made the status updates end-to-end encrypted. This will allow users to share the voice notes with the people they choose within their privacy settings.
"Similar to images and videos, voice notes shared via status disappear after 24 hours but users also have the ability to delete voice notes for everyone after they have been posted as status updates: users are always in control over what they share," said WaBetaInfo.
The feature will be rolled out to more users in the coming weeks.
Blocking feature
Last week, the tracking app announced that WhatsApp is working on a block shortcut update right within the notification bar.
The new feature will allow users to block someone when they get a notification of their message on their phones.
"WhatsApp plans to introduce a block shortcut within notifications but not always: the block shortcut is visible only when you receive a message from unknown and untrusted contacts," said the app tracking website.
The feature is limited to untrusted contacts as users may tap on the block option by mistake when replying to someone through notifications, accidentally blocking their trusted contacts.
The new feature will be available to users in the future update of the app.