Amazing WhatsApp tricks for daily use
Meta-owned WhatsApp has been introducing newer features and making the application's usage easy for its users.
Despite billions of people using the messaging app, several users are still unaware that WhatsApp has a few tricks up its sleeves that come in handy while texting.
Here are some amazing tricks:
To italicise text:
Users can use underscore ( _ ) at the start and at the end of the text to italicise their text.
Bold fonts:
The users can add an asterisk (*) on both sides of the text in order to bold the text that they want to highlight.
Monospace font:
For the monospace texts, users can add three ("`) backticks at the beginning and at the end of the text.
Strikethrough font:
To make the text strikethrough, add a tilde (~) on both sides.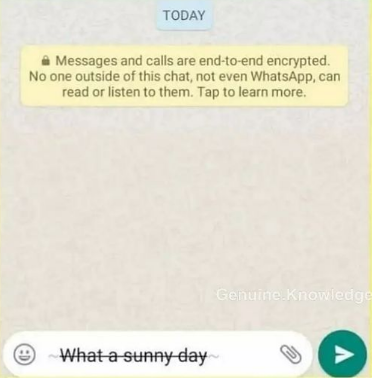 Combined font:
The users can make the same text bold, or italic and change its font strikethrough. For that, they can use asterisk, tilde, and underscore at the beginning and end of the text.
About ducking time: Apple to tweak iPhone autocorrect function
One of the most notable happenings at Apple's event for developers on Monday is likely the iPhone maker's tweak that will keep its autocorrect feature from annoyingly correcting one of the most common expletives to "ducking."
"In those moments where you just want to type a ducking word, well, the keyboard will learn it, too," said Craig Federighi, Apple's software chief.
The iPhone keyboard autocorrect feature has always had its quirks, sometimes taking a misspelt word while texting and substituting what it deems a logical option that ends up changing the meaning of a particular phrase or sentence.
Such occurrences generally produce follow-up texts along the lines of "damn autocorrect!" But the "ducking" substitution is a long-standing source of mirth or frustration, depending on how many times one has had to rewrite their own texts or scream at one's own device (the iPhone cannot correct one's verbal epithets).
Apart from the texting tweak, the company had a lot on its agenda — an expensive new mixed-reality headset, details on a revamping of its desktop and a laptop revamp.
Apple shares hit an all-time record Monday, putting the company's market valuation just shy of $3 trillion, which would also be a record. Its gains of 280% over the past five years clearly demonstrate the power of the iPhone's market share.
Of course, iPhone users have always had the option to turn off the autocorrect feature on their phones, which would allow its foul-mouthed users to be as profane as they want.
Apple challenges Meta with augmented reality headset Vision Pro
Apple recently made a big move into the world of virtual reality by unveiling its Vision Pro headset.
The headset is an augmented reality device that allows users to experience a blend of digital content and the real world. It is Apple's riskiest and most significant product since the introduction of the iPhone. The Vision Pro is priced at $3,499, making it more expensive than other virtual reality headsets currently dominating the market.
The headset will be available in the US early next year, with plans to expand to other countries in 2024. 
One unique feature of the Vision Pro is its exterior display, which allows others to see the user's eyes while wearing the device. The feature aims to ensure that users remain connected to the people around them.
Apple also announced other products and features, including a 15-inch MacBook Air, a powerful chip called M2 Ultra, and improvements to its iOS software. The company has been working with Adobe, Microsoft, and Unity to bring their apps to the Vision Pro headset.
While the Vision Pro focuses on gaming, streaming video, and conferencing, it also has potential applications in the areas of health and fitness. However, it is important to note that the headset requires a lot of computing power and has a limited battery life of two hours.
Apple's entry into the virtual reality market puts it in direct competition with Meta (formerly Facebook), which has been investing heavily in the development of virtual worlds or the metaverse. Meta recently announced its new Quest 3 virtual reality headset.
Apple's Vision Pro headset represents a significant step into the virtual reality space and has the potential to reshape the way we experience digital content. With its sleek design, unique features, and partnerships with content providers, Apple aims to make a mark in the VR market.
Spotify announces layoffs, cuts 200 jobs in podcast division
Music streaming giant Spotify Technology SA has revealed plans to lay off 200 workers in its podcast unit, marking the company's second round of layoffs as it undergoes a business restructuring following years of substantial investment.
This move affects approximately 2% of Spotify's workforce and aligns the company with others such as Meta Platforms and Roku, both of which have also implemented job cuts in response to an uncertain economic climate.
In early trading, shares of the Sweden-based company rose about 0.5%, outperforming the overall market, which displayed muted activity. Spotify had previously made aggressive investments to establish its podcast business, aiming to attract more advertisers through the higher engagement levels offered by the format.
However, this expansion strategy resulted in a significant increase in operating expenditure, growing twice as fast as its revenue last year. The combination of rising interest rates and high inflation has compelled businesses to reduce spending on advertisements.
Consequently, Spotify initiated a 6% reduction in its workforce earlier in 2023 and announced the departure of Dawn Ostroff, who played a pivotal role in shaping the podcast business and navigating through controversies, including the backlash surrounding Joe Rogan's show for allegedly spreading misinformation about COVID-19.
Sahar Elhabashi, the head of the podcast business at Spotify, explained on Monday that the company has made the "difficult but necessary decision to make a strategic realignment." Additionally, Spotify intends to merge its Parcast and Gimlet studios into a single division called Spotify Studios, which will focus on producing Spotify originals.
Elhabashi further elaborated that Spotify will adopt a tailored approach for each show and creator, moving away from the previously uniform approach. This shift in strategy aims to provide greater flexibility and customisation to meet the unique needs of individual content creators and their shows.
By implementing these measures, Spotify aims to streamline its operations and optimise resources to adapt to the evolving economic landscape. The company recognises the importance of addressing cost management and ensuring long-term sustainability while maintaining its position as a prominent player in the music streaming and podcast industry.
The layoffs in the podcast division are part of the broader efforts to restructure the business and maintain a competitive edge in the face of ongoing challenges.