Alarming increase in minor sexual abuse cases in Karachi in 2022
Over 200 minor sexual abuse cases reported in Karachi in 2022
At least six such cases were reported in three and a half months
Most vulnerable age group was 5-11 (36 %), followed by 12-17 (29 %)
---
KARACHI: Cases of minor girls' murder after rape have seen a worrisome increase in Karachi during 2022 with a sudden upsurge monitored recently, with at least six such cases reported in three and a half months — half of them this December alone, reported The News on Tuesday.
Over 200 sexual abuse cases have been reported in the city this year. The Karachi police statistics show that in eight of the 216 abuse cases, the victims were aged five years or less, 40 were between six and 10, 38 were between 15 and 18, and 95 were over 18.
Police have arrested the suspects in almost all minor abuse-related cases. In most cases, close relatives and neighbours were involved.
This month, a man named Mujeebullah, alias Nadeem was arrested over the rape and murder of his 12-year-old niece in the Jacob Lines area, in the Brigade police station's jurisdiction.
Sindh police chief IGP Ghulam Nabi Memon told The News, "In cases where close relatives are involved and doing such things in the house; the police can't do anything." However, he added that the police could timely investigate these cases with the help of forensic and digital evidence they gather.
Explaining how forensic evidence helps solve such cases, the IG Sindh said, "In the Landhi Muslimabad case, in which a murdered seven-year-old girl was found in the garbage on December 16, forensic evidence helped the police. While 25 DNA samples didn't match, the 26th did."
"Police investigations in such cases have seen much improvement compared to the earlier situation, but now they need more training to deal with these cases," the IGP said regarding the expertise of police investigators.
The War Against Rape (WAR), a non-governmental organisation focusing on such incidents, told that until July, in the 42 cases, 27 (64%) survivors were children under 18 years.
The most vulnerable age group was 5-11 years (36%), followed by 12-17 years (29%). The average age was 14 years in all cases investigated, with the minimum age of survivors being five years.
Thirty-eight (90%) cases were reported of women and female children. Regarding the nature of the assault, 64% of the cases were rape, 18% of gang rape, 12% of incest and 6% of sexual assault.
District West has been the red-alert zone, indicating the highest incidence of sexual violence at 47%, followed by District East 21%, District Korangi 14%, Malir and South districts 8% each, and the Keamari and Central districts 1% each.
WAR programme officer Sheraz Ahmed told The News, "The government should adopt and expand life skills-based education, also known as comprehensive sexuality education, across Pakistan."
He added, "They should also expand training programmes for parents and teachers to make children aware of the good and bad touch, or the self-protection knowledge. You can't trust anyone. Close relatives are also found involved in some of these cases."
He pointed out that parents should have a good relationship with their children to train them to sense the bad touches and never leave their children alone at home.
"But if they're forced to leave their children home alone, they should lock the door outside after taking all the precautionary measures like switching off the gas, etc."
He stressed the need for the effective implementation of the Zainab Alert app. He said that some cases were reported on the application, but the government was not accepting them.
"Children will be safeguarded when the state's approach is proactive. Teachers should learn tips and techniques to identify child sexual abuse symptoms or signs. The media can also play a better role in spreading awareness."
He said that the police should also play their role because these cases occur inside homes and out on the streets and empty plots, adding that the police should take the missing cases seriously.
He lamented that in some cases, police negligence or delay is found to be the cause of the culprits succeeding in their brutal acts. Since close relatives and neighbours are involved, they kill the victims to protect their identities and avoid being arrested.
"The minor Afghan girl killed recently at the Afghan camp in Karachi had been abducted, then raped and murdered on an empty plot. She was playing with the neighbours' children and was alone when she was kidnapped because her friends had gone back home. The parents' responsibility was to ask her to return home on time."
The Karachi police surgeon's office has also recorded an increase in such cases. "In the last year, cases of rape-murder have increased considerably. Of much concern is the number of minor boys and girls murdered after being raped," Police Surgeon Dr Summaiya Syed told The News.
"A variety of injuries have been seen, depending upon the age and physique of the victim in comparison with the perpetrator. In most instances involving very young children, there may not be physical injuries because they're quickly overpowered."
December 13
A six-year-old Afghan girl was raped and killed after missing from outside her house. The family frantically searched for her but to no avail. Later, the girl's body was recovered from a deserted house near the Gulshan-e-Maymar Afghan camp police checkpoint.
December 8
A teenage girl was raped and murdered by a man the locals then caught as he tried to escape in the Gulshan-e-Iqbal neighbourhood, which falls in the Mobina Town police station's jurisdiction.
The 14-year-old girl was found inside her home near the Mosamiyat area. A local plumber had strangled her. The killer had worked at her house as a plumber. He had forced his way into the house when the girl was alone.
December 6
A 12-year-old girl was killed after being subjected to rape in a house located in the Jacob Lines area, which falls in the Brigade police station's jurisdiction. Police arrested her uncle for the incident.
November 18
A seven-year-old girl was raped and killed in Landhi's Muslimabad area, which falls in the Quaidabad police station's jurisdiction. Her family held a protest because the police delayed searching for the missing girl and registering a case for at least two days.
September 21
A 12-year-old girl was found hanging from the ceiling in a room of her house in the Korangi area, which falls in the Zaman Town police station's jurisdiction. Police said she might have been killed by her tormentor, fearing that she would speak up against him.
September 10
A 10-year-old girl was raped and killed in Kashmir Colony, which falls in the Mehmoodabad police station's jurisdiction. The suspect strangled the victim first and then raped her. The victim's parents said they found the girl's body on the stairs leading up to the first floor of their house.
Funds invested in real estate used for cancer care: Shaukat Khanum Trust
Invested $3m in endowment funds in real estate: SKMT.
Endowment funds used to provide cancer care: spokesperson.
SKMT investments are audited by third parties, says spokesperson.
---
LAHORE: Following controversy on Imran Khan's comments in court, the management of Shaukat Khanum Memorial Trust (SKMT) clarified that they invested $3 million in an endowment fund in a real estate project in Oman so they can be used to provide quality cancer care, The News reported on Monday .
The clarification came in response to news items regarding the usage of SKMT funds in real estate by its founder Imran Khan. The SKMT said that its funds have never been misused or "diverted", by its chairman, Imran Khan, or any other individual
An SKMT spokesperson said that all its funds, including those invested in its endowment fund, are used only to support its mission of providing world-class care to cancer patients.
"As is common for many charity organisations, SKMT created an endowment fund to provide financial security and to cater for expenses in the long term. This endowment fund is supervised by an investment committee, with all investments made by the fund upon the recommendations of this committee. The chairman does not, and has never, made investment decisions in isolation," the spokesperson said.
He added, "It is crucial to point out that only non-Zakat funds are invested in this manner, with all Zakat collected being utilised on direct patient care within the year in which it is collected."
On investment in real estate, the spokesperson said: "In 2008, an amount of US$3 million was invested by the endowment fund in a real estate project in Oman. The investment allowed for an early exit, with a 100% capital guarantee on the investment. In 2015, SKMT exercised its early exit option and the entire amount of US$3 million was duly recovered."
He added the trust has already shared details of this investment, and recovery of its funds with the public numerous times. Although the investment did not generate a profit in dollar terms, it certainly did in rupees, since the difference in exchange rate referred to in the article in question worked in favour of SKMT, he added.
The spokesperson added: "As with all other financial transactions, all investments made by SKMT and its Endowment Fund are duly audited and reported, with financial reports being made publicly available through the Shaukat Khanum website. Both the initial investment, and its subsequent return were reflected in the organisation's financial reports, and continue to be publicly available."
Complete data of all contributions are held and audited by autonomous third parties to guarantee compliance with all relevant laws, not only within Pakistan, but in all jurisdictions where funds are collected on behalf of the SKMT, or to support it.
The spokesperson said that over 30 years, the trust treated more than 45,000 to 50,000 cancer patients every year at SKMT hospitals in Lahore and Peshawar, most of whom would have been unable to access highly specialised cancer treatment elsewhere. It is strictly because of its strong clinical, administrative and governance systems that the SKMT became only the second institution in the world to gain Enterprise Accreditation from the US-based Joint Commission International in September 2022.
The spokesperson added that allegations aiming to sow doubt in their donor's minds are equivalent to playing with patients' lives.
The official added that the cost of providing cancer care is continuously on the rise, and despite brittle financial conditions, the management of SKMT is committed not only to providing state-of-the-art cancer treatment to all its patients but also to defending an excellent reputation for financial transparency.
The News reported on Sunday that the PTI Chairman Imran Khan admitted that he invested funds worth $3 million donated to the Shaukat Khanum Memorial Trust (SKMT) in a housing project.
The revelation was made during a hearing of an Rs10 billion defamation case filed against Defence Minister Khawaja Asif on Saturday. The former prime minister appeared in the court from his Lahore residence in Zaman Park via video link.
Massive power breakdown hits Pakistan
Minister says power generation units are temporarily shut in winter at night.
Says frequency variation in national grid triggered outage.
Says ministry trying to restore power in next 12 hours.
---
LAHORE/KARACHI/QUETTA/ISLAMABAD: A countrywide power breakdown, triggered by a "frequency variation" in the national grid early Monday morning, has left large parts of the country including Karachi, Lahore, Islamabad, Peshawar and Quetta without electricity.
Power Minister Khurrum Dastagir, while talking to Geo News, said that the power generation units are temporarily shut down in winter at night as an economic measure to save fuel costs.
"When the systems were turned on at 7:30am this morning one by one, frequency variation was reported in the southern part of the country between Jamshoro and Dadu. There was a fluctuation in voltage and power generating units were shut down one by one due to cascading impact. This is not a major crisis," said the federal minister as the country plunged into darkness for the second time in four months.
The minister said that his ministry has started restoring some grid stations in Tarbela and Warsak.
"Peshawar Electric Supply Company (PESCO) and some grids of Islamabad Electric Supply Company (IESCO) have already been restored," claimed the minister.
Talking about the breakdown in Karachi, the minister said that the matter in the port city is complicated as it has a complete electric supply system.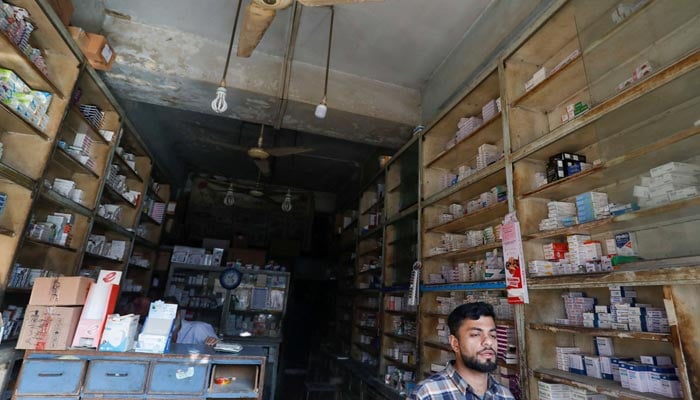 "We provide K-Electric about 1,000-1,100 megawatts routinely, however, it will be restored within a few hours. It is not certain how long will it take to sort this issue. However, my target is to restore electricity in the country in the next 12 hours," said the minister.
Before the energy ministry's announcement, different power distribution companies had confirmed the breakdown.
According to Quetta Electric Supply Company (QESCO), the two transmission lines have tripped leaving 22 districts of Balochistan, including Quetta without power.
Karachi power update
Meanwhile, K-Electric spokesperson Imran Rana said that at approximately 7:34am today, the national grid experienced a loss of frequency, affecting the power supply to multiple cities across Pakistan
"This has also cascaded to KE's network affecting power supply to Karachi," Rana said, adding the KE's network is safe and protected.
"Our teams are actively monitoring the situation and enabling restoration efforts."
An IESCO spokesperson said that its 117 grid stations were without electricity.
Meanwhile, PESCO also confirmed the outage in areas where it supplies electricity.
This is the second time within four months that a country was hit by a major power breakdown.
NEPRA takes notice
The National Electric Power Regulatory Authority (NEPRA), in a statement, said that it has taken "serious notice" of the power outage and directed the National Transmission & Despatch Company (NTDC) to submit a "detailed report".
The statement also said that the regulator has previously imposed fines on similar outages in the 2021 and 2022. It also shared that NEPRA has consistently issued directives and recommendations on tackling such events in future.
Previous breakdown
In October of last year, Karachi, Hyderabad, Sukkur, Quetta, Multan, and Faisalabad were hit by a power outage.
At that time, the power minister said that nearly 8,000 megawatts of power went offline.
Back then, Dastagir had said that the simultaneous faults in two power lines, which had triggered the breakdown, at the same time was concerning for the government. He had also announced that an in-depth inquiry was ordered and promised action.
A timeline of power breakdowns in Pakistan
The country's generation and distribution network has suffered eight major power breakdowns during the last nine years.
In 2014 and 2017, nationwide blackouts were caused by a fault in Tarbela Power Station while fog, frequency variation and the Guddu Power Plant fault were blamed for breakdowns in 2015, 2018, 2019, 2021, 2022 and 2023.
Every time the party in power announced to conduct a comprehensive probe and vowed to rectify the issues but nothing has happened despite multiple inquiries.
Karachi weather update: What's the latest forecast?
Karachiites will have to bundle themselves up as the weather will be dry and cold at night in the next 24 hours, the weather department said Friday. 
According to the forecast by the Pakistan Meteorological Department (PMD), the mercury in the port city is expected to hover around 10 to 12 degrees Celsius in the next 24 hours.
The Met department said that the cool winds are blowing from the northeast at a speed of seven to 10 kilometres per hour. The level of humidity in the city is 48%.
During the last 24 hours, the lowest temperature in Karachi was recorded at 14°C.
Weather countrywide
Meanwhile, in Balochistan, the intensity of the cold has increased due to snowfall in different areas. Consequently, a travel emergency has been imposed on Khojak Pass. 
A day earlier, the weather department predicted rain with snowfall in the upper parts of the country during the coming days.
"Met Office informed that a westerly wave affecting North Balochistan, is likely to grip upper parts on January 20 (night) and may persist till January 25 with occasional gaps," the statement read.
It further said that light to moderate rain-wind with snowfall over the hills (isolated hailstorm) is expected in Kashmir, Gilgit- Baltistan, Murree, Galliyat, Islamabad, Pothohar region, Kohistan, Swat, Dir, Chitral, Manshera, Haripur, Abbottabad, Karak, Charsada, Peshawar, Nowshera, Swabi, Buner, Bajaur, Kurram, Waziristan, Kohat, Bannu, Sargodha, Mianwali, Khushab, Bhakkar, Faisalabad, Toba Tek Singh, Jhang, Gujranwala, Gujrat, Hafizabad, Mandi Bahauddin, Lahore, Kasur, Sialkot, Narowal, Sheikhupura and Nankana Sahib from January 21 to January 24 with occasional gaps.
Light rain and drizzle is also expected in Multan, Sahiwal, Okara, Pakpattan, Dera Ghazi Khan, Layyah, Bahawalpur, Bahawalnagar, Rahimyar Khan, Sukkur and Dera Ismail Khan on January 20-21, the Met department said.
Meanwhile, rain-wind — moderate to isolated heavy snowfall — is expected in Kashmir, Neelum valley, Muzaffarabad, Poonch, Hattian, Bagh, Haveli, Sudhanoti, Kotli, Bhimber, Mirpur), Murree, Galiyat, Chitral, Dir, Swat, Malakand, Kohistan, Mansehra and Abbottabad from January 23-25.
What are the possible impacts?
Due to the heavy snowfall, there may be a closure of roads in Murree, Galiyat, Naran, Kaghan, Dir, Swat, Kohistan, Mansehra, Abbottabad, Shangla, Astore, Hunza, Skardu, Neelum valley, Bagh, Poonch and Haveli during the forecast period.
"Landslides in Upper Khyber Pakhtunkhwa, Kashmir and Gilgit Baltistan may also occur during the forecast period," it said.
The office said that the tourists are advised to remain extra cautious during the spell, adding that temperatures are likely to fall significantly after the spell.